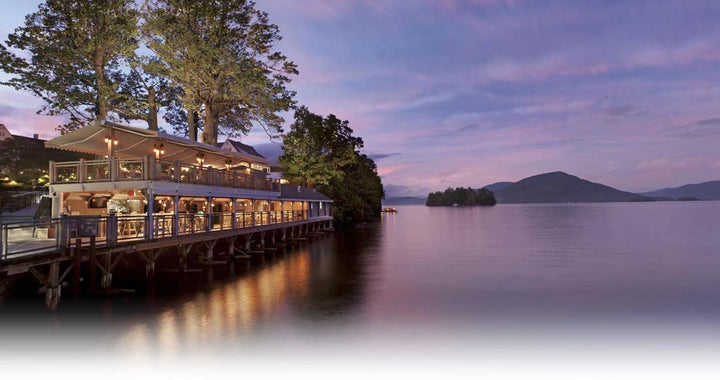 My wife and I are packing up our stuff as our two young sons play. There's a lot of stuff. Seriously. A lot. While bags are packed and toys are put away, my boys - 5 1/2 and 2 1/2 - are in their own world (as they often are). The youngest is playing with a brand new toy tractor we got him (because he doesn't have enough of those), while the oldest is glued to the couch with a Disney sticker book. When we finally get everything into the car, we tell the kids it's time to go. My youngest reluctantly gets up, and slowly walks to the stroller. My older son, however, is a different story. "Why?," he asks innocently. "I don't want to leave."
My wife and I explain to him what a vacation is. "Don't you want to go home and play with your toys?" He answers yes, but he's still sad and a bit confused. "Can we come back here again soon?," he asks. We haven't even left the room yet and my son is asking if we could come back. See, when you go to The Sagamore Resort on Lake George/Bolton Landing, you don't ever really want to leave.
Last week was our third go-round to the Lake George crown jewel, and to be honest, when you return, it actually feels like you never left. That in itself is a cause for celebration. This world is so upside down and unpredictable, it's nice to have something you can count on - something that doesn't let you down. More importantly, it's an antidote for stress. This place has every right to be pretentious. It's massive. You'd be hard pressed to find better views of Lake George. The amenities are bottomless. Everything about it screams elegance and luxury. But, it also screams happiness and homeyness. Wherever you go, there is a friendly face. There are families everywhere. The staff are all attentive and genuinely happy to be there and want you to be happy to be there, too.
Because of this warmth, magic happens. I wrote this in my previous Sagamore pieces (1,2) , but when you travel anywhere with small children, memories are going to be made and milestones can happen in a millisecond. For my wife and I, it seems to happen here each year. My first year here will always be synonymous with my then three-year-old son and I rocking on Adirondack chairs and him telling me "look at how many water" as boats went by. Last year will be remembered, among other things, for my younger son pointing to the very same thing and saying "wawa." These moments are a living, breathing Rockwell painting for me. This year, there was more memories and milestones - flowing as freely as the lake. I assume that metaphor works...
One evening on our way to dinner, my older son told me out of the blue, "I'm glad I have a little brother so I don't have to play lonely." Imagine hearing that on any day, but as it turned out, it was the cherry on the best sundae ever. Earlier, my oldest put his head under water for the first time. He had feared it since he arrived on this planet but I think the ease and chill factor The Sagamore had made him feel comfortable and confident enough to go Michael Phelps on us. He was so proud of himself. Words can't describe how we felt about it. Even my youngest knew something cool was happening.
Speaking of the "chill factor," the pool is too cool for school. The temperature is just right - cool and not hot. "Just right," as my sons say. Adding to the vibe: views of Lake George as the backdrop, and wait staff serving lunch and adult beverages to parents who need it.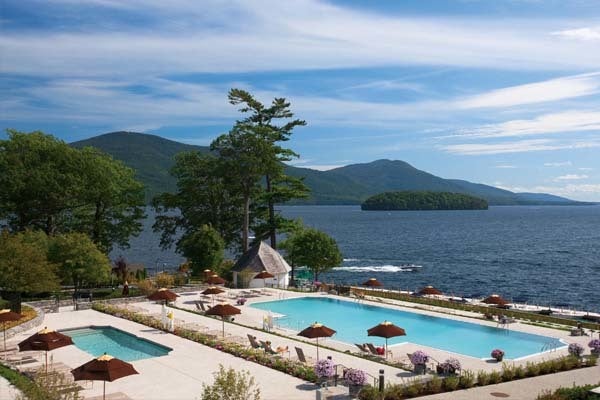 I mention this in each review I do, but it's important especially if your kids are sand troopers like mine are. (That's a Star Wars reference I think.) Downstairs from the pool area is a special sanded area for kids like mine to dig and play with their toy dump trucks or whatever. Watching my sons interact with one another at this spot was nostalgic. My youngest son is just about the same age my oldest one was when we first went to The Sagamore. So, as I watched the two play there, I had this movie in my mind of my oldest playing with his bucket but it was actually my youngest. Times change but stay the same. History has a way of repeating itself. Itself.
Anyway, this area downstairs is also your main access to the lake to swim and/or fish. There is also an area in the lake with tubes for kids to float on and, um, adults to try and squeeze into.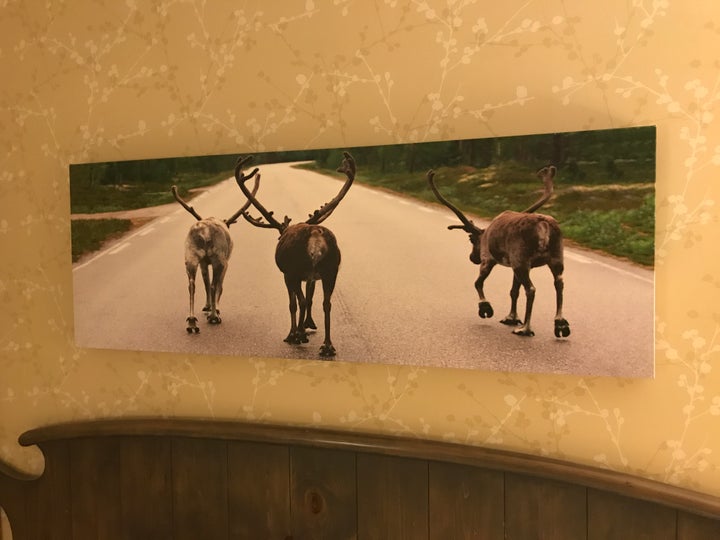 For the third year in a row, I jumped right into the lake - after a few minutes of getting the guts to do so. The sense of adrenaline I get cannot be explained. There is simply no better feeling. Moving inside for a second, we stayed in the spacious lodge suite, which is a contemporary large hotel room that has the feel of a comfy cabin. Images of deer, foxes and moose are on the wall (my son wants the canvas print of the moose badly) and the furniture is handcrafted. The room comes with a modern kitchen, fire place, and a spacious bathroom. While The Sagamore has many awesome restaurants (I recommend The Pavilion for dinner - those views!, The Lake House for pizza, and La Bella Vita for their breakfast buffet), it is cool to shop at the nearby supermarket and cook some meals inside. While we're on the subject of eats, the S'more nights by the bonfire really add to that Rockwell painting. Melting chocolate, roasted marshmallows and a singer with his guitar performing tunes for families by request. He even obliged and played the "Muffin Man" song for my younger son.
Speaking of playing, on our last day of vacation, it rained and it was pretty cold out. We were fortunate to have four beautiful days so we were totally cool with a day indoors especially when there's "The Rec" - a huge spot that has basketball courts, mini-golf, a rock-climbing wall, and a wiffle ball mock field. There are also video game stations. For the first time, both of my children got to reap the benefits of this great place. My oldest shot some hoops, while my youngest kicked the basketball as if it were a soccer ball. The four of us played mini-golf, and absolutely no rules were followed. Seriously, I have no clue what was going on. My oldest hit a lot of balls that I pitched around the "field," and my youngest picked them up and gave them right back to the pitcher - very much the belly itcher. My oldest even climbed the rock wall. We topped it all off playing bingo. My kids won. My wife and I didn't. She really doesn't like to lose but I digress. Even a rainy day is a winner here.
Back to the start. Each year we've gone to The Sagamore, we've wanted to come back. We get that feeling in our gut the second we leave - just like my son did in our room - you know before we even left. Last year, my son repeatedly asked us throughout the winter months when we were coming back to "vacation." I expect that question will arise much more now that my youngest will join the chorus. This past year, we started a countdown for my oldest (when we knew we were coming back) to get him excited. "But, I want to go today," he'd always say. Still, we ran a clock for awhile:
"Only four months until vacation…two months…three weeks…six days…"
Time goes so fast - especially when you have kids. So, naturally, it was euphoric on the drive up last week. The time had arrived. And yes it was a letdown to drive back, but pretty soon, that countdown clock will tick again.
Jon Chattman's music, culture, and entertainment series typically features celebrities and artists (established or not) from all genres performing a track, and discussing what it means to them. This informal series focuses on the artist making art in a low-threatening, extremely informal (sometime humorous) way. No bells, no whistles — just the music performed in a random, low-key setting followed by an unrehearsed chat. In an industry where everything often gets overblown and over manufactured, Jon strives for a refreshing change. Artists featured on the series include Imagine Dragons, Melissa Etheridge, Yoko Ono, Elle King, Joe Perry, Alice Cooper, fun, Bleachers, Charli XCX, Marina and the Diamonds, and Bastille.
*Jon Chattman's currently working on a new book entitled Moving Foreword, a pop culture anthology with talent lending forewords to books they make up.