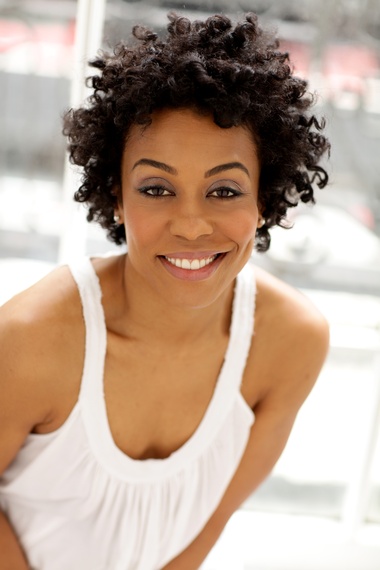 Karen Pittman has stolen so many scenes, she should've been locked up years ago. I mean that figuratively, and man that opening line, which is still going on by the way, was pretty lame. Yet, it's true. The Broadway veteran and television actress has been a force for years -- from her recent turn as Jory in the Pulitzer Prize-winning Broadway drama Disgraced to her recurring role on the FX series The Americans.
A-Sides caught up with Pittman, and talked about her credits in film, stage, and the tube. Before I get to the interview, take a look at her credits. Maybe I'll lie and take some and throw them on my resume. I'd seem so much cooler. Anyway, Pittman has appeared on television shows such as The Blacklist, 30 Rock, and The Good Wife. She starred in Broadway's Passing Strange, and was seen various films including The Bourne Legacy and Begin Again. Anyway, let's get to that interview...
The Americans is one of the most awesome (yet underrated) shows on TV. Talk to me about your character, and whether or not you were a fan of the show beforehand. Feel free to say you were even if you weren't.
I certainly knew about The Americans, because the characters and the idea for the story was so original. I'm not a big TV watcher, but [this] was the exception during their first season. I was (also) excited to find they had a character that I might help create with them. My character Lisa befriends Michelle at an Al-Anon meeting and starts out as a mentor, but really, they become friends, taking care of each other. So they look out for each other in many ways and you'll see their relationship unfold over the season. I really like Lisa because of her love of her children, she likes to laugh, she's devoted to family, hard working.
I like that both Michelle and Lisa are vulnerable with each other and it proves to conjure up some real moments with Keri (Russell) on screen. She's a real pro and a lotta fun to work with.
Yes, and she had great hair in Felicity and no one should bring that up anymore so I apologize. Anyway, you have so many Broadway and television credits, what's the biggest challenge of both mediums.... what's a cake walk?
The challenge of working in both mediums is staying spontaneous, interested especially after long days on set, or several weeks during the run of a play. I was fortunate that my character on The Americans is the polar opposite in many ways to the character I was working on in the Broadway play Disgraced so I was able to keep my imagination active. The easy part is that the writing, the aesthetic, the cast and crew really make the experience what it is. I find I do my best work when I feel comfortable...
You appeared in Begin Again and The Bourne Legacy. Would a mash-up of the films work? What might that look like?
[Laughs] A mash up would definitely work! I'd love to do one of those famous Tony Gilroy scenes where the camera follows you through a crazy stunt scene car chase situation...I had a great time on Begin Again. It was a lot of fun.
Getting back to Broadway, do you have any immediate plans to return?
I do not...Our last show for Disgraced was just a few days ago (although we joke that there should be a sequel called The Jory's In), I'd like to take a little break from the stage and continue working with my film and TV projects for a bit.
But, Broadway is an incredible experience as an actor, a test of stamina and focus. I'll always be happy to come back to climb that mountain. Always.
Lastly, do you remember your first opening night on Broadway? Talk me through it.
I consider my first real Broadway opening night to be Disgraced - it was a glittery, starlit evening, filled with well wishers and congratulatory hugs. I remember seeing my co-stars looking smashing and the playwright on pins and needles. It all turned out beautifully. And the splashy third season premiere of The Americans this year was cancelled because of "Sno-mageddon" (aaaaargh!!).
I'm certainly rooting for my character Lisa to stick around til next season, so I can get to the next glittery opening for Season 4! Keep watching to find out...
About A-Sides With Jon Chattman:
Jon Chattman's music series features celebrities and artists (established or not) from all genres of music performing a track and discussing what it means to them. This informal series focuses on the artist making art in a low-threatening, extremely informal (sometime humorous) way. No bells, no whistles, just the music performed in a random, low-key setting followed by an unrehearsed chat. In an industry where everything often gets overblown and overmanufactured, Jon strives for a refreshing change. Artists have included fun., Charli XCX, Imagine Dragons, Alice Cooper, Joe Perry, Gary Clark Jr., American Authors, Echosmith,and many, many more!
REAL LIFE. REAL NEWS. REAL VOICES.
Help us tell more of the stories that matter from voices that too often remain unheard.