Transparent, the groundbreaking series from Amazon Prime, is up for eight Emmys this weekend for its spectacular second season, and if episode one of season three is any indication, it'll likely net more next year. But awards are awards and while it's nice for the recognition, the material and performances (and the weight of both) are what matter most here. Unlike so many TV shows who lose their mojo after a long hiatus between seasons, this season sucks you right back in. The storylines and dialogue engage you immediately, and the strongest characters and cast on TV - seriously they have more layers than Joey Tribiani did in that awesome episode of Friends - ensure you're thrusted back into world of the deeply dysfunctional Pfeffermans without missing a beat. I'll say this, by the way, episode one of season three will easily make Jeffery Tambor (Maura Pfefferman) a frontrunner for next year's Emmys (he'll likely win his second this year). Anyway, back to the point of all this.
Kathryn Hahn, who portrays down-to-earth but deeply conflicted rabbi Raquel Fein, said getting back on the saddle was quite easy given how rich the characters and the writing are. Working alongside a cast that's become a family also adds to that. "A lot of time has past. I think it's been almost a year between seasons, and yet it does feel like we've eased right back into it," she said. "And I love to give props to Eyde [Belasco] because she just gets Jill and they have people who come in and it's a seamless fit. Everything is easy."
Alexandra Billings, who plays Maura's rock Devina, agrees. She said the combination of drawing from personal experience and the actors and writing makes it an easy experience on set. "The writing is so smart and having Our Lady J in the room really makes it authentic . We don't have to act anything really. We do these group acting workshops at the beginning of the season, and it forms a bond between us. There's no ice to break," she said.
Lysette, who plays Shea on the show, echoed that sentiment by saying everything comes off as real because Soloway "lets us all add stuff in on a personal level. I just draw on my own experiences for Shea."
For Hahn, an actress synonymous with comedy - notably Step Brothers and the recent smash Bad Moms, this series allows her to push herself as a dramatic actress (the Emmys class the show as a comedy, which is ridiculous by the way). "The reason why I wanted to this in the first place is it reminded me of being in grad school and playing a [comedic role] in the morning and Ophelia that evening. It's kind of a dream for me to slip into differet genres," she said.
"It's nice to do a big Hollywood comedy, but this is soul food. It's like coming home. I'm able to fire on all cylinders."
Season three, if the initial three episodes are any indication (screeners were sent for the first three prior to the interview), Transparent will see all three actresses scoring major arcs this year. "Everybody's on a journey," Hahn explains. "When you meet Raquel at the beginning of the season, she's having a crisis of faith, which is just a horrible place to be in for a rabbi. She's trying to find a thread of purpose."
And while Hahn is excited where her character is going, it's Lysette's character arc she's most excited about. "I can't wait to see it. Trace is the revelation of this season."
Lysette said Trace has a rich storyline this season that's she so proud of. "So many trans I know are survivors. Shea is a survivor, and you'll get to see a bit more of that, her independence and what she does to support herself. The journey she goes on with Josh (Jay Duplass) is powerful and beautiful."
Billings said you can expect Devina to continue to be Maura's support system and Shea's friend throughout the season. "I get a chance to not only help guide but to also support and be taught by these people," she said.

We all are. Perhaps Donald Trump should watch it. "He wouldn't last the 20 minutes," Hahn offered. when that statement was thrown out to the cast. "Well, his name's not mentioned in it so he'd turn it off," Billings cracked.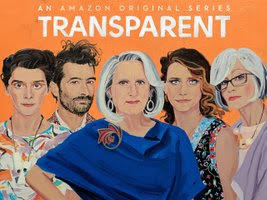 About A-Sides with Jon Chattman - thisisasides.com :
Jon Chattman's music/entertainment series typically features celebrities and artists (established or not) from all genres performing a track, and discussing what it means to them. This informal series focuses on the artist making art in a low-threatening, extremely informal (sometime humorous) way. No bells, no whistles -- just the music performed in a random, low-key setting followed by an unrehearsed chat. In an industry where everything often gets overblown and over manufactured, Jon strives for a refreshing change. (Theme song by Blondfire.) Artists featured on the series include Imagine Dragons, Melissa Etheridge, Yoko Ono, Elle King, Joe Perry, Alice Cooper, fun, Bleachers, Charli XCX, Marina and the Diamonds, and Bastille.
Calling all HuffPost superfans!
Sign up for membership to become a founding member and help shape HuffPost's next chapter