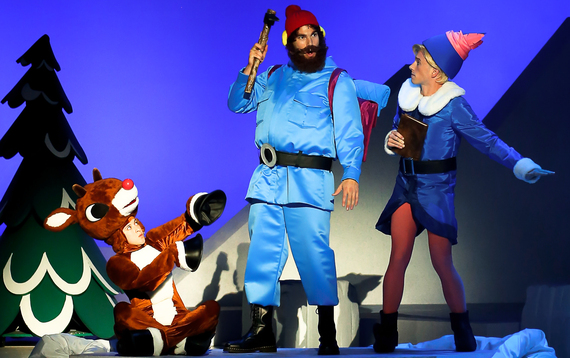 It wouldn't be the holiday season without watching the classic specials by Bass and Rankin. It's a tradition as rich as the Macy's Thanksgiving Day Parade. One show, in particular, always seems to resonate more in my household than any other. Here's a hint - it involves a skinny Santa whose wife insists he "eat papa eat!" and an animal named Rudy. Since 1964, Rudolph the Red-Nosed Reindeer has been a family "must" each year and is CBS' highest rated Christmas special of all-time.
With all this being said, it'd be pretty gutsy to try to take a holiday classic such as this and reinterpret it for a different medium. Yet, here we are and the results are as sweet as candy canes. Rudolph the Red-Nosed Reindeer: The Musical will roll into The Theater at Madison Square Garden from Dec. 1-18 after a two-year successful run touring North America (it'll visit over 50 cities this holiday season as well). Get holly. Get jolly. Get some misfit toys. "Spin" Burl Ives on Spotify.
This faithful adaption recreates the magic with a mix (and mingle) of actors and puppets, projections and set designs that evoke the infamous special. I caught up with Sarah Errington, a stage actress whose regional credits include Sister Act and Into the Woods, and asked her all about playing the dear deer himself as well as the upcoming New York City debut.
How surreal is to be playing Rudolph? The sets and costumes are right out of the special.

There is definitely an overwhelming sense of magic in the show--walking into the theater it looks like a scene straight out of the television special. The show brings back childhood memories of watching the movie and falling in love with the story. To say it is special to be a part of Rudolph The Red-Nosed Reindeer: The Musical is an understatement.
Did you grow up watching the show? Has it been a constant every Christmas season in your home?
Of course! We watched it every year! The Island of Misfit Toys was always my favorite. As a kid, I always wanted them to have children to play with them. I consider myself a bit of a misfit as well.
With that said, were you skeptical about this production? It's very risky to take on such a classic role in such a beloved children's special.
Rudolph The Red-Nosed Reindeer: The Musical is under the helm of the best of the best. It takes a team to create this production that truly embodies the spirit of the beloved television special. I fully trust our director, Dana Solimando--she really guides us to be true to the heart of the story. I am in the best hands with an incredible cast and am thrilled to be a part of this production particularly in its debut in New York City at the Theater at Madison Square Garden.
Staying on this, would you say the production is faithful to the special?
100 percent! I think that audiences can fall in love with the story all over again by seeing the story come to life on stage. I have no doubt that if you love the movie, you will love the musical. It's absolutely charming and gives you everything you hope for and more!
As an actor, describe the dynamic of working on a show with so many moving parts.
It takes a team to make Rudolph fly...and this production soars! Putting a show together takes a lot of hard work from directors and producers to cast and crew (and perhaps some holiday magic). The details down to props, costumes, sounds, projections, sets, puppets, flying, and everything in between have been pieced together to accurately depict what you know and adore about the movie.
Off topic but sort of related, did you ever question why Santa is so thin in the special? Does he fill out on stage?
Haha, oh my goodness! Actually, no... I had never thought about that! We are playing from Dec. 1 - Dec. 18 at the Theater at Madison Square Garden - so you're going to have to come to see the show to find out what happens on stage!
Most importantly, would you trust Hermey to do any dentist work?
I think I will leave it to my dentist at home. Hermey still need to complete his training.
About A-Sides with Jon Chattman - thisisasides.com :
Jon Chattman's music/entertainment series typically features celebrities and artists (established or not) from all genres performing a track, and discussing what it means to them. This informal series focuses on the artist making art in a low-threatening, extremely informal (sometime humorous) way. No bells, no whistles -- just the music performed in a random, low-key setting followed by an unrehearsed chat. In an industry where everything often gets overblown and over manufactured, Jon strives for a refreshing change. (Theme song by Blondfire.) Artists featured on the series include Imagine Dragons, Melissa Etheridge, Yoko Ono, Elle King, Joe Perry, Alice Cooper, James Bay, Jimmy Eat World, Charli XCX, Marina and the Diamonds, and Bastille.
Calling all HuffPost superfans!
Sign up for membership to become a founding member and help shape HuffPost's next chapter