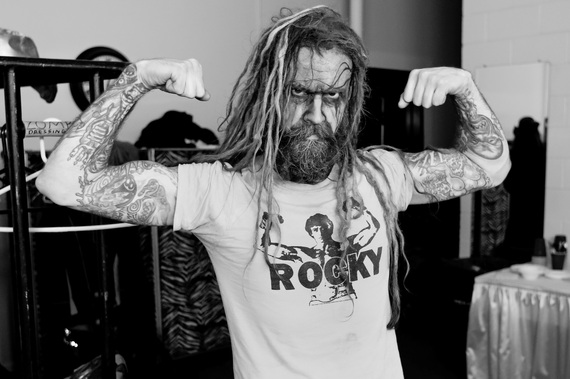 height="379" />
Do you remember those old school ads of a "hot" new item that "slices and dices?" It's not necessarily important that you do or not, but it's the first thought that entered my mind right before interview hardrocker and filmmaker Rob Zombie. I'll explains, because - let's face it - it's the king of all Non sequitur statements to make. Thinking of the dreaded horror director, writer, and former White Zombie frontman, I thought back to those vintage commercials advertising gadgets that could essentially do it all (then you got them home and they, well, didn't). Anyway, let's face it Zombie slices and dices. He makes music, movies, books, and does so many other things that it's hard to list them all here. He's essentially the devil's version of the Energizer Bunny. These days, the seven-time Grammy nominee is promoting his first concert film, The Zombie Horror Picture Show, which will be released next month, and touring in support of his fifth solo album Venomous Rat Regeneration Vendor. He recently added a dozen U.S. dates to that aforementioned world tour which will take him festival to festival. All of this is happening a year after Zombie had arguably his biggest creative year yet - culminating with his sixth film, The Lords of Salem, which he wrote, produced and directed. His book with that title, by the way, was a New York Times bestseller. Last week, I chatted with the prolific horror and music master and talked about everything that makes him tick.
Right off the bat... when do you sleep?
I don't sleep that much. I never did. It's amazing how much you can accomplish when you don't f--k around and get something done.

You're very unique from most artists I interview in that you're established in two different mediums. During your downtime on the road or on a film set, do tend to write for the other? In other words, are you writing a script on a tour bus or penning a song between shots?
On tour, there's downtime. On a film set, there's not even one second - if you're directing anyway. Well, I mean directors who give a s--t anyway. Film sets are literally like you wander off for five minutes to get coffee, and it's like "where's Rob?" A typical day is 14 or 16 hours, and you've got nothing else in the brain. Touring is different. You accomplish more. You're working on things all the time. For the most part, every script has been written on tour. I'm not sure how it'll be this time, but it seems like that.
Speaking of your current tour, you've thrown in some shows at smaller venues with an intimate vibe like The Capitol Theatre in Port Chester, was that a conscious decision?
I wasn't doing that to be intimate. I just didn't want any days off. I'm doing a lot of big festivals and had a lot of days off, and I just said fill up the days - I don't care where I'm playing - half the time, I don't know how many seats there are. I'd just rather be playing than not playing. The band never gets tired. When we have a day off, it's like what are we going to do - sit in the hotel?
You covered Grand Funk Railroad's "We're an American Band" on your last album. As someone who makes movies and music, is covering a song similar at all to remaking a movie?
There is a sense of that. You're trying to find the reason of doing it. You don't want to just copy it. What's the point? You want to bring something new to it - your own spin. In music, I think people can put up with five minutes of anything. Films are more complicated.
You specialize in horror flicks, but what movies do you watch? Is there a particular genre that gets you going?
I like film films that are good. If they're good, they're good. I'm just like anybody with that. I love everything. I love westerns, classic Hollywood... that's what made me love movies. I probably don't like the stuff people would think I'd like the most. I've always identified with movies like Bonnie and Clyde and King Kong. That hit me as a kid. I guess I like movies where the lead characters are outsiders or outlaws who you're somehow rooting for the whole time.
Are you working on another film? If so, would it break from horror?
I have another project I'm working on. It's going to happen, but I'm not sure when we'll go shoot it - probably October or November. I can't say any more than that.
But, it's not like it's a rom-com or anything?
It's something my fans will really respond to. That's all I can say without giving anything away...which isn't even saying anything.
So it's Hugh Grant, and he's living in a small cottage...Kidding. So are you still not into The Walking Dead? I read that somewhere
I watched the first two seasons, and I know they just wrapped season four. My big thing is Downton Abbey. I don't hardly watch any TV at all, and I was late to that boat but I blazed through four seasons of that.
A-Sides "Delve Into Twelve" Countdown
Each week A-Sides unleashes its Top 12 tracks of the week AKA the "Delve Into Twelve"based on the following contributing factors: songs I'm playing out that particular week NO MATTER WHEN THEY WERE RELEASED (think overlooked songs, unreleased tracks, and old favorites), songs various publicists are trying to get me to listen to that I did and dug a bunch, posts and trends I've noticed on my friends' Facebook walls, and - most importantly - the songs my two-year-old son gravitates toward by stomping his feet in approval. Yeah, you read that right. This weeks follows below (LW= last week's rank).
12. "Sappy" - Nirvana
11. "Night Sky" - CHVRCHES
10. "Rimbaud Eyes" - Dum Dum Girls
9. "Fever" (LW-11) - The Black Keys
8. "I Wanna Get Better" (LW-5)- Bleachers
7. "Texas" - (LW-4) Magic Man
6. "Hemiplegia" (LW-7) - Haerts
5. "Waves" (LW-3)- Sleeper Agent
4. "Now Hear In" - Cloud Nothings
3. "Lanterns" (LW-2) - Birds of Tokyo
2. "Blue Moon" (LW-1) - Beck
1. "Invisible" - U2
About A-Sides Music
Jon Chattman's "A-Sides Music" series was established in August 2011 and usually features artists (established or not) from all genres performing a track, and discussing what it means to them. This informal series focuses on the artist making art in a low-threatening, extremely informal (sometimes humorous) way. No bells, no whistles -- just the music performed in a random, low-key setting followed by an unrehearsed chat. In an industry where everything often gets overblown and over manufactured, I'm hoping this is refreshing. Artists have included: fun, Pharrell Williams, American Authors, Imagine Dragons Jake Miller, Gary Clark Jr., Sleigh Bells, Danger Mouse, Sharon Jones and the Dap Kings, San Fermin, and more!
Popular in the Community