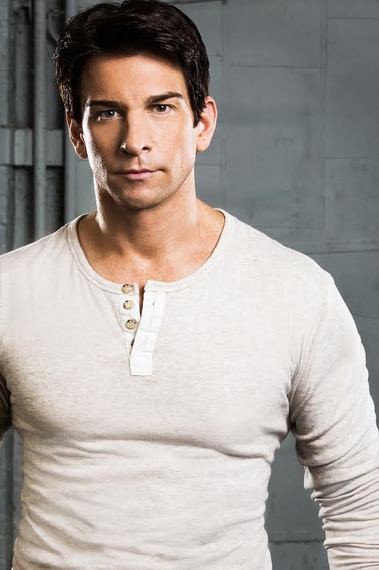 It could've gone terribly wrong -- like really badly. It could've buried his career or made him the laughing stock of the Broadway community. Choosing to star as an iconic character in a stage adaptation of a beloved cinematic classic doesn't always pan out and I'm saying that very nicely. Thankfully for Andy Karl, his lovable underdog Rocky Balboa in the stage adaptation of Rocky has been a smash...a knockout... and any other boxing-related term you want to throw out there. The show's garnered raves for the stage veteran, and the show itself for its groundbreaking title fight that literally takes over the first eight rows of the Winter Garden Theatre and thrusts its audience on stage right in the middle of the action. While that title bout is amazingly choreographed and staged, the show works because of the man in the gray sweatsuit eating raw eggs eight times a week.
"I get scared sometimes," the actor said candidly in an May 30 interview. "I didn't want it to be a bad impersonation."
Far from it. The Baltimore native inhabits the role of the lovable Italian Stallion from Philadelphia, and makes it his own - adding more layers to an iconic role yet it all feels very familiar. It's a hard line to balance, but Karl does it, and does it effortlessly. It's no wonder he's up for Leading Actor in a Musical for the 2014 Tony this Sunday, and landed Drama Desk, Outer Critics Circle and Drama League nods. Nominations are nice, but see the show, and you'll find out right from the first punch, Karl's Broadway's newest star - a leading man who'll likely have legs more reliable than Michael Spinks.
Karl, whose Broadway credits include 9 to 5, Jersey Boys and last year's revival of The Mystery of Edwin Drood , took time out from his busy, mile-a-minute show and Tony press schedule to chat about the show, and how it's changed his life, and defined his career. Sit back, throw down some raw eggs, and read on.
It takes a lot of guts to take on such a classic role, and to expand on it. You must've been nervous, no? I mean how could you not be?
My attempt from the very first reading was to not stray too far from what Stallone did, but to also show them a story that was packed full of heart and dignity. When you're bringing an iconic role to [the stage], you just have to play it as honestly as you can off the page. You have to let all the emotions come out.
Just to backtrack, when I first heard they were making a Rocky musical, I have to admit I winced a little bit but as I read more about it, it seemed to make more sense to me. The movie has all the elements to become a musical.
It's funny. When I first heard about it, I felt that way a little. I asked my agent if it was a send-up or satire or something. I mean the movie has great dialogue but it's about a guy who doesn't speak really good. I was like - a "musical what are you thinking?" But, I went back and watched the film, and like you said, saw all the elements there that were primed for a musical. It's an underdog story about a man who has nothing who's given this biggest opportunity, and there's an arc of finding love. There's heart and dignity. It was all of the things that a musical is made up of. And I was in good hands. Once I saw it all coming together, I started drinking the Kool Aid.
And... you drink a lot of eggs. How's that for a terrible segue? On a serious note, how's your core doing. Between all the training you've done for the role, you've had this intense protein in a cup each show since you started!
I'm actually down to my high school weight, which is pretty scary. I mean I'm lifting at the gym every morning so I've reached the prime shredded zone, but I'm actually having a problem putting on the weight. I've been eating so much each day, but when you're under the hot lights and you're running around on stage eight shows a week, it's hard.
On another note, the show, like the movie, builds up to an epic boxing match. In many ways, your role gets more demanding - physically anyway - as it goes on. I'm sure that's draining on your body as well...
It is but every time I walk in the door, I get this Rocky spirit: this guy who keeps getting up and pushing through no matter how many times he gets hit. I feel like I have to live up to that. It's getting me back here every night. I was just thinking about it today. I don't go off the stage for more than a drink or to take off my shirt.
The fight is among the most amazing things I've seen on Broadway. How does it feel from inside the ring?
It's incredible crafty of our scene designers and director. They wanted to bring this fight basically so you feel like you're there. They wanted to make it all happen right in front of your eyes - like you're truly part of it. It's truly inspiring. You have the audience and the actors and there's no real separation. It's an amazing moment everyone is sharing. I've had instances of people raising their fists and shouting "Rocky." It's what people remember about the film - they want this guy who has nothing to win.
I'm sure everyone asks you about Stallone and you've done a couple interviews with him now. I was just curious are you BFFs now? Like do you text each other during episodes of The Bachelorette or something?
He's come here a couple times and we've done interviews together, but he's still creating things all the time. It's like he's here and then he says, "I'm leaving here to fly to Russia to shoot Mel Gibson." He literally said that to me once. I was like 'Yep, that's Sylvestor Stallone...' The biggest honor I've ever gotten was taking his role - the one that made him - and have him hand it off to me to take it to a different medium. When I got the Tony nomination, I was like "awesome." I feel like I at least proved that I did a good job. He feels good about it.
Rocky had a string of sequels - some good, some well... - do you think any other films would translate to the stage?
Well, Rocky II was like any of the Rocky films in that it's basically formula but he just happens to win. Rocky III could be cool with Clubber Lang.
Or Rocky IV if for no other reason - just to have Paulie's robot on stage. That movie and its music is so underrated.
I grew up on that movie. That was my first connection to Rocky. It's certainly underrated. Music has been a huge part of Rocky from the theme to "Hearts on Fire."
Could other Stallone movies translate to the stage? Perhaps an all-star Expendables show with like Carol Channing or something?
I don't think so. Rambo: First Blood maybe but he doesn't really say anything.
Well maybe you can introduce a Greek chorus or something...
Yeah, or you can do Over the Top or Rhinestone. I worked with Dolly Parton on 9 to 5 and Stallone. Kevin Bacon saw Jersey Boys when I was in it.
I'm literally one degree between Dolly and Stallone.
Jon Chattman's "A-Sides Music" series was established in August 2011 and usually features artists (established or not) from all genres performing a track, and discussing what it means to them. This informal series focuses on the artist making art in a low-threatening, extremely informal (sometimes humorous) way. No bells, no whistles -- just the music performed in a random, low-key setting followed by an unrehearsed chat. In an industry where everything often gets overblown and over manufactured, I'm hoping this is refreshing. Artists have included: fun, Rob Zombie, Pharrell Williams, Courtney Love, American Authors, Imagine Dragons, Gary Clark Jr., and more! A-Sides theme written and performed by Blondfire.
Calling all HuffPost superfans!
Sign up for membership to become a founding member and help shape HuffPost's next chapter