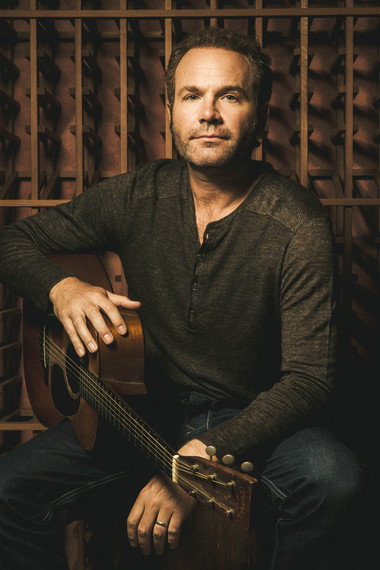 Photo/Jeremy Cowart
John Ondrasik of Five For Fighting has the unique ability (and sensibility) to move people to tears with his music. His songwriting and melodies can cut through you faster than a Danny Trejo machete and could probably move the The Grinch to tears and I'm talking pre-Cindy Lou Who revelation. In any event, there's more to the man than a need for you to invest in Kleenex stock. Five for Fightings albums and songs have sold millions, gone double platinum, platinum, and gold, and the catalog features much, much more than Grammy Award-nominated breakthrough "Superman" (It's Not Easy) and epic, tearjerking chart-topper "100 Years."
This Friday, Nov. 7, Ondrasik will unveil his first new song since tracks off his sixth studio album Bookmarks, and it's all kinds of awesome. The song, "All For One," has nothing to do with Sting, Rod Stewart, or Bryan Adams (Google that kids), and has everything to do with the CBS hit Hawaii Five-0 who will celebrate its 100th episode with that song radiating through your TV speakers. Ondrasik wrote the song specifically for the milestone episode after being approached by by Peter Lenkov, the show's executive producer. Last week, I spoke with the melody maker about the new song, his career, and delightful nonsense. The interview was so rewarding (like a seasoned goalie, he blocks my silly questions with far funnier answers) that I'm pleased to announce a new A-Sides feature each month entitled Five For Fighting with...Five For Fighting.. What can you expect? Five silly questions with five silly answers. You're welcome, and go ahead and book 'em, Danno.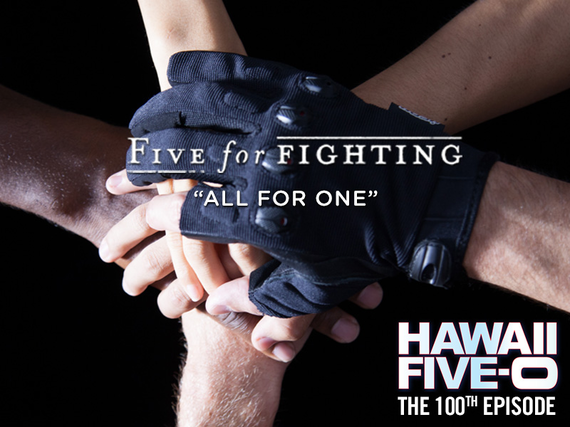 How did the Hawaii Five-O song come about? Are you an avid viewer? If you're not, you can say you are anyway.
Exec Producer Peter Lenkov approached me to write and produce an original song to close his 100th episode. As I'm likely the only songwriter old enough to have watched the original series it was a no-brainer. The sentiment was one of "Ohana," the family bond the characters have formed over the last five years thus "All for One." As H50 has likely the most iconic TV theme in history it's cool to be a small part of their musical legacy.
Indeed. How many people do you think you've made cry because of your music?
Three-million, two hundred thousand and four, not counting my mom.
Have you always put down your poignant, deep, and everything in between thoughts on paper? I'd imagine writing is very therapeutic for you?
Certainly writing and performing can be cathartic but it's really just my inner hockey goon trying to break through.
Well played. Have you lobbied for use of your song "Superman" in the new Batman vs. Superman film? If not, can we do that right now?
Ben Affleck insisted I change the song title from "Superman" to "Ben Affleck" so that deal's dead.
It would've been lovely. Why is there a lack of hockey-related band names in music? Why can't the NHL get any love?
Agreed! That said, what could beat "Five For Fighting?"
No one. Are you currently working on a new album? If so, what's the vibe of the record like or how will it be like?
I've been enjoying playing symphony shows across the country so possibly a live album with [an] orchestra? Go Kings!
Speaking of which, when you're not writing music, you're writing about sports for magazines. How are they similar?
Both endeavors require narcissism, fatalism, meshed with an irrational hope for salvation.
I realize it's not easy being you off that Superman song, but can you explain why it's not easy being green for Kermit?
In your song "100 Years," you go over so many ages - but you left out 16 and 17 and I think Stevie Nicks is pissed. I base this off her "Edge of Seventeen" song. Do you think I'm right?
Yes. That said, her forgiving demeanor is the prime factor in Fleetwood Mac surviving decades without any internal band conflict.
Good point. In a battle of terribly funny hockey player names - who wins between: Daren Puppa, Fred Sasakamoose, and Harry Dick? Please explain your answer.
This statement is false.
Join us next month for the inaugural Five For Fighting with...Five For Fighting!"
Jon Chattman's "A-Sides Music" series was established in August 2011 and usually features artists (established or not) from all genres performing a track, and discussing what it means to them. This informal series focuses on the artist making art in a low-threatening, extremely informal (sometimes humorous) way. No bells, no whistles -- just the music performed in a random, low-key setting followed by an unrehearsed chat. In an industry where everything often gets overblown and over manufactured, I'm hoping this is refreshing. Artists have included: fun, Courtney Love, Air Supply, Birdy, Sleigh Bells, Aretha Franklin, Alice Cooper, Echosmith, Charli XCX, Jake Miller, American Authors, Imagine Dragons, Gary Clark Jr., and more! A-Sides theme written and performed by Blondfire.
REAL LIFE. REAL NEWS. REAL VOICES.
Help us tell more of the stories that matter from voices that too often remain unheard.