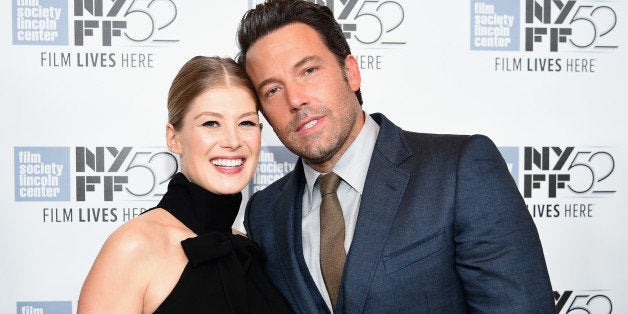 To quote an Oscar-nominated original song, "Everything is Awesome" today. The Oscar nominations were announced and so many well-deserved performances and films were honored by that gold guy who bares a striking resemblance to a thinner and taller Ed Asner. That said, as is the case each year, many, many people and movies were left off the ballot. So, as I've so often done with little fanfare and hits mind you this time each year, I bring you my annual Forgotscars. This is for the ones the Oscars forgot. Weigh in below. Winners will be announced a day before the Oscars. They will take home nothing but perhaps it'll make them crack a smile on what they now deem "Dark Thursday."
Best Motion Picture
"Foxcatcher"
"Gone Girl"
"A Most Violent Year"
"Nightcrawler"
"Unbroken"
Best Actor
Ralph Fiennes, "The Grand Budapest Hotel"
Jake Gyllenhaal, "Nightcrawler"
David Oyelowo, "Selma"
Timothy Spall, "Mr. Turner"
Miles Teller, "Whiplash"
Best Actress
Amy Adams, "Big Eyes"
Jennifer Aniston, "Cake"
Julianne Moore, "Map to the Stars"
Jenny Slate, "Obvious Child"
Best Supporting Actor
Riz Ahmed, "Nightcrawler"
Bill Hader, "The Skeleton Twins"
Alfred Molina, "Love is Strange"
Andy Serkis, "Dawn of the Planet of the Apes"
Channing Tatum, "Foxcatcher"
Best Supporting Actress
Jessica Chastain, "A Most Violent Year"
Jennifer Connelly, "Noah"
Carmen Ejogo, "Selma"
Rene Russo, "Nightcrawler"
Tilda Swinton, "Snowpiercer"
Best Director
Damien Chazelle, "Whiplash"
Ava DuVernay, "Selma"
Clint Eastwood, "American Sniper"
James Marsh, "The Theory of Everything"
Christopher Nolan, "Interstellar"
About A-Sides with Jon Chattman:
Jon Chattman's series features celebrities and artists (established or not) from all genres of music performing a track, and discussing what it means to them. This informal series focuses on the artist making art in a low-threatening, extremely informal (sometime humorous) way. No bells, no whistles -- just the music performed in a random, low-key setting followed by an unrehearsed chat. In an industry where everything often gets overblown and over manufactured, Jon strives for a refreshing change. Artists have included fun., Charli XCX, Imagine Dragons, Alice Cooper, Joe Perry, Gary Clark Jr., American Authors, Echosmith,and many, many more!
Calling all HuffPost superfans!
Sign up for membership to become a founding member and help shape HuffPost's next chapter