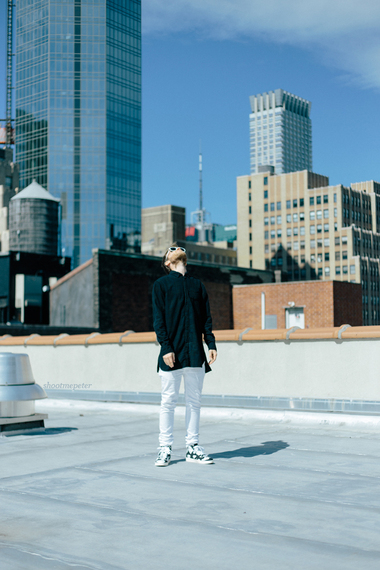 Penguin Prison -- photo by ShootMePeter.com
Apologies to Bartholomew Cubbins (just Google it), Pengiun Prison may have you beat by the amount of hats he wears. Born Christopher Glover, the New York-based musician has done it from singing to songwriting to producing to DJing. On May 5, he'll drop his second album Lost In New York , and it puts his artistry on full display like a department store window in December at 30 Rock.
The genre-bending Lost In New York -- a follow-up to his much-loved self-titled debut -- pays homage to all of NYC today and yesterday, and features the new single "Never Gets Old," and a bunch of tracks that will make you wish you had even a smidgeon of his talent. At the very least, it'll make you wish you used the word "smidgeon" more in your vocabulary. In any event, shootmepeter.com captured the march of the Penguin fittingly in Manhattan for an A-Sides session. Penguin Prison performed a pair of tracks elegant and raw and fielded questions from yours truly. Enjoy it. See, prison's not so bad. OK, enough with the play on words Chattman. You're better than that.
Watch "Try to Lose" here!
We move from New York to the Los Angeles based four-piece rock band Dead Sara, who joined A-Sides on the release date of their second album Pleasure To Meet You on Tuesday, March 31, at Primary Wave's A-Sides Studio in NYC. The album's a raw, sometimes ruthless, rock and soul record. It should come as no surprise to anyone who's followed lead singer Emily Armstrong, guitarist Siouxsie Medley (these two rockin' chicks could give Heart's Wilson Sisters a run for their money or at least a run), bassist Chris Null, and drummer Sean Friday since their inception. All that's good about music lies deep inside these guys, and A-Sides was fortunate to have the band the night before they made their television debut on Late Night with Seth Meyers. Watch them slam "Something Good" below. Lucky I am. Lucky you are. I'd say that if I were Yoda. Anyway, watch...
Check the interview here.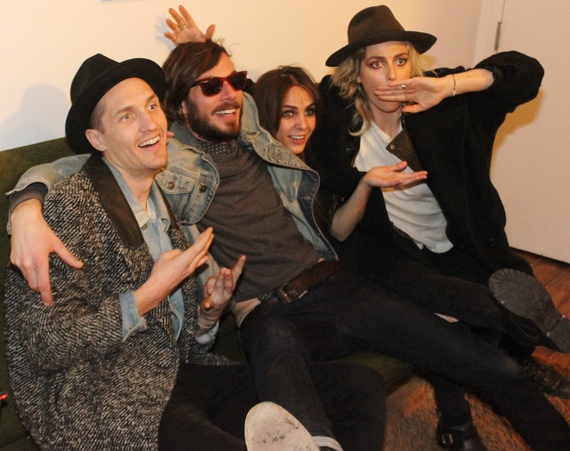 Photo/Jon Chattman
A-Sides "Delve Into Twelve" Countdown
Each week A-Sides unleashes its top 12 tracks of the week AKA the "Delve Into Twelve" based on the following contributing factors: songs I'm playing out that particular week no matter when they were released (think overlooked songs, unreleased tracks and old favorites), songs various publicists are trying to get me to listen to that I did and dug a bunch, posts and trends I've noticed on my friends' Facebook walls, and, most importantly: what my toddler is currently enjoying thoroughly.
12. "Shots" (debut) - Imagine Dragons
11. "We Might As Well Be Strangers" (retro cut) - Keane
9. "Lydia" (LW-9) - Highly Suspect
8. "Run" (debut) - COIN
7. "Black Soap" (LW-7) - Ex Cops
6. "What Kind of Man" (LW-5) - Florence = the Machine
5. "Contagious" (LW-4) - Night Riots
4. "A Rush of Blood" (LW-8) - Coasts
4. "No Cities to Love" (LW-3) - Sleater-Kinney
3. "The Ground Walks, With Time in a Box" (LW-8) - Modest Mouse
2. "Hollow Moon (Bad Wolf)" (LW-7) - AWOLNATION
1. "Ex's & Oh's" (LW-4) - Elle King
About A-Sides With Jon Chattman:
Jon Chattman's music series features celebrities and artists (established or not) from all genres of music performing a track and discussing what it means to them. This informal series focuses on the artist making art in a low-threatening, extremely informal (sometime humorous) way. No bells, no whistles, just the music performed in a random, low-key setting followed by an unrehearsed chat. In an industry where everything often gets overblown and overmanufactured, Jon strives for a refreshing change. Artists have included fun., Charli XCX, Imagine Dragons, Alice Cooper, Joe Perry, Gary Clark Jr., American Authors, Echosmith,and many, many more!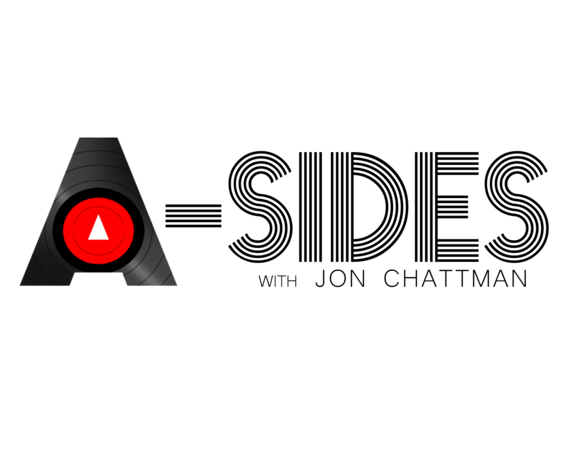 Stay Connected:
http://asidesmusic.com/
https://www.facebook.com/thisisasides
https://twitter.com/ThisIsAsides
Calling all HuffPost superfans!
Sign up for membership to become a founding member and help shape HuffPost's next chapter