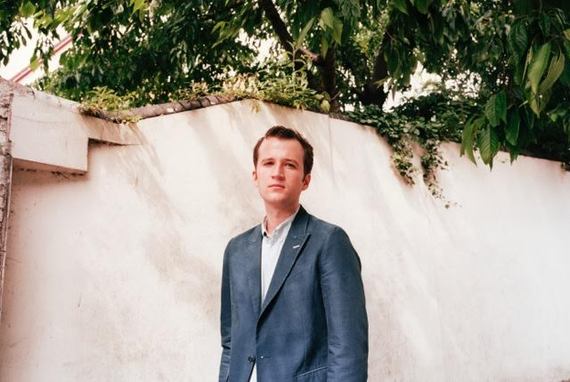 Chris Baio had an itch. Not literally. The musician/producer best known as the bassist for Grammy-winning rock band Vampire Weekend has long wanted to return to his early days of spinning electronic music like as a DJ in college. Obviously, that kind of music didn't really fit in the alt-universe of Vampire Weekend so he started experimenting with instrumentals and vocals while with the band and during downtime, and the end result is a full-length record called The Names, which will drop Sept. 18. The album is a follow-up to his 2012 EP Sunburn, and promises to get your hips moving like - at the very least - a decaffeinated Shakira.
In an A-Sides interview filmed at Primary Wave in New York City earlier this month, Baio explained the process behind his album -- moving to London shaped it, whether he cares if you refer to his work as a "side project," and painted a picture of his upbringing in Bronxville, NY. Speaking of which, Baio took piano lessons at the Westchester County village, played in various bands there, and his solo album was inadvertently influenced by a one-time resident: American author Don DeLillo whose 1982 novel struck him so much he named his LP after it. One final thing on Bronxville, Lange's Deli has amazing Italian Combos.
Anyway, watch the interview below, and be sure to pick up the album which is a sometimes dark, sometimes light, sometimes electro, sometimes even acoustic trip. Oh, and click here for tour dates.
Growing up, Masha listened to artists like Mary J. Blige and Christina Aguilera. That's cool. So did I, but I can't sing a lick -- never could. I write because I can't sing and wish I could play some. But, let me work out my own issues and get right to this singer/songwriter from Latvia. Masha just dropped "Mr. Presley," a haunting ode to The King, off her full-length debut out later this year. She's also getting props - rightfully so- for her unique - dare-I-say sexy - cover of Warren Zevon's classic "Werewolves of London" which appears in a Three Olives Vodka commercial.
Masha recently dropped by Primary Wave for an A-Sides session, where she performed a song and chatted about her upcoming album, and being on the Weirdo Workshop label headed up by hitmakers Louis York (Claude Kelly and Chuck Harmony).
About A-Sides with Jon Chattman: Jon Chattman's music series features celebrities and artists (established or not) from all genres performing a track, and discussing what it means to them. This informal series focuses on the artist making art in a low-threatening, extremely informal (sometime humorous) way. No bells, no whistles -- just the music performed in a random, low-key setting followed by an unrehearsed chat. In an industry where everything often gets overblown and over manufactured, Jon strives for a refreshing change. Artists featured on the series include Imagine Dragons, Melissa Etheridge, Air Supply, Joe Perry, Alice Cooper, fun, Bleachers, Charli XCX, Marina and the Diamonds and Bastille.
Popular in the Community