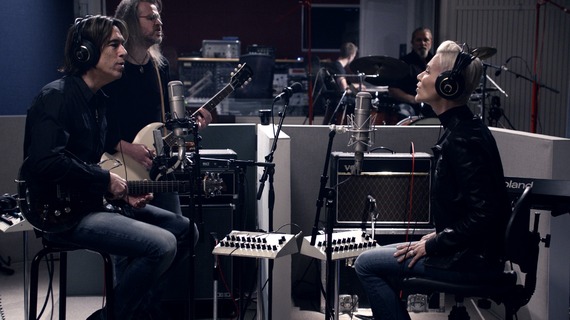 I remember it like it was yesterday or actually a really long time ago. It was June of 1991 and it was the night before my Biology Regents Exam. My nerves were on overdrive. I had been studying with an awesome tutor for months, and really wanted to pass the test not just for myself but to subtly stick it to my biology teacher who often put me down and bored the class into a coma. To divert my nerves, as he has done since I burst out of the womb at 10 pounds, my dad took me to a local mall - specifically Sam Goody - and told me to pick out anything I wanted. It was a no brainer. After playing their Look Sharp! cassette tape over and over when it came out in 1988, I picked up Roxette's follow-up Joyride, and can honestly say I've played it each year since.
In the late 1980s and early 1990s, you'd be hard-pressed to find a bigger pop-rock band than this Scandinavia duo of Per Gessle and Marie Fredriksson. With over 75 million records sold, four #1 hits in the states, and even more abroad, hits rolled like Snoop Dogg on a Sunday afternoon. "The Look." "Dangerous." "It Must've Been Love" off the Pretty Woman soundtrack. "Joyride." "Fading Like a Flower." I could go on, but won't. As the mid-1990s approached, Roxette - in the states anyway - lost some of their mojo, and Fredriksson, as it's been well-documented, had serious health issues. By 2011, the pair reunited for their first album in a decade - Charm School, and while it was successful abroad, the states didn't take. So...it's very clear, having written all that I've, um, written thus far, we need a Roxettenaissance. That's not the purpose of this piece, but it sort of is.
Roxette along with production duo Addeboy vs. Cliff just dropped a new version of their mega-1989 hit "The Look." At the same time, they're embarking on a worldwide 30th Anniversary Tour, but not yet in the U.S. I spoke with Gessle about this recently as well as "The Look" remake, and Joyride sans biology references. "Hold on tight..."and read below.
It's pretty ambitious to rework 1989's breakthrough "The Look." Did you choose to do this now?
I got an invitation from Swedish clothing company KAPP-AHL to be part of a fashion campaign for the Autumn 2015. The intention was to use several of my Swedish and English songs linked together in a medley. But, when the request came for "The Look," I felt it had to be a Roxette-thing - not a solo thing.
I talked to Marie, who was interested, and we decided to do a brand new updated version instead of just using the old "classic" one.
Since we're in the middle of recording a new album, working with several different producers and remixers, we instantly settled for ADDEBOY VS CLIFF who are working on other tracks as well. They started the production, then I "finished it" together with Clarence Ofwerman and Christoffer Lundquist. It sounds really cool and I'm very excited about it.
When can we expect the new music?
We're halfway through recording a new album. It will be out early next year.
Nice... how about a US Tour?
The XXX-30th Anniversary Tour will continue next year with gigs all over the world. We're checking things out for a possible US/Canada tour as well but nothing is set in stone yet.
Fingers crossed...toes even. The Scandinavian music scene is thriving today - what is it about the area that breeds such gifted musicians?
Pop music has become laptop music and Sweden is always very early when it comes to technology. Every kid is making music here! But if we're "gifted musicians" is a different matter. I don't know. Are we?
For more with Per and this week's Delve Into Twelve Countdown , visit thisisasides.com

I'd say so. The entire Joyride album is one that I always seem to come back to. It's timeless. Is that record as special for you as it was/is for me?
Yes, it's special. I wrote that one to be like a "Greatest Hits" album. Coming from Sweden in those days (not from the US or UK), you had to prove yourself to media, the record companies, the radio etc. all the time. It was never a given that the Joyride album was gonna be a major success just because Look Sharp! sold millions. We were lucky that the Pretty Woman movie happened in between those albums so the world never got the chance to forget about us!
I knew that Joyride had to be really focused with lots of single 'wannabees' so I think I wrote about 30 songs to make it happen. It was fun. All of us were very motivated.

And it paid off... Moving on and totally unrelated, can you impart some words of wisdom for my eight month old son Zachary to follow?
Always trust your Dad! Just kidding [laughs]. I think if you raise your kids with the ambition to give them self-confidence and a sense of fair play they're gonna find all the wisdom they need by themselves. My son just turned 18 and he's so much more clever, ambitious and outgoing then I ever was. It's great to say that I'm his biggest fan.
A-Sides "Delve Into Twelve" Countdown
Each week A-Sides unleashes its top 12 tracks of the week AKA the "Delve Into Twelve" based on the following contributing factors: songs I'm playing out that particular week (no matter when they were released -- think overlooked songs, unreleased tracks and old favorites), songs various publicists are trying to get me to listen to that I did and dug a bunch, song posts and trends I've noticed on my friends' Facebook walls and, most importantly: what my toddler is currently enjoying thoroughly with an assist from my newborn.
About A-Sides with Jon Chattman: Jon Chattman's music series features celebrities and artists (established or not) from all genres performing a track, and discussing what it means to them. This informal series focuses on the artist making art in a low-threatening, extremely informal (sometime humorous) way. No bells, no whistles -- just the music performed in a random, low-key setting followed by an unrehearsed chat. In an industry where everything often gets overblown and over manufactured, Jon strives for a refreshing change. Artists featured on the series include Imagine Dragons, Melissa Etheridge, Air Supply, Joe Perry, Alice Cooper, fun, Bleachers, Charli XCX, Marina and the Diamonds and Bastille.