The cult and beloved classic Hedwig and the Angry Inch was originally expected to have a limited run from April to Aug. 2014. Well, sold-out show after sold-out show, a handful of Tony's, a groundbreaking turn from Neil Patrick Harris, a star-making performance from Lena Hall, and so much more glamified goodness, the show will finally end an astonishing run this Sunday, Sept. 13. Limited run? My ass. Oh, and once it leaves the Great White Way, the show is going on the road big time.
During the show's stay at the Belasco Theatre, there have been various changes, notably a carousel of pumped-up Hedwigs. Harris respectively gave way to Andrew Rannells, Michael C. Hall, Darren Criss, the originator John Cameron Mitchell, and current goddess Taye Diggs. While the heels have changed feet, there's been one constant from day one: a killer backing band appropriately named Tits of Clay.
Handpicked entirely by Stephen Trask, who is the composer, lyricist and co-creator of Hedwig, the band quickly evolved into so much more than eye and ear candy in the background. Throughout the show's run, they played gigs as the band and come Sept. 13 - after Hedwig takes her final bow - they'll play an EP release show at Rough Trade in Brooklyn. Oh, I jumped the gun. I should mention on Sept. 11 their five-track debut EP aptly titled Belasco will drop via Tits of Clay/KID Recordings. The album features Devo ("Uncontrollable Urge"), Wreckless Eric ("Whole Wide World"), Richard Hell ("Blank Generation"), Lou Reed ("Satellite of Love') and Bob Dylan ("I'll Keep It With Mine"). The latter features Michael C. Hall. The album was made possible via a PledgeMusic campaign. As the wig is placed in the box for the last time, and the "Midnight Radio" is switched off for now, I caught up with all four "Tits" (Justin Craig, Matt Duncan, Tim Mislock, and Peter Yankowitz) and asked them what's next.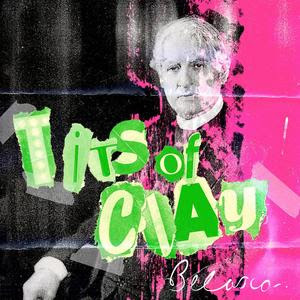 For those who don't know, did any of you guys know each other before taking the stage as Tits of Clay?
Justin Craig: I've known Tim for a number of years and been a fan of his musical talents. Peter and I have done a number of super fun gigs together in New York and the UK with a band called Exclamation Pony. I've known Matt since high school, back when we played basement parties and all-ages shows in Lexington. We've done a bunch of recording and touring together over the last decade.
Tim Mislock: I've known Justin for a few years now and had always been in awe of his raw musical talent from his previous band and he asked me to join The Angry Inch. And then I met Peter and Matt at our first band rehearsal.
For the full interview, click here!
A-Sides "Delve Into Twelve" Countdown
Each week A-Sides unleashes its top 12 tracks of the week AKA the "Delve Into Twelve" based on the following contributing factors: songs I'm playing out that particular week (no matter when they were released -- think overlooked songs, unreleased tracks and old favorites), songs various publicists are trying to get me to listen to that I did and dug a bunch, song posts and trends I've noticed on my friends' Facebook walls and, most importantly: what my toddler is currently enjoying thoroughly with an assist from my newborn.
About A-Sides with Jon Chattman: Jon Chattman's music series features celebrities and artists (established or not) from all genres performing a track, and discussing what it means to them. This informal series focuses on the artist making art in a low-threatening, extremely informal (sometime humorous) way. No bells, no whistles -- just the music performed in a random, low-key setting followed by an unrehearsed chat. In an industry where everything often gets overblown and over manufactured, Jon strives for a refreshing change. Artists featured on the series include Imagine Dragons, Melissa Etheridge, Air Supply, Joe Perry, Alice Cooper, fun, Bleachers, Charli XCX, Marina and the Diamonds and Bastille.
Calling all HuffPost superfans!
Sign up for membership to become a founding member and help shape HuffPost's next chapter