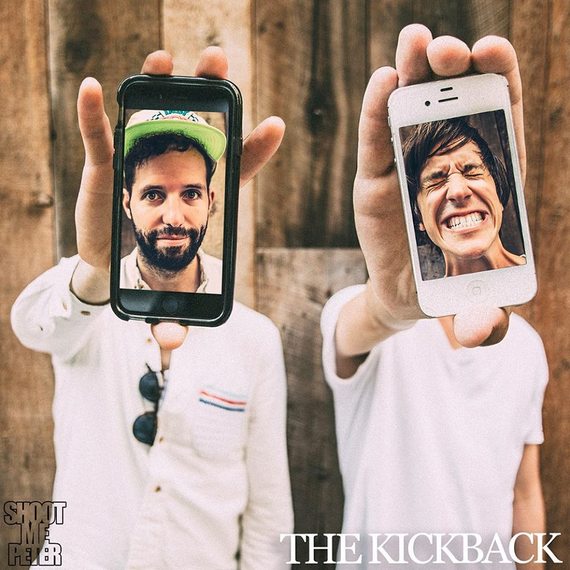 All photos and videos by Shoot Me Peter
The Kickback are new to the music game even though they've been playing it for years. If that last sentence makes sense, congratulations. Anyway, the band will unleash its full-length debut,Sorry All Over The Place, Sept. 18 via Jullian Records, and it's all kinds of genre-bending and retro-contempro (I'm coining that phrase) awesome. The sound of the Chicago band, which consists of Billy Yost (vocals, guitar), Eamonn Donnelly (bass), Jonny Ifergan (guitar), and Ryan Farnham (drums), is intentionally and delightfully all over the place. It's no wonder they've received buzz from Rolling Stone and the Chicago Tribune to name a few.
The way The Kickback came to be is even more interesting than anything I've written so far. Hard to believe...I know. The oft-funny, zany, and whatever-adjective-you-want-to-describe-them-as band actually got their record made by sending demos to Spoon's Jim Eno. He responded, brought the quartet into his Austin studio, and boom went the ultra-catchy, guitar-pop driven album. At Primary Wave late last month, two of the four (batting .500 people) performed and sat down for an interview. Why the latter? Because a stand-up interview would've been strange considering the room was/is filled with couches.
Watch the exclusive A-Sides performance and interview with The Kickback here.
The Beatles. Elton John. Billy Joel. That was about it. The rest were Al Jolson, Broadway tunes I couldn't connect to, and Judy Garland. I'm talking, of course, about the soundtrack my father provided me growing up, which - nothing against the records spun - didn't exactly motivate me to do anything except listen to other music. Anyway, Soren Bryce's dad's collection seems a tad bit cooler. The 18 year old Texan grew up listening to classic rock hits, which led her into a life of music. As for me? I write about music, and live vicariously through the subjects who perform/sit down for a chat with me. Anyway, the classically-trained violinist and self-taught guitar, piano, banjo and ukulele player just dropped her self-titled EP, and it's an accomplished, often infectious, and sometimes lyrically biting experience. It's no wonder Ani DiFranco is a recent influence.
The EP, which was released late last month via Washington Square and produced by David Kahne (Lana Del Rey, Ingrid Michaelson), has already garnered its fair share of love from NPR to this guy (hey look! I'm pointing to myself!) Anyway, at Primary Wave in New York City, Bryce sat down for a chat and performed a pair of songs from the EP.
Watch the exclusive A-Sides performance and interview with Soren Bryce here.
About A-Sides with Jon Chattman: Jon Chattman's music series features celebrities and artists (established or not) from all genres performing a track, and discussing what it means to them. This informal series focuses on the artist making art in a low-threatening, extremely informal (sometime humorous) way. No bells, no whistles -- just the music performed in a random, low-key setting followed by an unrehearsed chat. In an industry where everything often gets overblown and over manufactured, Jon strives for a refreshing change. Artists featured on the series include Imagine Dragons, Melissa Etheridge, Air Supply, Joe Perry, Alice Cooper, fun, Bleachers, Charli XCX, Marina and the Diamonds and Bastille.
Calling all HuffPost superfans!
Sign up for membership to become a founding member and help shape HuffPost's next chapter