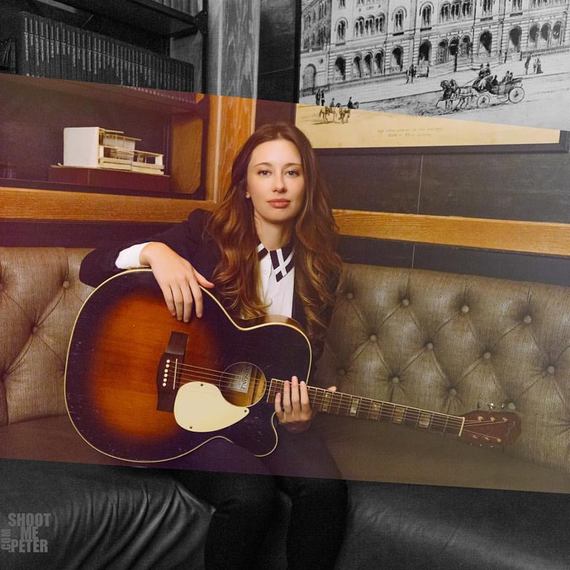 Photo and videos by shootmepeter.com
Look, the second season of True Detective got crushed by critics and fans alike. It just wasn't that good and was light years away from the first season. That said, it had its moments - notably Rachel McAdams killing it and Lera Lynn's haunting songs that added weight the show's writers really couldn't manage. But, I'm not here to trash the series. I'm writing about Lynn, who is a clear star on the rise. As a matter of fact, let's just cut the last three words of that last sentence: she's a star.
Establishing herself well before the HBO drama aired, the singer/songwriter self-released her sophomore album The Avenues a year ago, and off the bat, everyone from Rolling Stone to NPR All Things Considered praised it. Late Show with David Letterman also booked the performer with her band. The trailer for True Detective led to big things - notably a role on the show as a dive bar singer and there was that bucket-list worthy co-writing session with T Bone Burnett and Roseanne Cash. Prior to a recent gig at Joe's Pub in New York City, Lynn performed a track and sat down for an A-Sides chat. Sit back and enjoy "For the Last Time" below, and the exclusive interview here.
Cereus Bright got their name from a night-blooming desert flower, and much like their namesake, the duo created something quite beautiful
with their latest EP Winds of Change. Sharing a love for the melodic and the meaningful, the pair of Tyler Anthony (lead vocals, guitar, piano) and Evan Ford (guitar, mandolin) first gained success on YouTube with a cover of Bee Gees "Stayin' Alive," which netted over 68,000 views. With a need to escape the metaphorical pines of being ruled merely as a cover band, they quickly released original music - first with the mandolin driven single "Stella" and the subsequent release of two EPs. Take a listen, and you'll find the band avoids the secular yet mundane Mumford blueprint many aspiring folk bands adopt. Influenced by folk legends Dylan, Young, Crosby, Stills and Nash, the pair create a whimsical "let's pack a suitcase and run away together" feeling.
Now, putting their best foot forward as a new five-piece band, they're moving toward a full-length album. We were lucky enough to catch these guys from the hills that Dolly Parton painted gold for a quick A-Sides session in which they performed, discussed adding more soul and blues to their live show, and their upcoming full length to be released in the near future.
- Guest blogger RJ Helton
To catch their cover of Bob Dylan's "Don't Think Twice It's Alright" and our interview with the band, click here.
About A-Sides with Jon Chattman: Jon Chattman's music series features celebrities and artists (established or not) from all genres performing a track, and discussing what it means to them. This informal series focuses on the artist making art in a low-threatening, extremely informal (sometime humorous) way. No bells, no whistles -- just the music performed in a random, low-key setting followed by an unrehearsed chat. In an industry where everything often gets overblown and over manufactured, Jon strives for a refreshing change. Artists featured on the series include Imagine Dragons, Melissa Etheridge, Air Supply, Joe Perry, Alice Cooper, fun, Bleachers, Charli XCX, Marina and the Diamonds and Bastille.
Popular in the Community