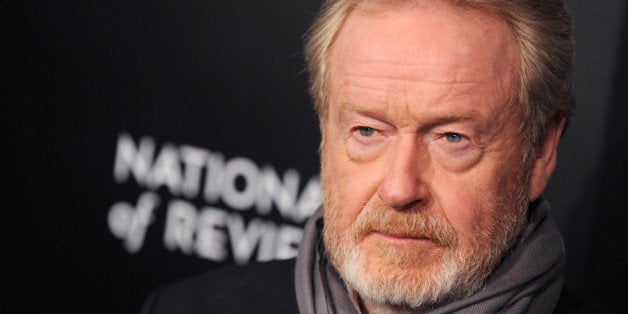 What a sad "Oscar" morning on so many levels. News broke that the great Alan Rickman had passed away, and to a much lesser degree, so many talents were snubbed by the Academy when the nominations were read this morning. By the way, how Rickman was never nominated for a gold guy is beyond me. I mean he's Hans Gruber! Colonel Brandon! Snape! Anyway, back to the nods, I'm cool with some minor omissions but what on earth did Ridley Scott ever do to anyone? The guy was the frontrunner. This was supposed to be his unofficial lifetime achievement award this year! The Martian director got left out and that's just plain out of this world. Get it? Yeah, it was a lame attempt at playing with words but still. C'mon!
Also lame? Another colorless list of nominees when there was a deep pool of talent to choose from. Anyway, as I do each year (more for myself since I rarely get comments for these posts), I'm putting together my "Forgotscars" -- a list of additional nominees that won't get any gold but deserve at least a well-intentioned post by this guy (points to self) as a way of saying "thanks."
No winners here just recognition. I've asterisk'd the ones that hurt the most.
BEST PICTURE
Ex Machina *
Inside Out *
Sicario
Straight Outta Compton
Star Wars: The Force Awakens
BEST ACTOR
Michael Caine - Youth
Johnny Depp - Black Mass
Samuel L. Jackson - The Hateful Eight
Michael B. Jordan - Creed *
Will Smith - Concussion
BEST ACTRESS
Emily Blunt - Sicario *
Blythe Danner - I'll See You in My Dreams
Lily Tomlin - Grandma
Bel Powley - The Diary of a Teenage Girl
Charlize Theron - Mad Max: Fury Road * (I mean, it got nominated for everything else).
About A-Sides with Jon Chattman:
Jon Chattman's music/entertainment series typically features celebrities and artists (established or not) from all genres performing a track, and discussing what it means to them. This informal series focuses on the artist making art in a low-threatening, extremely informal (sometime humorous) way. No bells, no whistles -- just the music performed in a random, low-key setting followed by an unrehearsed chat. In an industry where everything often gets overblown and over manufactured, Jon strives for a refreshing change. Artists featured on the series include Imagine Dragons, Melissa Etheridge, Air Supply, Joe Perry, Alice Cooper, fun, Bleachers, Charli XCX, Marina and the Diamonds, and Bastille.
Calling all HuffPost superfans!
Sign up for membership to become a founding member and help shape HuffPost's next chapter