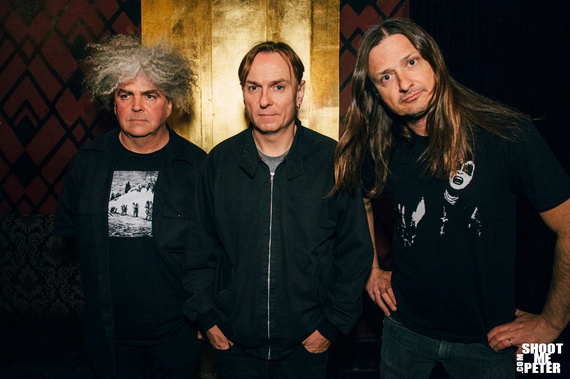 Photo by shootmepeter.com
Ask most alt-rock/punk bands from the 1990s or anytime really, and they'll likely tell you how much The Melvins inspired them. Notably, it's been well documented how much Kurt Cobain valued their work and friendship. There's reason for it. These prolific trailblazers have put their stamp on their industry, and much like The Ramones or any iconic band really, they paved the way for other similar-minded bands who came after. The difference between The Ramones and The Melvins? This guy, and I'm literally pointing to myself as I type with the other hand, doesn't think the latter get as much credit as they deserve. But, enough of that opinion.
I was fortunate to have Buzz Osborne, Dale Crover ,and Steve McDonald on A-Sides for chat just prior to their show at Webster Hall in New York City last month, and all bases were covered. Actually, their new album Basses Loaded was. See what I did there? Anyway, the LP, set for release next month, is twelve songs featuring six bass players including Nirvana's Krist Novoselic, Redd Kross' McDonald, Butthole Surfers' J.D. Pinkus, and Big Business' Jared Warren. Crover himself swaps drums for bass.
The Melvins are currently on tour, and discussed a wide variety of topics from the Buzz-bashed Kurt Cobain documentary Montage of Heck to putting out two albums in one year. Oh, and I also asked them to weigh in on the Rock and Roll Hall of Fame.
Watch the interview right here, right now.
Kato and the Ellis Alice have little in common in The Melvins, but, like the band, she's a wonderful eccentric. As she puts it, the performer can't wait for listeners to wrap their heads around her debut release - Love is in the Air!, a summer-ready track (clap, clap clap!) that's as infectious as the personality of the enigmatic singer (she was a featured vocalist on Prince's Art Official Age and Hit N Run 2 tour by the way). Kato, formerly known as The Golden Hippie, said her new project is a gateway into her own private "wonderland." Take a listen below, and get lost in it. Enjoy the wonder of it all below:
A-Sides' "Delve Into Twelve" Countdown
Each week A-Sides unleashes its top 12 tracks of the week AKA the "Delve Into Twelve" based on the following contributing factors: songs I'm playing out that particular week (no matter when they were released -- think overlooked songs, unreleased tracks and old favorites), songs various publicists are trying to get me to listen to that I did and dug a bunch, song posts and trends I've noticed on my friends' Facebook walls and, most importantly: what my toddler is currently enjoying thoroughly with an assist from my infant.
About A-Sides with Jon Chattman:
Jon Chattman's music/entertainment series typically features celebrities and artists (established or not) from all genres performing a track, and discussing what it means to them. This informal series focuses on the artist making art in a low-threatening, extremely informal (sometime humorous) way. No bells, no whistles -- just the music performed in a random, low-key setting followed by an unrehearsed chat. In an industry where everything often gets overblown and over manufactured, Jon strives for a refreshing change. Artists featured on the series include Imagine Dragons, Melissa Etheridge, Yoko Ono, Joe Perry, Alice Cooper, fun, Bleachers, Charli XCX, Marina and the Diamonds, and Bastille.
Calling all HuffPost superfans!
Sign up for membership to become a founding member and help shape HuffPost's next chapter