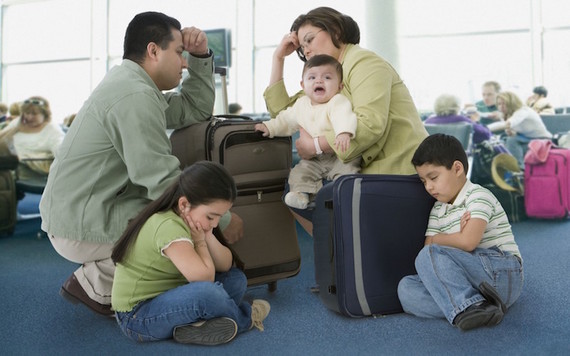 March Madness in the U.S. equates with college basketball championship. Fans from all stripes and colors go berserk for a few weeks, hoping their favourites will make it to the NCAA Final Four. However, for many traditional or blended families, it can also be a time of insanity, one that we call the Family Vacation Madness! One short week when parents decide to take the whole clan away from its regular buzzing schedule, only to replace it with... more activities and things to do. We've been there and done that...
About 2 years after we got together, we decided to go to Florida on a one-week family vacation with our 3 kids who were in their early teens at the time. This was many years before we found our little corner of heaven on Florida's Treasure Coast.
The trip was action packed. If you have ever experienced one of those, you can probably relate to what we went through... If not, well, have you ever stood in line for your rental car in a Florida international airport behind a family of 5, stepping up and down amidst 24 luggage pieces, waiting for their mini-van? That was us! Only difference between our family and the ones we see today is that our kids wore cumbersome headsets plugged to mini-disk players back then, rather than the white-wired smartphones we now see teens with. Yes, each era bears its own blessings...
Like any average family visiting Florida for the first time; we managed to squeeze thousands of miles on that one-week rental. East Coast, West Coast, South Beach, Disney, Universal, a bit of golf (yes Daddy had brought along his other cherished children for the ride...Fore!!!) and everything else in between. Add to the hectic schedule the Diplomacy 101 required by any teenagers parents of a recently formed blended family on a vacation trip, and you get pretty close to the total picture.
Half way through that week we were already exhausted, imagine at the end! To make matters worst, in our infinite wisdom, we had booked a late return flight, which was landing way past midnight, while both of us were working the very next morning... In Mario's case, he had to leave in the wee hours for a one-week national corporate meeting in which he was the opening presenter! It took us weeks to recuperate from our vacation...
Here's our simple advice. In spite of its aggravation, we keep great memories of that trip. It served as the foundation for what have become other wonderful family vacations since then. What we have changed as a couple though, is to make sure that our "family down time" stands for what it is supposed to be. A recharging time for all.
If you are coming out of your Spring Family Vacation completely drained out, take this as an opportunity to properly plan your next breaks over the years to come and to bring your family on board with you. Try to find the balance required to do activities as a family but make sure everyone understands that it should also be a recharging time. We have, and it has made a huge difference in our relationship and in our lives.
* * * * * *
Acclaimed Relationship Coaches, Authors and HuffingtonPost bloggers Diane and Mario Cloutier have each experienced real-life relationship sorrows of breakups and divorces before finally attracting the blissful relationship each of them were longing for. They became romantically involved in 1998 and married in 2001. Their new book, Relovenship® -Look Within to Love Again! (Xclamat!on Media, 2015) gives inspiration, hope and a step-by-step methodology to people who have had romantic disappointments and are still looking to find "the one." Mario and Diane are now constantly traveling across the United Sates and Canada to spread their message: that it is possible to "live happily... EVEN after!" For booking inquiries or to learn more about the authors and their upcoming events, go to ReLovenship.com.