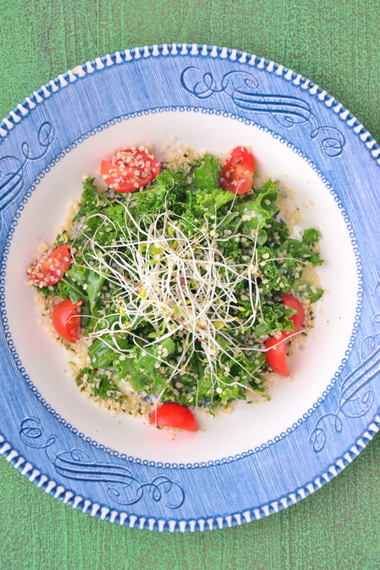 Kale salads are quite possibly the greatest thing since sliced bread. After 10 years of chronic illness, kale salads have been a staple in my kitchen and have helped me discover the beauty of eating whole, fresh foods filled with incredible flavor. This recipe is loaded with fiber, protein and anti-inflammatory Omega 3's from the hemp hearts and lots of goodness and fresh flavors whipped up into a bowl that can be served for lunch or dinner.
There are so many ways to jazz up a kale salad but I recommend you start by 'massaging' the leaves so they are super soft and tender! Fresh kale salads are so easy to prepare and when you use your hands and a good quality extra-virgin olive oil, you can massage the harsh kale into soft, tender leaves that are easy to digest and taste incredible when paired with other fresh ingredients. Here, I tossed grape tomatoes, sprouts, parsley and hemp hearts into a large bowl, seasoned to taste with sea salt and pepper and then drizzled lemon juice on top for a perfectly delicious end of summer salad that's sure to please your taste buds. Dig in and enjoy the last days of summer!
Anti-Inflammatory Kale Salad with Hemp Hearts
• 1 large head curly kale, finely chopped and stems removed
• 2 Tbsp. extra-virgin olive oil
• 1 cup grape tomatoes, quartered
• 1 cup sprouts
• 1 Tbsp. finely chopped fresh flat parsley
• 2 Tbsp. hemp hearts
• Sea salt and pepper, to taste
• Pinch of crushed red pepper flakes (or cayenne pepper)
• Juice of 1 large lemon
• 1 tsp. lemon zest, optional for garnish
1. In a large bowl, massage the chopped kale and oil with your hands until the kale is soft and tender and turns a dark green color. Add the tomatoes, sprouts, parsley, salt, black pepper and crushed red pepper; toss to combine. Drizzle with the lemon juice and season to taste with salt and pepper. Garnish with lemon zest, if desired, toss again and serve immediately.