As fall approaches, Hindus are gearing up for their Holiday Season, which is celebrated in October and November. Each year, India comes alive for a month filled with Hindu festivals, rituals and celebration. It's the most auspicious time of the year!
Due to the various sects of Hinduism and the range of geographical and cultural traditions, Hindu Holidays are celebrated differently throughout the country. This article highlights some of the more commonly-known variations of the festivals, but it definitely doesn't cover them all.
The Hindu festival season begins with Navratri, followed by Dussehra and culminates with Diwali.
Navratri is known to be one of the most colorful festivals in India, and is most popular in the state of Gujurat. Navratri, which means "nine nights" in Sanskrit, is a nine-day festival that celebrates the Goddess Shakti, also known as the "the divine mother," and her three avatars: Durga, Laxmi and Saraswati. Navratri is also a celebration of the harvest season.
The first three nights are dedicated to worshipping the Goddess Durga, the goddess of power; the next three nights are dedicated to worshipping the Goddess Laxmi, the goddess of wealth; and the final three nights are dedicated to worshipping the Goddess Saraswati, the goddess of knowledge and wisdom.
Below is a description of how Navratri is celebrated in some parts of Gujurat:
For nine nights, men, women and children dress up in brightly colored clothing and perform the characteristic devotional dances of Navratri known as Garba and Raas. Dancers begin by performing garba, which is characterized by intricate circular formations that represent the lotus and other auspicious symbols. Men, women and children dance gracefully in a circle around statues or idols of the Divine Mother. Throughout the night, the music increases in pace and rhythm.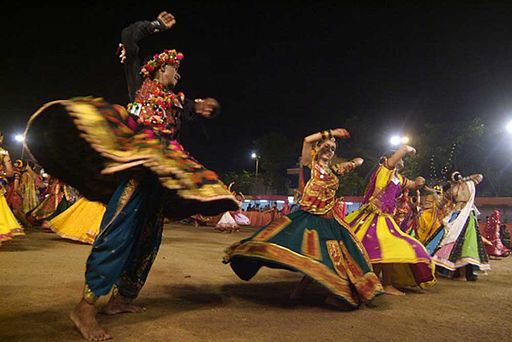 Men and women dressed in traditional clothes perform Garba to celebrate Navratri in Gujurat, India. Wikimedia Commons
Garba is then followed by Raas, one of the most impressive and fun folk dances in India. The origin of Raas dates back to the life of Lord Krishna and is commonly known as Krishna's "playful" dance. During Raas, dancers line up in two rows facing each other and dance with sticks in their hands known as dandiyas. Each person dances with a partner (the person they are facing), hitting their dandiyas together while performing synchronized footwork. The level of complexity of the dance varies based on the dancer's skill level.
Raas is then followed by Aarti, a worshipping ritual in honor of the Goddess Shakti. Aarti is a ritual in which devotees sing a devotional song in praise of the deity, while circling a large plate made of silver around a statue or idol of the god or goddess. Generally, the plate contains a diya, or oil lamp and may also have flowers and incense. The flame of the diya is said to absorb the deity's blessing during aarti. Once the aarti is finished, devotees cup their hands around the flame and raise their palms to their forehead to take the deity's blessing.
This routine of Garba, Raas and Aarti is performed each night. It is important to remember that even within Gujurat there exists cultural variation, so some people may not take part in every tradition or ritual listed here.
During Navratri, sweets are prepared in honor of the Divine Mother, and many also observe a fast for introspection and purification.
This year, Navratri starts on October 16th and continues and ends on October 23rd.
The day after Navratri is known as Dussehra or Vijayadashmi, a celebration of the victory of good over evil. Dussehra commemorates the defeat of the demon king Ravana by Lord Rama and the defeat of Mahishasura by the Goddess Durga in Hindu mythology.
In parts of northern India, Dussehra is celebrated by burning effigies of Ravana in huge bonfires. Hindus see this ritual as a symbol of the burning of evil and sin within themselves. Theatrical plays and dances that depict the life of Rama, known as Ramlila, are also performed on Dussehra. Generally, Ramlila is a reenactment of Ravana's defeat by Lord Rama.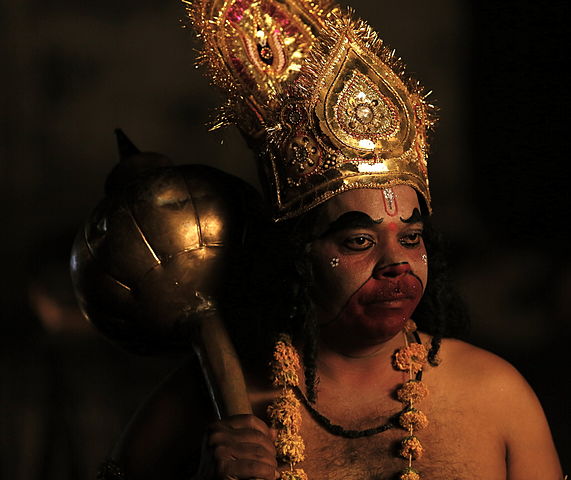 A man dressed to play the part of Hanuman, an avatar of Lord Shiva and a devotee of Rama, for Ramalila. Ramalila is a reenactment of Ravana's defeat by Lord Rama and is generally performed on Dussehra across the country. Wikimedia Commons
In parts of Southern India, the streets are filled with large processions of the Goddess Chamundeshwari (another form of Shakti) mounted on beautifully decorated elephants. Dussehra is also considered a good day to worship household and work tools such as books, cars and computers. Many Hindus think of Dussehra as an auspicious day to start a new business.
This year, Dussehra falls on October 24th.
Diwali, also known as Deepawali, is one of the most well-known Hindu holidays around the world. For many people outside of India, it is commonly referred to as the "festival of lights." Diwali continues the celebration of the victory of good over evil. In northern India, Diwali commemorates the return of Lord Rama, along with his wife Sita and his brother Lakshmana, from is his 14-year exile. According to the myth, in celebration of Rama's return, the people of Ayodhya--Rama's village--lit a path for him with diyas. In India, the lighting of the diya represents the illumination of knowledge, and separation from ignorance.
To honor this day, Hindus adorn their temples and homes with beautifully decorated diyas, lights and rangoli--intricate designs made on the floors of living rooms and courtyards with brightly colored flour, rice or sand. Diyas are also set afloat in rivers, and fireworks light up the night sky. Hindus celebrate Diwali with family gatherings, special snacks and sweets, bonfires, prayer and card games.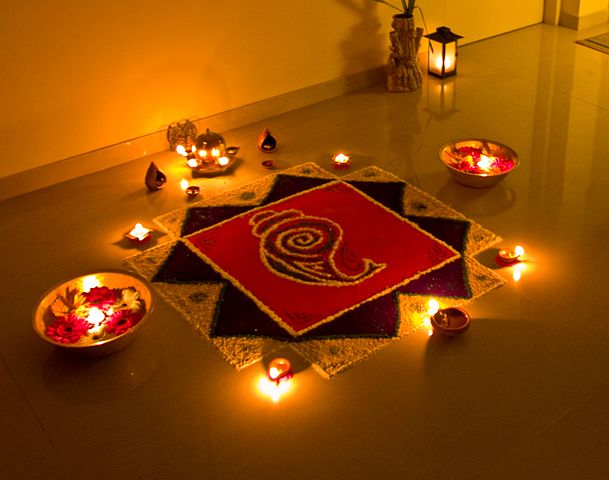 A rangoli, an intricate design made of brightly colored flour, rice or sand, and Diyas, oil lamps, are arranged on the floor of this Hindu home to celebrate Diwali. Wikimedia Commons
Because Diwali is a celebration of wealth and prosperity, many Hindus wear new clothes on Diwali, and children are often given money. Diwali is also considered an auspicious day to make big purchases.
Although several Hindus only celebrate Diwali on one day, some celebrate it as a five day festival, with each day signifying something different:
Dhanteras - Dhanteras marks the first day of Diwali celebrations. On this day, diyas are lit around the house and kept burning all night, new clothes are adorned and houses are decorated with colorful rangolis and adornments. Many people choose to make big purchases on Dhanteras, especially in the form of precious metal, as it is considered good luck.
Naraka Chaturdashi/Choti Diwali/Kali Chaudas - The second day of Diwali is dedicated to the Goddess Shakti or Maha Kali. On Naraka Chaturdashi, Hindus focus on eliminating evil from their lives and praying to Maha Kali for strength and protection.
Diwali/Lakshmi Puja - The third day is what people refer to as Diwali--it is the most celebrated around the country. On Diwali, families get together and worship the Goddess Laxmi--the goddess of wealth--and pray for prosperity. Snacks and sweets are prepared and offered to Laxmi, complemented by prayer and devotional songs.
Bali Pratipada/Govardhan puja/Gudi Padwa/Annakoot - For some, this day signifies the first day of the Hindu New Year. For others, it is a day to celebrate Lord Krishna, an avatar of the "Great Preserver," Vishnu. Many people have feasts and offer food to Lord Krishna along with prayer and aarti. Statues and idols of the deity are adorned with garlands and jewels.
Yama Dvitiya/ Bhai Dooj - The final day of diwali is known as Yama Dvitiya or Bhai Dooj, and is a celebration of the bond between brothers and sisters. On this day, sisters pray for the long, healthy and happy lives of their brothers. Generally, sisters invite their brothers to their home for a meal consisting of their favorite foods. Sisters then perform aarti for their brothers and apply vermillion powder on their forehead; the mark made by the vermillion powder is known as a tilak. In return, brothers often give their sisters gifts. Bhai Dooj signifies the vow brothers make to protect their sisters.
This year, Diwali begins on November 13th.
Looking to get into the holiday mood? Dhingana has playlists to get you and your family excited about the coming holiday season!
Related
Popular in the Community