Last year U.N. goodwill ambassador Emma Watson, in a stirring speech, launched the HeForShe movement for gender equality. Watson called for action, not just talk, in support of girls' rights.
The White House also started the Let Girls Learn global initiative. President Obama says, "62 million girls who should be in school, are not. And that's not an accident. It's the direct result of barriers, large and small, that stand in the way of girls who want to learn."
But what exact steps can we take to end gender inequality? How can we empower girls worldwide and ensure opportunities, that for so many have been tragically lost.
One answer is a simple school meal. The dream of every child receiving school feeding is a step everyone can get involved with and support. This one action can improve the lives of girls everywhere by giving them a foundation for success: nutrition and education.
A young girl from Nepal, Nimdoma Sherpa, received school meals as a child from the UN World Food Programme (WFP). By age 17 she had scaled Mount Everest in a historic climb. Now at age 24 Nimdoma continues to achieve in mountain climbing and is pursuing a college degree.

Nimdoma Sherpa at the launching event of WFP School Feeding Programme campaign in Japan. (WFP/Deepesh Shrestha)
Without school meals she could not have broken through barriers to achievement. Nimdoma is a great spokesperson, advocating food and education for girls.
Alice Kankhwala is a primary school teacher in the African nation of Malawi. How was she able to reach this position when so many girls in her country don't even receive an education?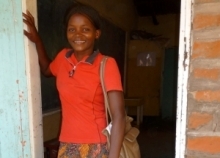 WFP started providing school meals for her class. This gave her the strength to learn and gave her parents incentive to send her to school.
Alice says, "I wouldn't have finished my primary school if there had been no school meals." Take home rations were also provided by WFP.
Millions of girls and boys around the world live in hunger and poverty. They often lose any chance for education because of that severe hunger. Either they do not attend school or even if enrolled, they cannot concentrate and ultimately drop out. You cannot learn on an empty stomach.
Without education there is little chance for any child to advance. This reality impacts girls the most. But a school meal can change this. The food gets children to school and they learn.
The goal is for each country to have universal school feeding to improve the rates of girl's attendance. This is both in class meals and take home rations. In Yemen, for example, WFP provides take home rations for school girls to boost their attendance and reduce malnutrition.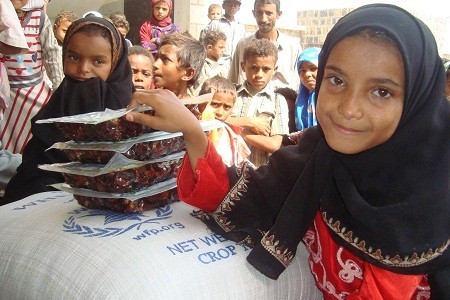 WFP provides take home rations in Yemen to improve the attendance rate of girls in school. (WFP/Maria Santamarina)
A school principal in Yemen says, "The programme works. I would guess that attendance rates for the girls at my school would fall by 90 percent if these rations were terminated."
Yet, funding is often low for school feeding. Programs get reduced or cut when funds dry up. When that happens girls and boys will drop out. School feeding needs global advocates to bring the full power of these initiatives into action.
For example, the U.S. supports school feeding in developing countries through the McGovern-Dole and Food for Peace programs. The McGovern-Dole initiative is named after former Senators George McGovern and Bob Dole, who have advocated for school meals for children everywhere.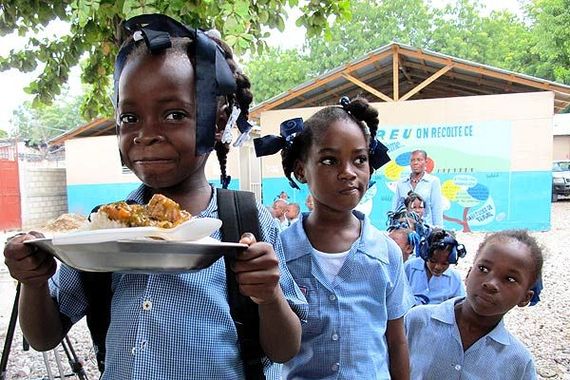 School children in Haiti receiving meals from WFP. The McGovern-Dole program supports school feeding, and this helps improve the attendance rates of girls. (WFP photo)
We can certainly add more funding to these programs. The McGovern-Dole budget level is around 200 million annually. As a comparison, nuclear weapons spending exceeds 30 billion at the very least. We can clearly do more to support girls education through school feeding.
The ultimate goal is for each nation to have comprehensive school feeding, and this will help both girls and boys. Each nation needs people to advocate for these policies. The international community needs to support nations who need help establishing school feeding.
So, yes there are steps that can dramatically improve the lives of girls around the world. There are steps that can lift them out of poverty and allow them to achieve as much as men. It starts with food for education.
It starts with the school meal. You do not have to wait one second to become an advocate for this cause on the road to gender equality.