I recently taught a creativity course and was honoured to have a student say thank you in a way that was not only personal, but very meaningful.
I only use foraged material for my work, so it can be difficult to find places to collect. This student believed the creativity course to be transformational to her, and she chose to say thank you through offering me to her property to collect material. I managed to sell every single one of my works I made from this collection in my recent exhibition.
I believe that saying thank you and showing appreciation is incredibly important in business and in life. Everyone wants acknowledgement for their efforts, and everyone deserves to be appreciated. We all feel a yearning to be valued, and we can enhance our workplaces and our lives with more of a praise culture.
How can we make sure to show appreciation to the people in our lives that deserve it?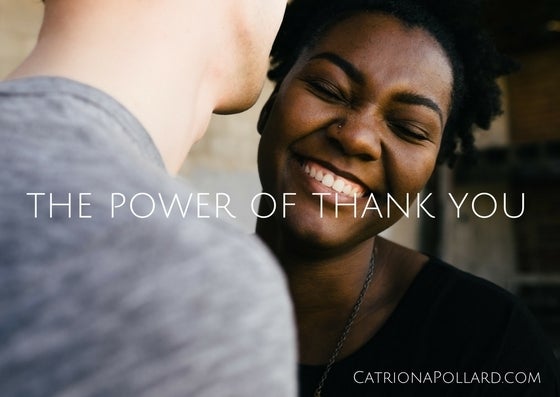 I've spent every weekend for the past three weeks at a gallery where my solo exhibition was being held. In between visitors, I sat on the floor and wove sculptures, which gave me some thinking time in that space.
I thought, I have expertise that all of the other artists involved in the gallery could benefit from. So on the last day of my exhibition, I put enough copies of my book From Unknown To Expert for everyone on the shelf in the storeroom. So simple.
When we pitch a story to a journalist, and the story gets a run, the journalist is just doing their job right? They got a great story because we came up with the idea and sent it to them. In my Agency, we have a policy of thanking the journalist. We acknowledge their effort and time, by emailing a simple thank you. You should to.
Run gratitude exercises at work and at home
With my team, we sit in a circle with one person in the centre and tell them why we are grateful for them, being specific about moments, lessons and impacts. We talk about how we have changed because of their impact on our lives.
I'm sure we all have people in our lives we take for granted. Colleagues, best friends or even the person that makes our coffee in the morning. I know I do. So from time to time, take stock of those people and acknowledge them. Let them know what their action's personally mean to you.
A simple thank you can brighten someone's day, start a friendship, or even change workplace culture. People have a tendency towards doubting their actions in everyday life. Show appreciation for people in your life in order to enrich yours, and surround yourself with positivity and kindness.
Catriona Pollard is the author of From Unknown To Expert, a step by step framework designed to help entrepreneurs develop effective PR and social media strategies to become recognised as influencers in their field. www.unknowntoexpert.com
Catriona is also the director of CP Communications, which merges traditional PR tactics with cutting-edge social media strategies that engage consumers as well as business. www.cpcommunications.com.au
Related
Popular in the Community