"We should probably get out of here."
Stephanie and I were at the wedding of our friends, Angela and Benjamin. It was a beautiful evening on July 1st... strange for St. Louis, Missouri in the teeth of the summer. We had just feasted on what might have been the best wedding food we'd ever enjoyed, and we were getting ready to do some dancing. Only one thing stood in our way:
Steph and I had Uber'd to the event which was located at this gorgeous house not a half-mile away from Fair St. Louis, one of the biggest Independence Day bashes in the country. The Gateway Arch grounds have been undergoing years-long renovations, and they just weren't quite ready this year for the tens of thousands of fairgoers, funnel cakes, and fireworks.
And because parking suckles hind teet in Forest Park, where the event takes place, many people Uber it to and fro. The fireworks would be over not 45 minutes from this moment, which meant that not only procuring an Uber would be difficult, but it might cost the price of a healthy kidney on the open market.
"I don't want to miss the dancing at all, but we may not make it home for quite a long time if we wait too long," I said.
Stephanie agreed, and within ten minutes we were heading home.
I had always forgotten how much I hated it when my parents went and out and then came home before my brother and I went to bed. It meant that the babysitter would have to leave early (in this case, Izzy... one of their all time fav's). I saw my parents enough... couldn't they just drag the night out a little longer?
My wife and I received that same look as we walked through the door.
"What are you doing here?" they said.
After seeing Izzy off, we all went upstairs to get ready for bed. I walked into our bedroom and flipped on the TV to an episode of Law & Order: SVU. (Side note: I'm such a L&O fan that if they came out with Law & Order: Desk Duty, not only would I watch it, but I'd DVR it to make sure I watched it.) Steph and I brushed our teeth and walked out of our bathroom, only to be greeted by Sam and Ben, our eleven and nine-year-old children, glued to the screen.
We'd already crushed them with our early arrival and we didn't have the heart to crush them again. So in a Parents of the Year Award nominee'd moment, we let them watch about twenty minutes.
This was one I'd never seen, about a sociopathic twelve-year-old kid who rapes and kills this older woman who grows pot, and his easily manipulated fourteen-year-old counterpart who was utterly crushed with remorse over being there and not doing anything to stop it.
The performance of the older boy was utterly extraordinary. The four of us couldn't take our eyes off the screen. It hit us so hard, in fact, that Sam (our oldest) said as we put him into bed, "I feel so, so bad for that kid."
"Me too," said both Stephanie and I.
And I meant it. I thought about that kid a lot... so much so that the next morning while working on a video edit, I randomly Googled Law & Order SVU: kids kill the old woman. I expected to see at least fifteen episodes with that premise, as the show has been going on for approximately sixty-one years. However, only one popped up the the SVU Wiki:
After a solid six seconds of reading the plot points, I knew I had found the right episode. Further down the page, I found the name of the actor who played the remorseful teenager: Shane Lyons.
Now in this episode, Mariska Hargitay had exceptionally short hair, so I knew it was one of the early ones. Which meant by this time, Shane was well into adulthood.
But something about that character struck me so tragically. I had hoped that Shane, the human, had not somehow ended up like Shane's character, Jeremy Brice. So I continued my stalki... Googling... and discovered that not only was Shane still alive, but that he was now a really successful chef... the one profession I would want to do if I wasn't in video production.
I found a video of him from the WLNY's The Couch TV show, where he made Turducken burgers. During the appearance, he almost coats both sides of the burgers in salt before grilling, which is something I've been doing for a long time. When the host questions why he's using so much, Shane says, "Home cooks usually don't use enough salt."
"Yes!" I yelled at my computer screen. Summer, our dog and the only other living being awake at that ungodly hour, looked at me like I was high.
A couple of minutes into the video, he was cooking burgers in one iron skillet, and toasting the buns in another one next to it. When the host asked him about that, Shane said, "Because the meat is only part of the burger. A huge part of it is also the bun."
And with that, a single native-American-standing-in-a-thrown-trash-pile tear rolled down my cheek, metaphorically. For ten years, I've been saying that the bun is completely overlooked when making an amazing burger. For ten years, my wife has basically said, "I know, honey. There-there."
After one more Google, I learned that not only is he a ridiculously successful chef, but that he opened a restaurant in New York called Distilled.
I found the website and perused the menu. After what may have been fifteen seconds, I immediately made an Open-Table reservation. And I could only do this because, in a lovely twist of fate, my wife and I were taking our boys to NYC as part of our road-trip vacation in two weeks.
At the end of the reservation process, there happened to be what is usually a throw-away line: If you have any questions, please e-mail info@distilledny.com.
So I did, and the subject line read You're Going To Think I'm Nuts When You Read This...
... and then I relayed the entire story to the restaurant. I ended it with,
And if nothing else, I just wanted to send my sincerest gratitude for an exceptional performance, and my culinary kinship to a fellow devotee of the lowly hamburger bun. 
Three hours and eight minutes later, Shane responded. Personally.
You could have knocked me over with a feather. He was so thankful for the message, for the appreciation of his performance in SVU, and for our reservation. And then he laid this on us:
I would like to set you guys up at our chef's counter, where our Chef de Cuisine Chris will make sure to give you guys lots of extra love.
Excuse me, what? Did that really just happen?
Well, actually, it happened last night. As I sit here writing this, I'm still trying to process everything that occurred. We walked in to Distilled, and sure enough, there were four really comfortable stools in a row waiting for us at the chef's counter. The look on both of the boys' faces, alone, would have made the night unforgettable.
But they were just getting started with us.
The first thing they give you at Distilled is popcorn. Yes, you read that correctly. It has this "Magic Dust" on it that is out of this world good. However, our boys were a little on the apprehensive side, so Chris Blain, the Chef de Cuisine, asked, "Would you like some plain popcorn?"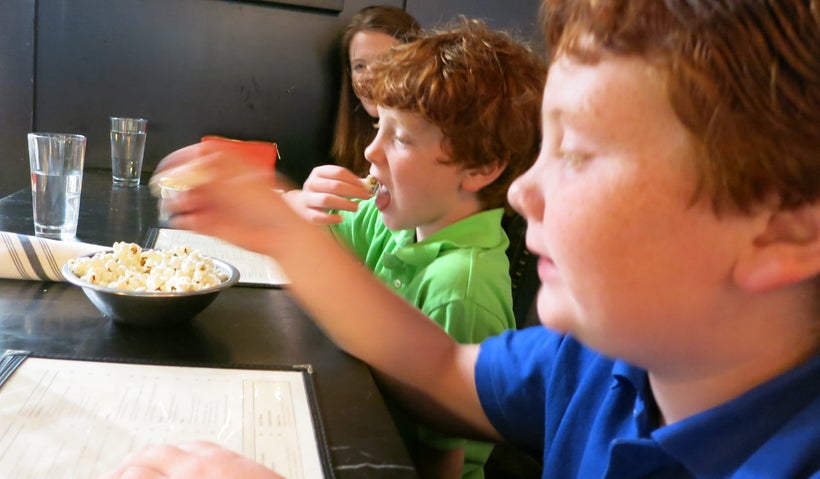 It was at that moment that I knew that I had nothing culinarily to worry about with the two pickier eaters sitting between Steph and I at the counter.
Sam ordered a burger with tater tots... Ben, the huge pretzel with the same tots. Steph and I did the four-course tasting.
Course #1 had these double cooked Korean-style chicken wings with house-made bleu cheese dressing. My wife, who would never order chicken wings on a menu, said, "These are the best wings I've ever had in my life."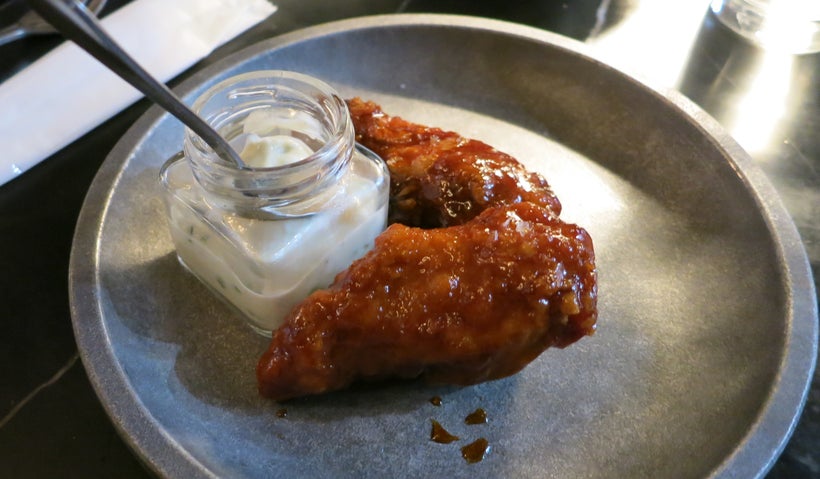 Course #2 was roasted cauliflower with Kimchi, which I have to tell you scared me when he told me what it was. I've never liked Kimchi... just not my thing. Nor do I like cauliflower.
And if I could have snorted this through a straw, I would have. I was saddened when Steph had nothing left on her plate.
Course #3 was literally the best tuna I have ever had in my life. Ever. Period. Finito Mussolini.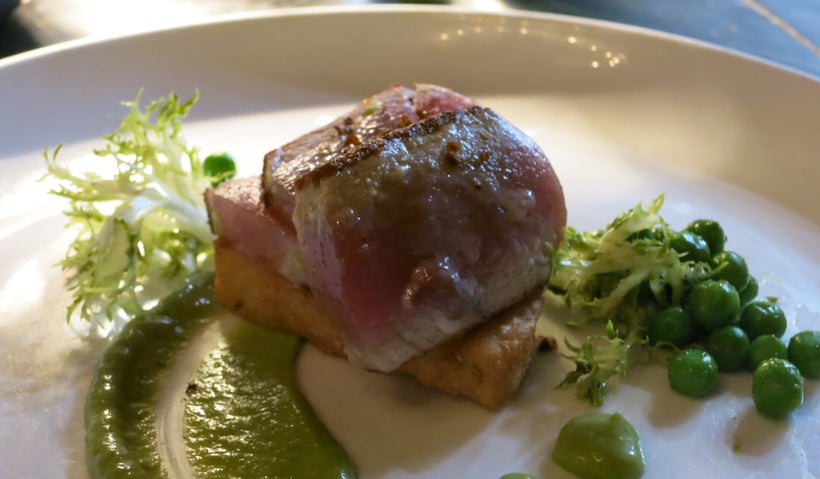 At this point, Sam couldn't finish his burger, so I did. And then he gave me a few tots. And then Course #4 came out, which immediately made me regret inhaling Sam's burger. It was steak over fingerling potatoes, and it was glorious.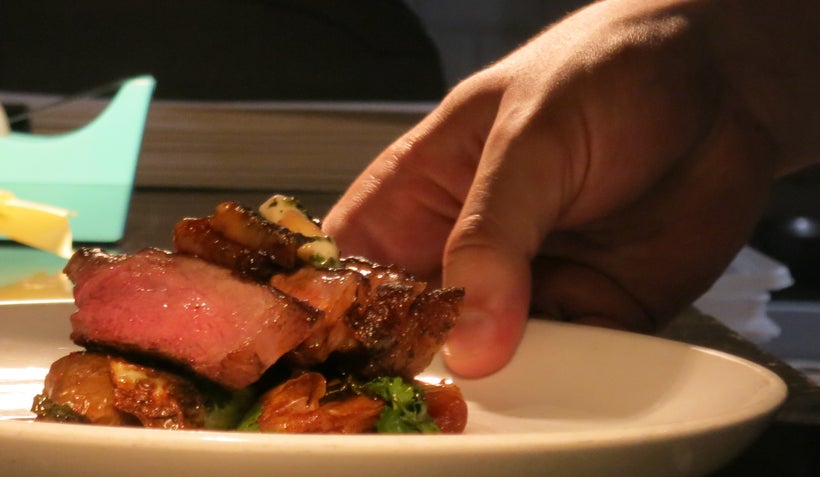 Yet while the food was some of the most exquisite I've ever had in my life, it is not what made last night so memorable. This, is what made it a night that we'll never forget: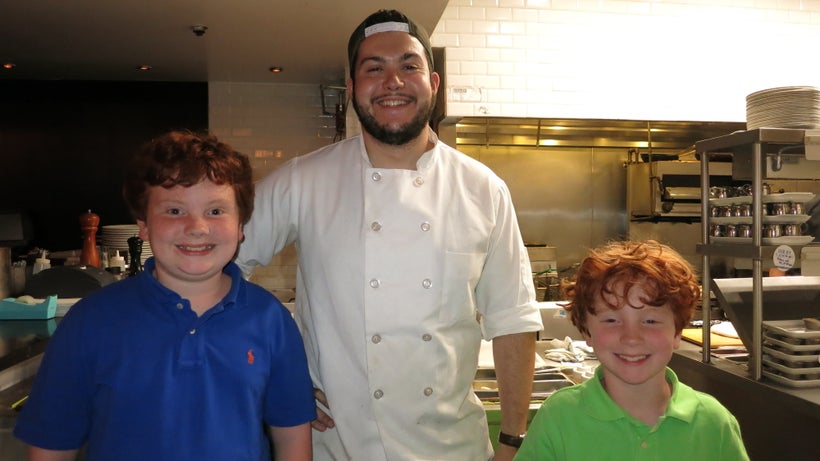 When we asked if we could get a picture with Chris and our boys, he immediately said, "Would they like to come stand in the kitchen with me?"
Their reaction will stay with me forever.
It was a truly remarkable night in every way, from the food to the unfailing patience of Chris with our boys telling him all about Guy Fieri, their favorite celebrity chef and host of their current addiction show, Guy's Grocery Games.
This entire experience really made me realize that humanity and kindness are still alive and exceptionally well. To Shane for setting it up, to Chris and the staff at this wonderful restaurant, thank you... thank you with every fiber of my being.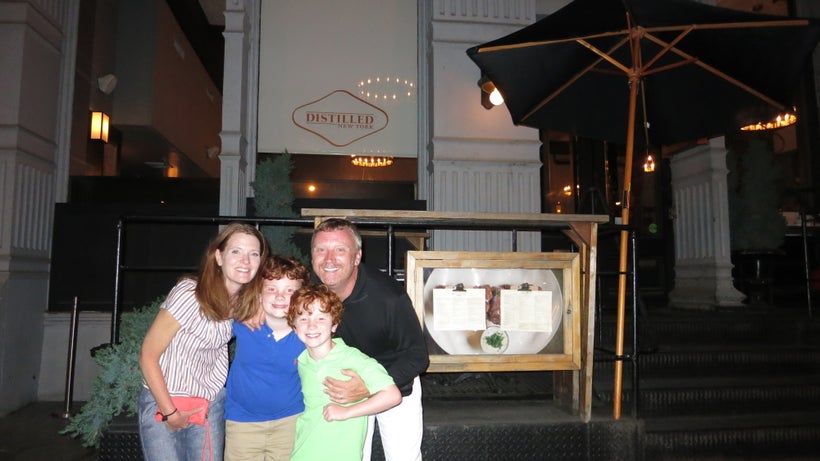 And I'm still just so stunned when I think that all of this born from watching twenty minutes of a fifteen-year-old TV show.
And stalking, but just a little.
REAL LIFE. REAL NEWS. REAL VOICES.
Help us tell more of the stories that matter from voices that too often remain unheard.
This post was published on the now-closed HuffPost Contributor platform. Contributors control their own work and posted freely to our site. If you need to flag this entry as abusive,
send us an email
.