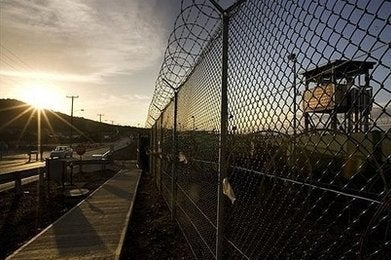 A picture may be worth a thousand words, but the picture on the ground in Iraq is quickly making military personnel who can translate Arabic priceless.
This morning's Christian Science Monitor reports that the Army is preparing to offer a staggering $150,000 retention bonus to service members who are proficient in Arabic, "in reflection of how critical it has become for the US military to retain native language and cultural know-how in its ranks." Indeed, as the war in Iraq goes on, and the military subsequently finds fewer and fewer people anxious for extended stays in the desert, retaining trained troops is becoming a critical centerpiece of many commanders' strategies. The supply of Arabic speakers just isn't keeping up with the demand created by ongoing wars in Iraq and Afghanistan.
"The military's conventional language training program, the Defense Language Institute in Monterey, Calif., could not churn out enough American soldiers proficient in Arabic, Kurdish, Dari, Pashtu, and Farsi, and the military quickly turned to private contractors to fill the gap," reporter Gordon Lubold writes. "Numerous programs have sprouted up, including one at Fort Lewis, Wash., where soldiers are given a 10-month immersion program in language and culture."
The Army is taking almost every step imaginable -- from six-figure bonuses to civilian interpreters in the warzone to recruitment campaigns targeting Arab-American communities -- to beef up its language capability. Every step, that is, except one. Army officials have yet to tell Congress to dump the "Don't Ask, Don't Tell" law that has resulted in the dismissal of more than 5 dozen Arabic speakers who were otherwise qualified and ready to serve.
In fact, as the House Armed Services Committee's Personnel Subcommittee tackled the question of possible repeal in July, not a single representative from the Department of Defense was on-hand to weigh in on the issue. And while, in some ways, that's a welcome change from 1993, when Pentagon brass passionately insisted on excluding gay Americans from the forces, it also underscores that Congress has a critically important role to play when it comes to bolstering military readiness.
Congressman Gary Ackerman (D-NY) has the right idea. A steadfast supporter of repealing "Don't Ask, Don't Tell," he has also insisted that, until Congress can muster the will to do away with the law, the federal government should at least be taking steps to keep qualified specialists, like Arabic linguists, in its employ. In February 2007, Ackerman famously queried Secretary of State Condaleeza Rice about her department's efforts to find trained Arabic speakers.
During hearings on the State Department's 2008 budget request, Ackerman noted that Secretary Rice repeatedly emphasized the importance of recruiting qualified language experts to work in the agency. Remembering that the armed forces have fired more than 300 language experts (including those 5 dozen fluent in Arabic), Ackerman wondered, "Can we marry up those two -- or maybe that's the wrong word -- can we have some kind of union of those two issues?"
"Well, it seems that the military has gone around and fired a whole bunch of people who speak foreign languages -- Farsi and Arabic, etc.," Ackerman said. "For some reason, the military seems more afraid of gay people than they are against terrorists, but they're very brave with the terrorists. ... If the terrorists ever got a hold of this information, they'd get a platoon of lesbians to chase us out of Baghdad."
"This absurdity can't continue," Ackerman later wrote in an August '07 Newsday op-ed. "The 'Don't Ask, Don't Tell' policy is not only wasteful and inefficient, it's unfair and un-American. In the middle of a war we are throwing out good people who have volunteered to put their lives on the line for their country."
There's no doubt that trained Arabic speakers are increasingly worth their weight in gold. No one is arguing that the military shouldn't offer attractive recruitment and retention packages for those who want to join, nor that they should abandon an aggressive campaign to find new people who can get the job done. But on the long list of things our country can do to keep patriotic Americans like Bleu Copas, Cathleen Glover and other Arabic language experts in uniform is to get rid of the counter-productive law that bars them from service.
Retaining good straight troops to the tune of $150,000 may be an investment worth making, but in the long run, that platoon of lesbians might just turn out to be priceless, too.
The Army's six-figure solution to its retention crisis is missing one common-sense addition that could make a very big difference on the ground.
It's time to end "Don't Ask, Don't Tell." This absurdity, as Congressman Ackerman has said, can't continue.
Popular in the Community