It began with a question.
I am not a portrait photographer. I do not have a studio. I do not own any lights. What pictures I take of people I take on streets or trails, in coffee shops or fairs or airports. Not one of them is posed. And while I might anticipate some location will provide a spark in people's faces or attitudes, every shot is serendipitous, fresh, and with luck revealing.
However, because I am not a portrait photographer, portrait photography interests me greatly. The same goes for underwater photography, aerial photography, conflict photography. I read technical articles on lighting, posing, post-production. I wonder how well my pictures might turn out.
What I love about good portraits—and I do not mean the senior photo, the wedding photo, the corporate headshot—is the way a face can hint at depth. Something in the expression says there is a story here, or an idea. Something in the eyes and cheeks and the way hair falls on a neck makes me think there is joy or despair, wisdom or fear. I can't help but look more closely and wonder.
So I decided to give it a try. In my college office I have an ancient brass floor lamp, a clip lamp attached to a dictionary stand, a reading light on my desk. Two of them are the new fluorescents. One is incandescent. And there is the little flash built into the camera. Not the best setup at all. But no worries, I thought, this is just a test, an experiment, a taste of a type of shooting I do not do at all.
I borrowed a black tablecloth from the college dining service to use as a backdrop and used duct tape to hold it against my bookcase. In a way I was set, ready to begin. I told everyone this was just a lark.
Then the universe conspired to help me out. For a completely different reason, I was re-reading Antoine de Saint-Exupery's wonderful book Wind, Sand and Stars. The book has a quote I use often.
Love does not consist in gazing at each other, but in looking outward together in the same direction.
What would happen, I thought, if I gave people this idea first? What would happen if, instead of looking at a portrait and wondering what that person was thinking or feeling, I gave couples this idea before shooting and asked them to think about it during the shots?
What would happen if I told the people who viewed the photographs that this is what the people were thinking? Would it change the session? Would it change the way we viewed the work?
We project ourselves into the pictures we see. We have no clue what those people are really thinking, so we imagine our own lives in those faces—how we would react, think, feel, love, fear, if we were in whatever situation the camera framed and saved?
What would happen if there was a deliberate attempt to project outward from the work?
I called friends, students, colleagues. I called couples I knew, or believed, were in solid relationships. Old and young. This was still a lark, I said, but I have an idea. The results, I think, are pretty good. But not for the reason you might expect.
I have a lot to learn about studio lighting. There are shadows I should fix, angles that could be better. Technically, these are not good portraits.
But technical proficiency is technique without content. If you have nothing to shoot, you have nothing to shoot. So I look at these faces and I know what they are thinking. What matters is that next step. How are they expressing that idea? What histories are implied or hoped for? What innocence or wisdom or pain? More importantly, how do I react to the ways they are expressing an idea? I do not wonder what they are thinking. I am looking at finer details. How are they expressing it? What depth do I see in the set of a face?
If you have an idea, I've learned, then the world, or a face, can open. The power of any art is how we see our own souls reflected in the work.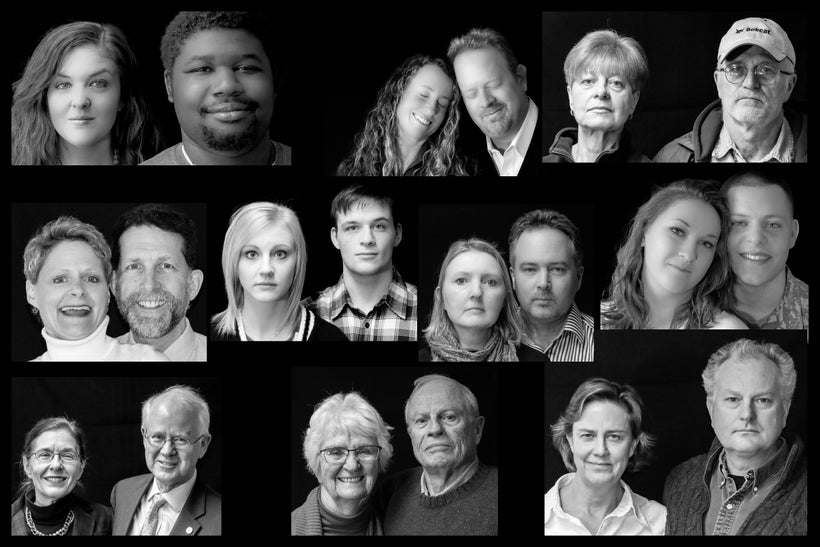 REAL LIFE. REAL NEWS. REAL VOICES.
Help us tell more of the stories that matter from voices that too often remain unheard.
This post was published on the now-closed HuffPost Contributor platform. Contributors control their own work and posted freely to our site. If you need to flag this entry as abusive,
send us an email
.