Almost a century ago, Simeon Ignatidis opened a food store in a small village of Eastern Greece. Simeon's little store became a bigger store, somewhat like his cat, named "Catos", who became the shop's mascot and purred around his legs during those long workdays.
Simeon Ignatidis' store supplied the community with fresh food locally grown; and the business prospered and provided a living for his children and their children.
Fittingly, two of his great-grandchildren decided last year to continue that tradition in big city Thessaloniki by offering quality foods -- honey, sweets, cheeses, olive oil and other delicacies -- all produced on Greek land. Even Catos managed to creep into the name and logo of their shop: "Delicatos: Your Greek Deli".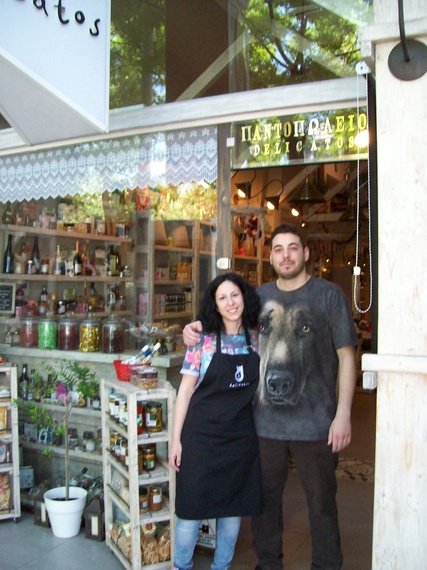 Monumental Issues and Daily Lives
Despite the strong will and the great effort made by the Delicatos family to build up their own business, their venture has been hindered by the harsh financial crisis that has gripped Greece. Political leaders are not the only ones struggling with monumental issues confronting this history-rich country and the European Union; the situation is just as challenging and uncertain for average people trying to survive in their daily lives.
While on a recent visit to Greece as a Fulbright Specialist, I had a chance to talk at length with Kakia Karadiamantis and Gregory Karadiamantis, sibling operators of this deli, who told me about their struggle to continue the family tradition. Their shop is a meticulously clean and enticing store situated in the heart of Thessaloniiki's city centre, where I normally caught the bus to my lectures at Aristotle University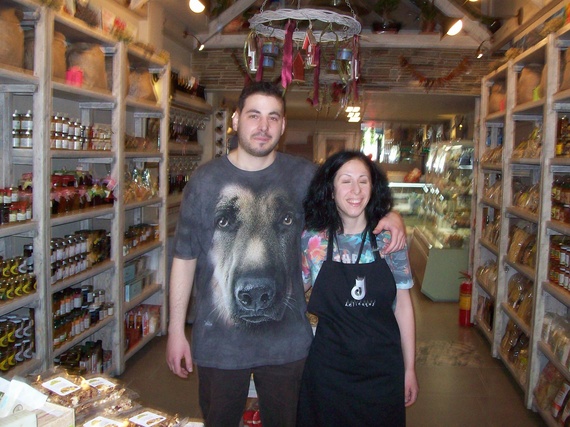 Kakia, 28 years old and a former officer of a non-governmental organization concerned with human rights, responded emotionally when I asked whether she was concerned about the current crisis. "Concern is not a serious enough word to describe how we feel," she said. Gregory, 24 years old and educated as a physical therapist, is more expressive with his facial rather than verbal communications. But he was clear about the seriousness of the financial crisis.
"Meraki": Investing Your Soul
What impressed me so much about these two young people as I left Greece was their impassioned commitment to their deli and its mission in this community. They explained their family tradition of "meraki", which for Greeks means investing in something so much that you leave part of your own self, your soul, your creativity, and your love in that effort. A flyer in their shop puts it this way: "Respecting the Greek traditions and the quality food, we traveled to different places of our country, spotting special/exceptional products and bringing them to our city, so we could share them with you." It sounds like a public relations pitch -- which it is -- but it seems especially true for Kakia, Gregory, and their customers.
Bad things happen in bad times. Also, good things happen in bad times. The determination of the Delicatos family and their dedication to their store, could be a useful resource in dealing with answers to the current economic distress; and it should remind the Greek people to revive their strong spirit and hope for the future.
DISCLAIMER: I would like to declare that this commentary reflects my personal thoughts and in no way should it be interpreted as a statement of any policy or activity of the Fulbright Commission. Also, I can assure readers that neither the family nor their deli have provided me with anything of value related to this column. I had been randomly interviewing Greek citizens about the crisis throughout my three weeks there; and, over the course of several discussions with Kakia and Gregory, I decided that their experience might help outsiders understand how average citizens are coping with such a dire situation.
REAL LIFE. REAL NEWS. REAL VOICES.
Help us tell more of the stories that matter from voices that too often remain unheard.