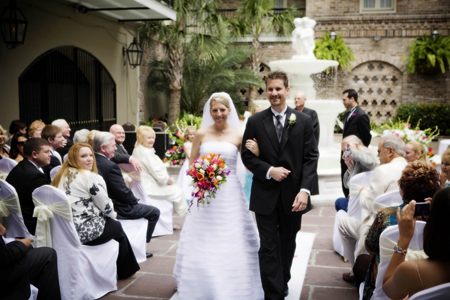 Screenshot: Flickr
Who doesn't want their wedding day to be memorable enough? Not only for them, it should be memorable for the crazy few people who accompany them too. Are you a travel or adventure junkie? If answered yes, marriage for you might mean an entirely different thing. You might not be satisfied with the boring, monotonous and conventional weddings which people do. Do you want to do something exciting on your D-Day? Would you want to choose a unique wedding location which turns tradition by its head? Would you want to make your wedding day big enough to be treasured in your memory forever?
Well, locating a good wedding venue is easier said than done. Although the problem might not always be with the size, location or cost, yet sometimes the biggest problem is that it gets a little bit same. Who wants to marry in one single hotel room with all guests seated around? If you're more of an adventurer and you don't want to exclude your wedding day from your adventure diaries, here's help for you. The concerns of this article will give you some crazy ideas of some unusual wedding venues which you may try out. Take a look.
Space, the Universe: Yes, you've read it right! It is natural that you won't believe but there are already 2 bookings which have been made for trying out these out-of-the-world weddings. Did you know that Virgin Galactic is already taking their first few reservations for their tourist space flights and two of those reservations have been done by 2 lovely couples who plan to hold each other's hands and marry under the witness of stars?
Haiku Mill, Hawaii: Have you ever dreamt of having a destination wedding at Hawaii? If you wish to go to Hawaii and not have sandy beaches as the backdrop of your wedding, you should definitely check out Haiku Mill. This is an ancient sugar plantation which is filled with the elegance of old world and this splendid wedding venue features hand-picked treasures and is surrounded by gardenia blossoms and fragrant jasmine. You can never get over the charm and the uniqueness of the space as the setting is extremely romantic.
The Windmill: Did you dream of a wedding in a windmill? How about a windmill which is located near the beach? Cley Windmill in Norfolk is an extremely bizarre option and this place can hold a maximum of 20 people for a ceremony like a wedding. If you wish to spend a weekend there, then bedrooms will also be available for you. This is located in the UK.
Trang, Thailand: Who wouldn't love to marry under the sea? That would be the perfect enactment of the scene from the Little Mermaid. This option has become very much of a reality these days and is something which a large number of couples will be doing in the near future. As per recent reports, more than 30 couples are participating in the annual ceremony which will see the divers enjoy a parade through the streets of Trang. If you're even looking for some unusual places to propose to your lady-love, you can choose this destination as well.
On top of Mount Everest, Nepal: If you literally wish to feel on top of the world on your wedding day, why not marry on top of the highest peak, Mount Everest situated in Nepal? There was in fact a Nepalese couple who wed on the highest peak of the world in 2005. The bride and groom briefly removed their oxygen masks to pronounce their vows. In case you feel that the trek seems a bit too far, you can tie the knot as the base camp too.
The Submarine: You will get to see a truly unusual venue with the Royal Navy Submarine Museum in England. Wouldn't you love to grab the opportunity of getting married on the submarine HMS Alliance? While the ceremony can be conducted on board, you and your guests can also have a tour under the guidance of a guide. You will also get a room for reception with harbour views.
Haunted Tutbury Castle, UK: It is said that the medieval ruins of the Tutbury Castle is one of the most haunted castles in the UK and is a regular haunt place for ghost-hunters. There are lots of ghost walks and other spooky events going on there. If you think you're brave enough, you can get married there at the midnight and let the ghosts witness your wedding.
Therefore, when you're looking for ways of making your wedding day memorable, you can get creative and crazy about the venue that you choose. Select from the list given above and keep this day etched in your memory forever.