The use of badges for certification, reward, and motivation is not new, but digital technology is taking badges to a new level, and causing some disruption along the way. Thanks to funding from the MacArthur Foundation, Mozilla's Open Badge Infrastructure is providing a technological core for badges, the key ingredient for market disruption as described in Clayton Christensen's "Innovator's Dilemma". As digital badges become established, they will start to displace traditional college transcripts and diplomas, and may enable the long-term restructuring of education.
What exactly is a digital badge?
According to the MacArthur Foundation, badges are "validated indicators of accomplishment, skill, quality or interest." Employers can click through badges to view detailed levels of evidence and explanation, including documents, assessment results, hyperlinks, and video. The Chronicle of Higher Education believes that badges can "act as a transcript, CV, and work portfolio all rolled together into a cool digital package. Even beyond that, badges can structure the process of education itself. Compared with the new open badge systems, the standard college transcript looks like a sad and archaic thing."
To understand more about the adoption of digital badges both in academia and industry, Extreme Networks conducted a worldwide survey and received over 1900 responses. According to the survey:
Digital badges offer two primary benefits: motivation (45%) and recognition of knowledge/skills (43%)
While only 38% of those surveyed currently use or plan to use badges, 81% of those who are using badges plan to maintain or increase their badge usage.
Of those with no current plans to use badges, the issue is either a lack of resources (44%) or lack of understanding of badges (34%).
Most of the respondents (59%) believe badges would have a positive impact on their organization, if they had the ability implement them.
Among all respondents, 65% believe the popularity and usage of badges will grow in the future.
61% of those surveyed believe that digital badges will someday replace, or be combined with, college diplomas.
Digital badges are poised to play an important role in an emerging trend in higher education, known as unbundling. Today, universities bundle an extremely diverse array of services into their product. As Michael Staton describes in The
, the bundled university product includes courses, academic research, credentials, housing, food, athletic programs, job placement, extracurricular, the arts, study abroad, social life, even rock-climbing walls and European-style bistros. As unbundling occurs, the traditional credentials, including transcripts and degrees, will start to lose relevance. Digital badges give employers easy access to specific and current information pertaining to a candidate's experience and potential. For now, the most popular use of digital badges is to recognize professional development and internal training (70%).

What's holding badges back?

According to the survey, the biggest drawback to digital badges is the lack of wide-spread awareness. Badges are only beginning to get beyond their association with games and marketing. 46% of respondents believe that digital badges are not yet widely recognized and 38% say badges are not yet taken seriously. A sizable portion of badge users (43%) have invested their own resources to implement their badge programs, rather than use a commercially available platform. The top three ways that the concept of digital badges can be improved are: better industry and market recognition and acceptance of specific badges (67%), standardized requirements of criteria for similar achievements (55%), and lower cost systems to implement badges (37%).
One way to position badges away from games and marketing is to give the concept a different name. At UC Davis, for example, the achievements are called "skill qualifications" (SQs) to give them more career relevance and to set them apart from game-oriented achievements.
Today, over 14,000 independent organizations are issuing badges and, based on our survey, this will continue to grow rapidly. The MacArthur Foundation, in collaboration with the Badge Alliance, have announced the Commitment to Action, a program to use open badges to improve the futures of 10 million students and workers. Here are many of the examples we found of digital badges being used today both in education and across industries. Schools like Carnegie Mellon, MITx and edX, Kahn Academy, Purdue University, Seton Hall, and Yale are all pioneering the use of badges in higher education.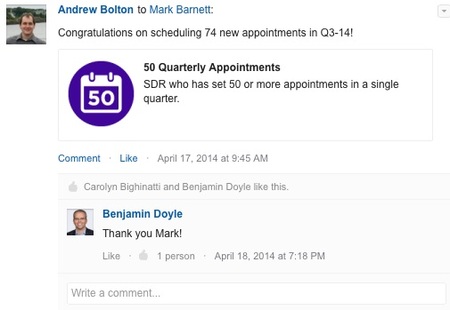 Figure 2: Example of how Extreme Networks uses Salesforce.com Chatter to recognize badge awards to employees.
Extreme Networks is a strong believer in the benefits of digital badges. We use the Salesforce.com badging system, Work.com, to recognize and reward sales development activity. Andrew Bolton, who manages the sales development team, says, "In addition to motivation, badging has helped create and promote a virtual team atmosphere, as everyone on the team tends to comment on or like the badge awards in Salesforce Chatter for our entire sales organization to see."
How to get started with digital badges
If you would like to see how digital badges can help engage employees, recognize professional development or reward achievement here are some steps to follow. First make sure your IT infrastructure is rock solid. To award, view, and share badges, the network and servers in your IT resources must be responsive and always available. There is nothing worse than receiving a badge, but not being able to access or share it.
Try it out with a small pilot to get the bugs out. Let everyone know what badges they are eligible for and roll out the program. Be sure to give wide visibility to each badge achievement and encourage sharing through social media. Remember that building a culture of collaboration and continual learning is most important. Digital badges can help reinforce a strong culture, but by themselves cannot create it.
Popular in the Community