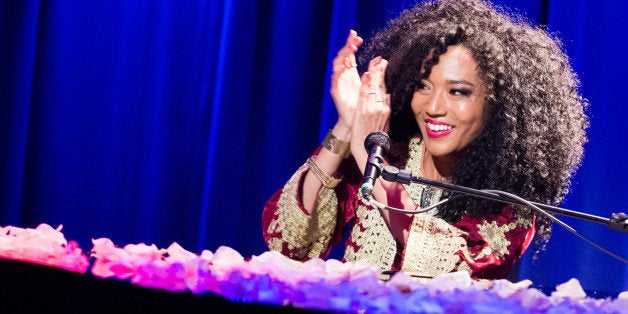 When I was 4 years old my mother taught me how to play the piano. I remember my fingers lightly placed above the glossy, intimidating black and white keys -- unaware that music was the key to my future. But my mother coached me to feel comfortable and safe in the world of melodies and notes. It was the start of an unshakeable bond between us. No matter what happened, music would always be there.
In 2014, my mother was diagnosed with stage IV non-Hodgkin's lymphoma. The year that followed was one of the most difficult times for my family. No one, no family, is ever prepared to deal with the emotional journey ahead that comes with cancer. Sadness, anger, and confusion become part of your reality... and you can't help but ask "Why?"
A memory that always stands out to me is a particular day my mother was not doing well during her treatment. I was driving to the hospital, feeling anxious and scared. To cope, I turned to the one familiar thing that always soothed me: music. I started humming a melody to regain my composure before I arrived at the hospital. When I walked into my mom's room, I knew I had to share the tune with her. So I sat there, singing next to her bed and trying to piece together the song I felt inside me. I needed to find a way to ease our pain.
My mom's face immediately lit up. Her smile was bigger than I had seen in months. I'll never forget the way she looked at me with joy... She loved my song so much. And she encouraged me to record it. This simple, self-healing moment resulted in the creation of my first single, "Cry Cry Cry," which appeared on my debut solo album. The lyrics are so important to me, underscoring this personal time in my life where having faith is what got me through each and every day. I hope the words in my song inspire people to do the same -- reminding anyone listening that it's okay to cry a little when you're waiting for change to come.
Music, by any means, is not a cure for cancer, but I can honestly say that it is what saved our lives in a special way. It provided a sense of peace as I struggled with the devastating ripple effect that cancer often has on family, friends, and loved ones of those afflicted with the disease. For my mom, music was a source of true comfort during her treatment -- making days filled with frustration and pain a little bit lighter. As I share this story, it comes with great relief and happiness to say that my mom is cancer free and in full remission.
My mom always said that if she ever recovered from cancer, she would take the stage with me and play some funk music. I couldn't be more excited that she has been able to keep that promise. Today, with ROAM headphones and Stand Up To Cancer (SU2C) as the presenters for the SXSW showcase, we are performing our song together.
This moment is possible because of SU2C's tireless efforts to rally and unite the cancer community with patients, survivors, doctors, scientists, and the latest technology in collaboration, to end cancer. Because of its forward-thinking approach to fighting this disease, my mom and I are together on stage today doing something we both love.
One of the most important things I learned through our journey is that having passion is what keeps one grounded -- whether that passion is for religion, painting, meditation, boxing, knitting, yoga, or writing... it doesn't matter. It's about having an outlet in life that is therapeutic and soothes your soul when you call on it.
Throughout my life, I have been incredibly blessed. I was lucky enough to have Rose Stone from Sly and the Family Stone and Billy Preston as family friends, subtly influencing my music as I grew up. I had the opportunity to tour with Josh Groban and John Legend, and I've worked with legendary artists like Prince and the late Michael Jackson. But, nothing compares to having my mom with me on stage today. As I perform at SXSW, it's about more than my music, it's about letting everyone battling cancer know they are not alone.
I never imagined the first note my mother taught me to play would become a source of healing for both of us one day. But it did. It is my hope that our story serves as an inspiring example of what it means to find light in the darkness, and how when we all unite and stand up together, cancer doesn't stand a chance. Learn about all of the ways you can stand up to cancer at su2c.org.
Related