Originally from the East Coast, Bruce and I were drawn to the lifestyle in the West -- the city of Sonoma, in particular. We are grateful every day that we discovered one of the most physically beautiful areas in California. Sonoma offers the best examples of simple pleasures, such as wine, food and music, and the Sonoma farmer's market is only one of the many ways we get to enjoy the highest quality organic foods and a music schedule that would make any Jazz connoisseur envious. There is a sophisticated and creative community in Sonoma, but most of all, the people are genuine and good hearted.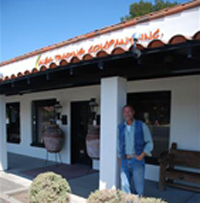 Because we love Sonoma and the lifestyle it has afforded us, we want to share our passion for it with others. We do this by creating living environments for our clients to take home with them after experiencing the "Salsa Style." Over the years we've arranged many a long weekend for our clients so they can experience all the benefits of the wine country lifestyle, while we help them furnish their dream homes.
We like to say that a one day visit to Salsa Trading Company is equivalent to searching the world over for unique handmade home furnishings and art work. Our customers know this, so they create their vacations around their buying trips and we recommend the best places for them to visit, eat, and enjoy while they're here. They truly experience the lifestyle and can bring it back home with them in a much more permanent way than a simple souvenir or tchotchke.
OUR SONOMA WINE COUNTRY PICKS: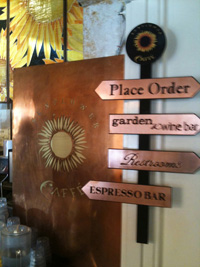 BREAKFAST IN THE GARDEN - Sunflower Caffé (421 1st Street West, 707.996.6645) - They have the best latte's in town! Located on Sonoma's historic downtown plaza, the outdoor dining in the back patio garden is so charming, and local artists showcase their work throughout the restaurant, so there's plenty to enjoy while placing your order as well. But don't be in a hurry, this is "slow-noma" at its best!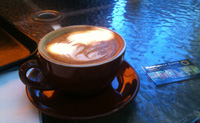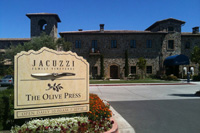 SKIP LUNCH AND GO TO THE WINERIES - For the true relaxed Sonoma lifestyle, have wine for lunch complemented with gourmet sandwiches and exotic cheeses. Viansa Winery (25200 Arnold Drive, 707.935.4700), Cline Cellars Family Winery (24737 Arnold Drive, 707.940.4000, shown below), and Jacuzzi Family Vineyards (24724 Arnold Drive, 707.931.7500, shown left) at the entrance to Sonoma, offer not only the finest wines in the world, but a great selection of gourmet foods to pair with your tasting. They each offer an Old World atmosphere and gorgeous scenery perfect for a picnic.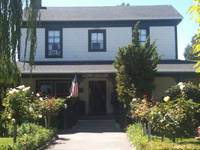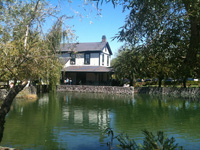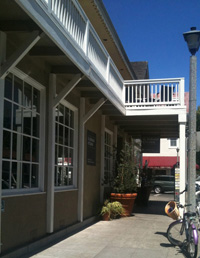 COSMOPOLITAN DONE WINE COUNTRY STYLE - El Dorado Kitchen (405 1st Street West, 707.996.3220) - After a taxing day shopping and wine tasting, this California cuisine restaurant offers a sophisticated urban atmosphere with relaxed Wine Country service. Enjoy the outside patio dining for the end to a perfect day!
STAY AND SPA! - End your stay at either the MacArthur Place B&B (29 East MacArthur Street, 707.938.2929) or Fairmont Sonoma Mission Inn (100 Boyes Boulevard, 707.938.9000) with relaxing spa services. This is the true Wine Country spa experience! Bruce and I go for the 90minute massage with heated stones from Sonoma Mission Inn. It is heavenly! And MacArthur Place is a quaint country inn with meandering gardens filled with original sculptures by local artists, also with a great spa, that is just minutes to the downtown plaza. Both places combine luxury with a casual and welcoming atmosphere.
Of course, these are only just a few of the many spots we love to share with others, and we know a trip to Sonoma will inspire other future visits to uncover even more gems.