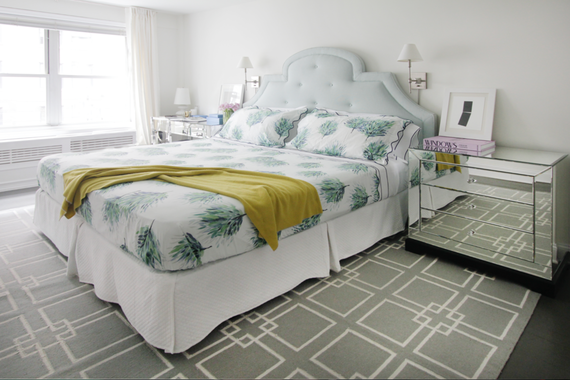 Photography by Kapito Muller
When our client asked us to redo the master bedroom in her new Upper East Side apartment, she had a couple of thoughts in mind. She wanted something fun and whimsical -- she loves pattern and bright colors -- but she also wanted a bedroom that was a serene escape from her busy life as a lawyer and mom of three. After a couple of schemes, we decided to go with a palette of sea foam, grey and ivory. We all loved sea foam because it's one of those great colors thats a real color but still feels relaxing and calm.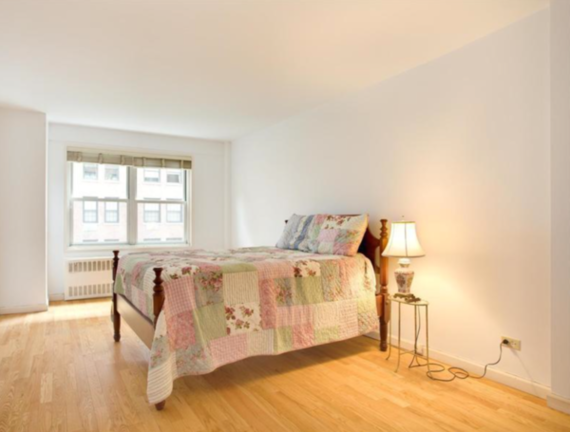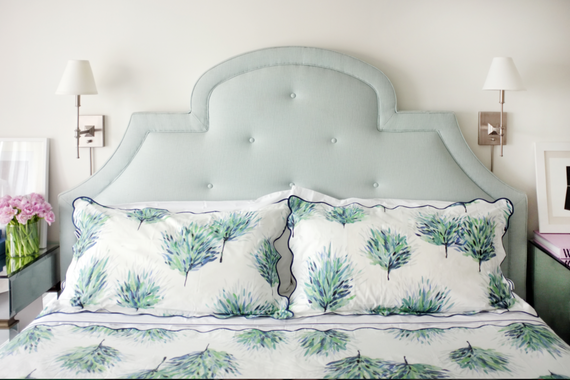 Photography by Kapito Muller
Our first picks for the bedroom were these fabulous sheets that we found from Lulu DK for Matouk. They have this playful frill around the edge that is a perfect counterpoint to their artful brushstroke print. The colors of the sheets are also fabulous, and they gave the room the whimsical touch that our client was looking for. To keep the rest of the room serene, we chose solids and mirrored furniture that complemented the scheme. We didn't want to overpattern or use too many colors, because we wanted the space to still feel calming at the end of the day.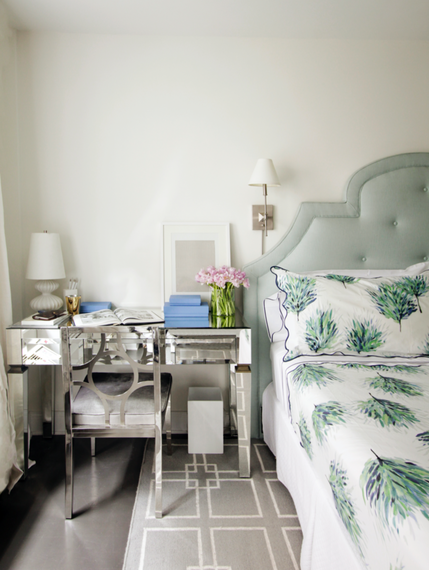 Photography by Kapito Muller
We always love to use mirrored furniture in a small bedroom like this one, because it's a great way to avoid furniture feeling too heavy or large in a room, and it also reflects light beautifully.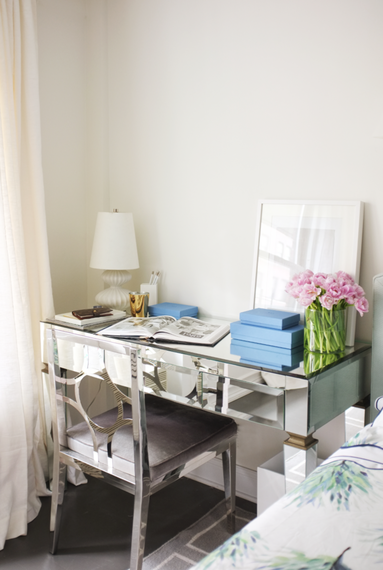 Photography by Kapito Muller
Another trick we used when decorating this space was to use a desk as a nightstand. Double-duty furniture is wonderful for small spaces, and since our client couldn't fit a desk on the other side of the room, it was a fun way to give her place to put on her makeup or write emails without overcrowding the space. Our client couldn't be happier with the result, and we hope you enjoy it too!