I have observed the Toy Library on many occasions during my trips to Haiti as CEO of Worldwide Orphans. The children walk in holding hands with the volunteers in Kenscoff. They are from the local community, including a tent village where no one has a job and families are very large and extremely poor. They are clean and dressed nicely. How this happens, I don't know. The children are sad and some are expressionless, but then, as they enter the brightly colored cement space constructed at the top of the stairs in an elementary school complex, they come alive. They sit up against their teacher on the floor. The ratio appears to be almost one to one.
The children sing and dance and sway and play. They enter a "space" of hope and zest. They are no longer depressed. They giggle and eat a snack. These children are without any negative thoughts or memories for an hour. The children don't need sleeping pills or anti-depressants. What they need is human kindness and physical connection. The energy level of the caretakers is high and I enter that same "space" and forget about my troubles too. I want that "space" at my finger tips for all the children who are poor and lonely in Haiti.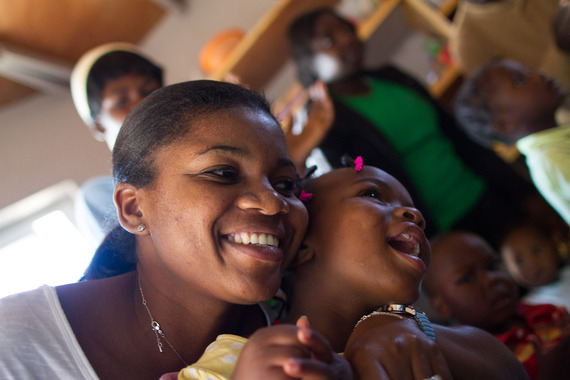 We interviewed two mothers at the tent village just a few hundred feet from the Toy Library. Each woman had a different attitude about her circumstances, but they both understood their tragedy. They both wanted to have a little business to earn a living to feed and protect their families. One woman believed in God and had faith to help her carry on. The other woman was very depressed and sad. The woman with faith was surely lucky.
We will look into microfinance opportunities for the tent village. And we will continue to create very loving programs to allow children to enter a "space" of love and hope at least at some point during their hard days in Haiti.
Dr. Jane Aronson
President and CEO, Worldwide Orphans