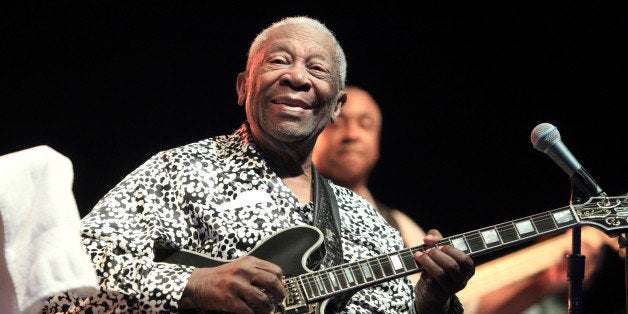 I call myself a "blues baby" since my father's radio soothed me to sleep. Since I can remember, I could hear the smooth sounds of the electric guitar and vibrant sound of the harmonica filling the air in the evening before bedtime. One of my father's favorite Blues artist was the legendary B.B. King, known as "The King of the Blues," since they shared a common bond- a love for their home state of Mississippi.
On September 16, 2015, we celebrated the birth of a music legend. As I reflect upon how B.B. King impacted my life, three key leadership lessons emerge.
1) Leadership is about love for others. B.B. King once wisely stated: "The blues are the three Ls- living, loving, and hopefully, laughing."
Living: This focuses on creating meaning in our daily lives. Will we find our passion and discover our calling? Living is about the moments that we create. The moments when leaders seize the opportunity to make a difference and empower others to do the same.
Loving: We are all interconnected hence love is the thread which weaves us together. Leadership is a ministry of love where leaders model the way, create a vision for justice, and inspire others to lead their own change. Leaders cultivate the power of love in order to transform systems and create new, innovative solutions to pressing social justice issues.
Laughing: Leaders help to bring others together to build a brighter future. They say laughter is the medicine for the soul. Laughter is also a tool for communication for sharing joy and happiness. This communication recognizes that people first connect to leaders through their hearts by seeing a reflection of their values within the very essence of a leader. Next, they connect through their actions which is manifested through collective engagement.
2) Leaders are adaptable. The very nature of the blues is the power of improvisation. The blues artist has the natural ability to harmonize sounds from a range of instruments and allow the message in one's heart to emerge through lyrics. This is a natural process which unfolds in the moment. Like the blues artist, leaders must also improvise by being adaptable, bringing together diverse perspectives, and engaging in creative problem solving. This is what distinguishes those who brainstorm ideas from those who dare to make their vision a lived reality. Those in the latter category are the leaders who have transformed their communities and the world.
3) Leaders follow their passions. One of my most memorable life moments was participating in a civil rights bus tour sponsored by the Mississippi Center for Justice (Mission: advancing racial and economic justice). While on the tour, we visited the B.B. King Museum and Delta Interpretive Center located in Indianola, Mississippi. I learned about King's story of emerging from humble beginnings to reaching the world's stage. His story began in the cotton fields of the Delta as a sharecropper. However, it did not end there. His passion and love for music motivated him to share his gift with the world. King's life journey serves as an important leadership lesson: it is not how you begin in life but how you end. Each day provides an opportunity to write a new chapter in your leadership journey.
Calling all HuffPost superfans!
Sign up for membership to become a founding member and help shape HuffPost's next chapter