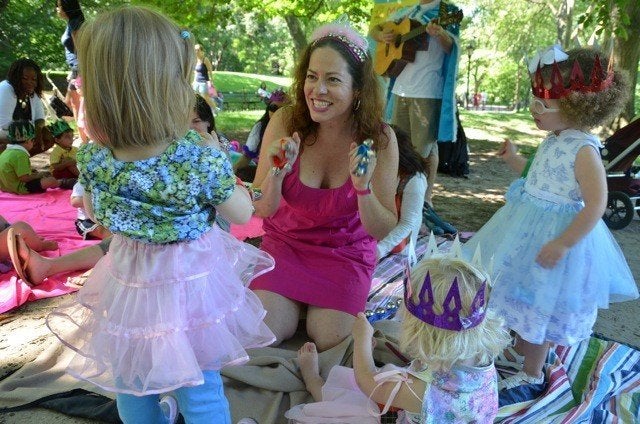 The following essay was written by my friend Melissa Levis, Wendy Wasserstein's niece. Wendy brought her to meet me when she was 5 years old because she was so in love with the stories and songs on the Free To Be You and Me album. We have stayed in touch through the years and it really moved me when I read her kind words and it's so nice to see her ongoing commitment to celebrating and empowering girls. --MT
Free To Be You and Me was the bedrock of my childhood. When I was a kid in the 1970's, dancing around the living room to "Sisters & Brothers" and teasing my neighbor Billy that "William Wants a Doll," I had no idea how these songs and stories would touch my life. At five, I connected to the material for the sheer pleasure of Marlo's throaty laugh and Mel Brooks's delivery of "What do you think I am, a loaf of bread?" and, of course, the groovy folk/rock arrangements. As I grew older, the message of the limitless possibilities for all boys and girls became my personal anchor and professional inspiration.

When I went to collage at Brown—where six women on my freshman hall also brought their well-worn pink albums of Free to Be—I discovered that my favorite story, "Atalanta", was actually an ancient Greek myth. In the original story, Princess Atalanta loses a running race and is forced to marry. In the Free To Be version, Atalanta ties the race with Young John and goes off to see the world on her own. "Perhaps someday they'll be married, and perhaps they will not. In any case, it is certain, they are both living happily ever after." The realization that you could rewrite a story's ending gave me a new sense of permission to define my own vision of what it meant to live happily ever after.

"When I grow up, I'm gonna be happy and do what I like to do; like making noise, and making faces, and making friends like you..."

Now I have grown up. I'm a mommy ("busy with people and things that they do…") and yet I'm still dancing around the living room, only now my living room is Central Park or the Tribeca Film Festival Family Day, or any school, library, class or concert where I perform for 10,000 children a year as "Moey" in my NYC band, Moey's Music Party. Wanting to pay forward the great gift Marlo gave me, last summer I released a CD/DVD, Happily Ever Moey! A Fairy Tale Lark in Central Park and rewrote 15 famous fairytales as rocking songs with new kid-power endings. I want girls to know they can rescue themselves, so my Little Red Riding hood gives the big bad wolf a judo kick and sends him fleeing—no woodcutter needed. I added a coda to The Little Red Hen to model conflict resolution: the duck and cat offer to set the table and do the dishes, and the little red hen shares her bread.

Though I am the mother of a boy, I am passionate about passing on the message of girl power to today's little girls. Just as Free To Be held up a mirror up to the tender sweet young thing in "Ladies First," I want to dispel the myth of the dainty, entitled helpless maiden. I want to show girls that they are helpful heroes who can slay their own dragons and rescue themselves. My song "Give Yourself a Kiss" empowers Snow White and Sleeping Beauty to wake themselves up with their own magical kiss. ("Cause I'm no helpless maiden, and the big, wide, world is awain'!") In my version of The Princess and The Pea, the true princess donates her mattress to homeless children and prefers to sleep on a king size futon. With 15 songs about body image, emotions, standing up to bullies and lifting up your voice, Princess Revolution is a call to arms for the bling loving ten-and-under crowd.

Today, girl power is being celebrated in films like Mirror Mirror, Tangled, the upcoming Brave, and Snow White and the Huntsman, but Free To Be came out in 1972. Marlo was a pioneer. She was an aunt who wanted to give her niece Dionne a gift. Dionne's gift was my generation's gift. Today kids are free to be whatever they want to be. It is alright to cry. No one pretends to enjoy housework. William can have a doll—or a boyfriend —we are all still glad to have a friend like you.

On Monday, April 23, I'm kicking off the release of Princess Revolution with Moey's Princess Ball, a sparkle-tacular celebration of empowered young girls. Marlo is the fairy godmother of this CD. I would love for her to be there in person—but I know for certain that she is with me always in spirit and in song.

"To the land where the rivers run free.
To the land through the green country.
To the land where the horses run free.
To a land where the children are free.
And you and me are free to be…you and me."
Sign up to receive my email newsletter each week - It will keep you up-to-date on upcoming articles, Mondays with Marlo guests, videos, and more!
REAL LIFE. REAL NEWS. REAL VOICES.
Help us tell more of the stories that matter from voices that too often remain unheard.