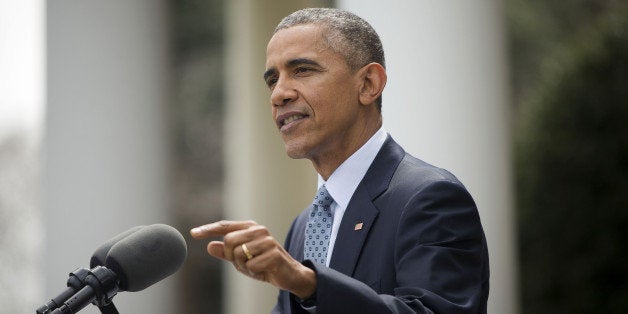 MINNEAPOLIS -- At our just-completed summer meeting of the Democratic National Committee, we circulated a "Special Letter to the President" wherein we asked our DNC colleagues to sign the letter supporting President Barack Obama's leadership in negotiating an agreement that would place strict limits on Iran's nuclear program.
7 years ago this weekend, we nominated Senator Barack Obama for President of the United States. During that 2008 campaign, then-Senator Obama had promised to choose diplomacy and engagement over conflict in pursuing American foreign policy objectives. Now, by working with the P5+1 (the Permanent Members of the United Nations Security Council and Germany), to negotiate a nuclear deal with Iran, President Obama has helped to fulfill that pledge. Promise made; promise delivered.
A majority of the DNC delegates joined us in co-signing our letter of support. In just a few hours, the two of us and a handful of allies collected signatures from over 160 DNC members, with endorsements continuing to come in.
We are proud to stand with our president and delighted to that so many others have joined us.
-------------------------------------------------
A Special Letter to the President from members of the Democratic National Committee.
We strongly support the courageous leadership you have demonstrated in choosing diplomacy and negotiations over conflict. We believe that the completion of the Joint Comprehensive Plan of Action negotiated between P5+1 (the Permanent Members of the United Nations Security Council and Germany) and Iran to place strict limits on Iran's nuclear program is an important victory for diplomacy. We recognize that there are some who in good faith have expressed reservations with elements of the JCPOA but we believe that you and key members of your Administration have effectively and respectfully responded to these concerns. We, therefore, join you in supporting the JCPOA as the best way forward to secure our nation, our allies, and world peace.
Dr. James Zogby, DC
Christine Pelosi, CA
Donna Brazile, DNC Vice Chair, DC
Raymond Buckley, DNC Vice Chair, NH
Maria Elena Durazo, DNC Vice Chair, CA
Andrew Tobias, DNC Treasurer, DC
Henry R. Muñoz III, DNC National Finance Chair, TX
Mike Wenstrup, AK
Casey Steinau, AK
Kimberly Metcalfe, AK
Ian N. Olson, AK
Hon. Nancy Worley, AL
Rev. Randy Kelley, AL
William Roe, AZ
Danica Oparnica, AZ
Vincent Insalaco, AR
Hon. Joyce Elliot, AR
Hon. Lottie Shackelford, AR
John Burton, CA
Alexandra Gallardo Rooker, CA
Steven K. Alari, CA
Shawn Bagley, CA
Rachel Binah, CA
Becca Doten, CA
Jess Durfee, CA
Mary Ellen Early, CA
Alice A. Huffman, CA
Aleita J. Huguenin, CA
Bob Mulholland, CA
Garry S. Shay, CA
Keith Umemoto, CA
Hon. Maxine Waters, CA
Hon. Rosalind Wyman, CA
Maria Echaveste, CA
Matt Johnson, CA
Mattie McFadden Lawson, CA
Hon. Hilda Solis, CA
Pat Hobbs, CA
Anthony Graves, CO
Blanca O'Leary, CO
John W. Olsen, CT
Karen Kirkpatrick-Valentine, DE
Katie Solon, Dems Abroad
Kenneth Sherman, Dems Abroad
John Eastwood, Dems Abroad
Dr Stanley Grossman, Dems Abroad
Sandra Loridans, Dems Abroad
Gary Suwannarat, Dems Abroad
Hon. Anita Bonds, DC
Ed Potillo, DC
MaryEva Candon, DC
Hon. Arrington Dixon, DC
Rev. Leah Daughtry, DC
Earl Fowlkes, Jr., DC
Sunita Leeds, DC
Tefere Gebre, DC
Harold Ickes, DC
Lorraine C. Miller, DC
Minyon Moore, DC
Steve Regenstreif, DC
Max Richtman, DC
Bel Leong-Hong, DC
Alan Clendenin, FL
Richard Boyland, FL
Nancy Jacobson, FL
Marian Williams, FL
Nikema Williams, GA
Wendy Davis, GA
Sally Rosser, GA
QIQDavid Worley, GA
Hon. Rory Respicio, Guam
Jadine Nielsen, HI
Jan Bauer, IA
Bert Marley, ID
Jeanne Buell, ID
Carolyn Boyce, ID
Pete Gertonson, ID
John Keller, IL
Karen Yarborough, IL
Hon. Iris Martinez, IL
Hon.t Carol Ronen, IL
Teresa Garcia Krusor, KS
William Roy, KS
Hon. Karen Carter Peterson, LA
Ben L. Jeffers, LA
Deborah Langhoff, LA
Hon. Arthur Morrell, LA
Debra Kozikowski, MA
Gus Bickford, MA
Kate Donahue, MA
David M. O'Brien, MA
James Roosevelt, Jr., MA
D. Bruce Poole, MD
Glenard S. Middleton, MD
Hon, Greg Pecoraro, MD
Karren Pope-Onwukwe, MD
Dr Maggie Allen, ME
Hon. Debbie Dingell, MI
Barry Goodman, MI
Virgie M. Rollins, MI
Ken Martin, MN
Marge Hoffa, MN
Nancy Schumacher, MN
Lori Sellner, MN
Rick Stafford, MN
Dr. Doug Brooks, MO
Hon. Sly James, MO
Brian Wahby, MO
Johnnie Patton, MS
Jean Lemire Dahlman, MT
Hon. Pat Cotham, NC
Jake Quinn, NC
Akilah Ensley, NC
Renee Pfenning, ND
Hon. Martha Fuller Clark, NH
Kathleen Sullivan, NH
Jane Dowdell, NH
John Currie, NJ
Reni Erdos, NJ
Marcia Marley, NJ
Barbra Casbar Siperstein, NJ
Debra Haaland, NM
Joni Marie Gutierrez, NM
Erin Bilbray, NV
Stuart H. Appelbaum, NY
Hon. Herman Farrell, Jr., NY
Ralph Dawson, NY
Jay Jacobs, NY
Sarah Kovner, NY
Randi Wiengarten, NY
David Pepper, OH
Jocelyn Bucaro, OH
Hon. Isabel Framer, OH
Karen Packer, OR
Laura Calvo, OR
Lupita Maurer, OR
Penny Gerber, PA
Hon. Kenneth McClintock, PR
Liza M. Ortiz, PR
Kaye Lingle Koonce, SC
Hon. Gilda Cobb-Hunter, SC
Don Fowler, SC
Ann Tornberg, SD
Joe Lowe, SD
Hon. Nick Nemec, SD
Sharon Stroschein, SD
Will Cheek, TN
Hon. William Owen, TN
Hon. Glen Maxey, TX
Rafael Anchia, TX
Montserrat Garibay, TX
Peter Corroon, UT
Hon. Tim Jerman, VT
Richard Cassidy, VT
Cecil Benjamin, VI
Fred Hudson, VA
Sandra W. Brandt, VA
Frank Leone, VA
Alice Germond, VA
Janice Griffin, VA
Jaxon Ravens, WA
Ed Cote, WA
Sharon Mast, WA
David McDonald, WA
Juanita Luiz, WA
Rion Ramirez, WA
Jason Rae, WI
Christine Bremer Muggli, WI
Pat Maroney, WV
Ana Cuprill, WY
Hon. Mike Gireau, WY
Calling all HuffPost superfans!
Sign up for membership to become a founding member and help shape HuffPost's next chapter