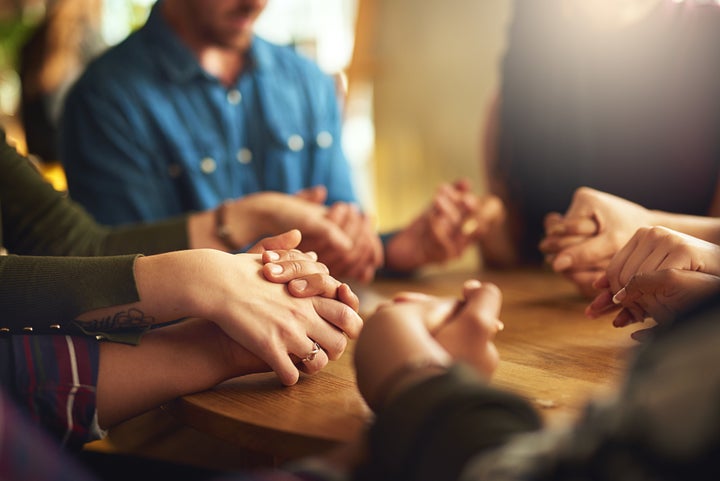 I'm not a yoga, sit-on-a-mat cross-legged kind of gal. I want to be; I'm just not. And because I am not, I tell myself that I am not a mystic. I like mystics, some of my best friends are mystics. I admire them!
Me? I am always in motion. I pray walking around Manhattan. I meditate jumping through waves, thanking God for the saltiness. I restore my soul up on my feet listening to the choirs sing, rocking, clapping. When I am out on the street, joyfully jostled by the crowd, enjoying friendly anonymity, I feel God there; She is marching, dancing, singing, chanting with us.
My rabbi, Jesus, was also in motion. Calling disciples, healing and feeding folk, preaching the good news, kicking it with the outsiders at supper. In a hot-mess time, a time when the Roman empire crushed the spirits of the people; in a time of oppression and domination, Jesus was a movement-builder.
And my friend, the late Marcus Borg, says Jesus was a mystic as well. Jesus knew God deeply; he called God, Abba, daddy. He was grounded in God, located in God, conversant with God's vision for a healed and whole world. Jesus was merged with the heart of God, connected to the dream of God.
Jesus saw visions; he saw God as a dove and heard God say, "This is my son, the Beloved." Jesus, like other mystics, could see the world not just as it was, but as it could be. Jesus could see that we are all one.
Once at temple, Jesus read from the scroll of Isaiah:
The Spirit of the Lord is upon me, because he has anointed me to bring good news to the poor. He has sent me to proclaim release to the captives and recovery of sight to the blind, to let the oppressed go free. (Luke 4:18)
Grounded in God's Spirit, Jesus began a movement of preaching and healing designed to liberate the captives, and bring good news to the poor. He sustained that movement with spiritual practices: With time for celebration (Jesus seemed to like a party!), time in temple, and time alone in prayer.
Make no mistake about it, these are hot-mess times, as well. We are in culture wars: Will the values of empire, domination and oppression prevail? Or will the values of revolutionary love, compassion and justice claim our allegiance?
For our interfaith, multiracial movement for justice to be sustained, all of us ― those in motion and those who are mystics ― need to care for our mortal flesh with Spirit.
It might be helpful to imitate the spiritual practices of Rabbi Jesus.
There must be joy and fellowship in our lives. Breaking bread with friends and family; laughing, telling stories, dancing, enjoying art—this is holy work that keeps us whole.
In community, we must ground ourselves in Spirit, just like we need air. Time in temple, synagogue, mosque or church allows for communal rituals, prayers, music, and reflection on holy texts. These practices keep us whole and help us rehearse God's dream.
Solitary time alone with our thoughts is precious. Breathing, meditation, yoga, a massage, or prayer are ways to quiet our mind, so we can hear Spirit speak.
I am a Christian pastor who follows Rabbi Jesus into a movement for love and justice. These hot-mess times call us to stand with our neighbors―our refugee, Muslim, LGBTQ, Black and immigrant sisters and brothers—as an act of solidarity and love. This is how we non-violently resist oppression. And these times also demand that we resist violence to our own bodies and souls, and give them tender care as an act of love.
Popular in the Community