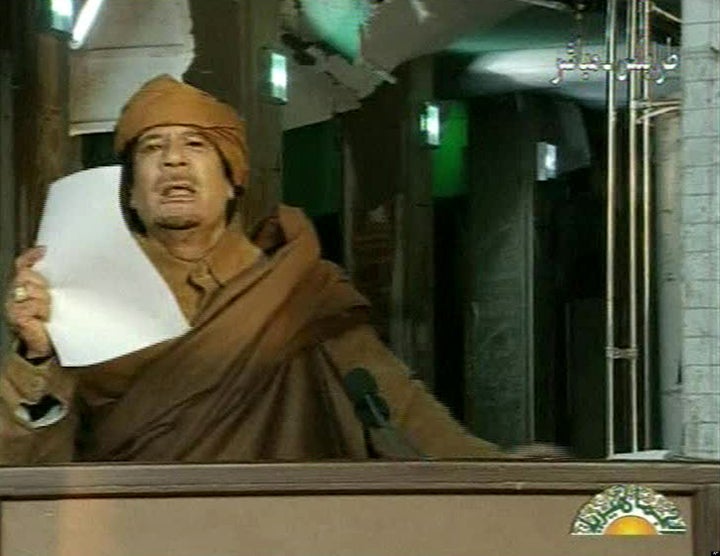 For most Americans, our cultural awareness of Libya and its strongman head of state Moammar Gadhafi begins with the Gulf of Sidra incident, which began the steady deterioration of U.S.-Libya relations and cemented Gadhafi's reputation as an international despot with a million different variations on how his name could be spelled. The events of the past few days, where we've seen pro-democracy demonstrators murdered in the streets by forces sympathetic to Gadhafi, reflect that earlier moment in history.
The spring of 2008 was a stressful time Qaddafi -- despite renouncing WMDs and renewing ties with America in the wake of the 9/11 terror attacks, he was still being treated like a pariah. Congress had passed a law that allowed victims of state-sponsored terrorism to collect court judgments by seizing foreign assets in the United States, which could cost Libya $3 to $6 billion. U.S. officials and human rights activists were pressuring Qaddafi to release jailed Libyan political activist Fathi al-Jahmi, a 66-year-old provincial governor in ill health and detained since 2002 when he called for free elections and the release of political prisoners. And American and British officials re-emphasized their commitment to having the Lockerbie bomber, former Libyan intelligence officer Abdelbaset Ali Mohmed al-Megrahi, serve out his sentence in a Scottish jail.

Luckily, Qaddafi had some powerful allies, so the Bush administration requested an exemption for Libya from the compensation law passed by Congress. Then-House Minority Leader John Boehner was the most recent U.S. lawmaker to visit Qaddafi at his tent in the desert for a cordial visit, during which the Libyan leader gifted Boehner with a pair of sunglasses. And one of the most powerful lobbyists in Washington was busy working to restore Libya's reputation on Capitol Hill.
Perle traveled to Libya as a paid adviser to the Monitor Group, a prestigious Boston-based consulting firm with close ties to leading professors at the Harvard Business School. The firm named Perle a senior adviser in 2006.

The Monitor Group described Perle's travel to Libya and the recruitment of several other prominent thinkers and former officials to burnish Libya's and Qadhafi's image in a series of documents obtained and released by a Libyan opposition group, the National Conference of the Libyan Opposition, in 2009.
Foreign Agent Registrant Act (FARA) filings indicate that the government of Libyan dictator Muammar Gaddafi hired DC lobbying firms Blank Rome, The Livingston Group and White and Case for more than $2 million to lobby on Libya's behalf in 2008 and 2009. Libya retained the lobbyists in 2010 but do not show recent contacts.

Sunlight Reporting Group's research notes the following:

* In 2008, the lobbyists held several meetings with members of Congress and their staff "concerning the legislative status of amending a statutory provision against U.S. trade with Libya," in an effort to boost foreign investment in the country. Around the same time as the meetings the Senate lifted the sanctions on the nation imposed after U.S declared Libya a terrorist state in the 1980s.

* In May through July 2009, the Libyan government's lobbyists contacted Rep. David Scott (D-GA), Rep. Gregory Meeks (D-NY) and former Rep. Diane Watson (D-CA), who were all on the House Foreign Affairs Committee at the time. Lobbyists also directly contacted the House Foreign Affairs Committee and the U.S. Department of State. FARA records show that these meetings were regarding the "status of U.S. Libyan relations."

* Another Libyan group, headed by Gaddafi's son Saif Al Islam Al Gaddafi, also registered to lobby and hired the Livingston Group. The Gaddafi International Charity and Development Foundation's representatives in Washington held four meetings with 68 people from different think tanks and independent organizations. These meetings were recorded as, "luncheon-briefing, Human Rights and Democracy Initiatives in Libya," in FARA records. Lisa Berg and Roy Neel, both former employees of Vice President Al Gore were speakers at an event organized by the Foundation, records show. Other participants included, The National Center for Public Policy Research, The Phelps Stokes Fund and the Africa Society of the National Summit on Africa. [ed. note: A correction from the Sunlight Foundation: "Lobbyists for Gaddafi Foundation sent invitations to various groups including the National Center for Public Policy Research, the Phelps Stokes Fund and the Africa Society of the National Summit on Africa, not all of whom attended. The National Center for Public Policy Research contacted Sunlight after this report was published to say that they did not participate in the event."]
As Rozen notes, these days, the "U.S. consultancies that have worked to burnish Libya's and Qadhafi's U.S. image" are "laying low." You can understand why!
REAL LIFE. REAL NEWS. REAL VOICES.
Help us tell more of the stories that matter from voices that too often remain unheard.