Relations between the United States and Ghana were strained in the early 1980s. Enigmatic former Flight Lieutenant Jerry Rawlings had seized power in Ghana in a coup in 1979 and installed the Provisional National Defense Council (PNDC), a military-led government. Just when bilateral relations began to improve, it was discovered that a clerk for the CIA posted in Ghana named Sharon Scranage had been spying for Ghanaian intelligence and had released the names of CIA agents and informants to the Ghanaians. Robert E. Fritts was the Ambassador to Ghana from 1983 to 1986.
Read the full story here. This account was compiled by C. Bond.
CIAFRITTS: The bilateral relationship collapsed dramatically [in 1986 because of] a first-class spy flap. And I can talk about it because I think I'm one of the very few American ambassadors ever authorized to discuss a CIA station publicly.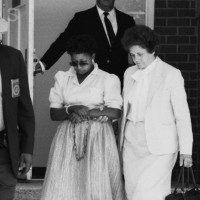 A support person in our CIA station, Sharon Scranage, was turned to spy against us. Her male cohort, Michael Sousouides, was a close relative of Rawlings. Scranage had left post on reassignment and received the usual polygraph test at CIA Headquarters. I understand the needle went off the chart. She then confessed her activity and cooperated in setting up a sting to entice and meet her Ghanaian lover and handler in the U.S. He was arrested at Motel 50, just down the street here on Arlington Boulevard.

Scranage had been at the embassy several years in a support job. She appeared capable and was quite popular and good for morale. Evidently this Ghanaian, who became her lover, had captivated her. He had money and gave lavish Ghanaian parties with an in-crowd. She was seduced physically and morally by the glamour of being selected to go where no other Western foreigner went. She provided detailed inside information to him and thence to the Ghanaian Government and what I have to call a "foreign power." It was a very extensive and serious compromise, including far beyond just Ghana.

Several days later I was playing tennis with Ghanaians when the CIA Station Chief and several visitors came and sat courtside. I assumed it was not to admire my backhand. During a set break, I was informed they needed to speak with me urgently.

Back at the residence, I was briefed on the arrests and that the USG [United States Government] would announce them shortly. I knew all hell would break loose. The first priority was to get our CIA people and compromised Ghanaians out of Ghana. Scranage had reportedly identified many of them as well as some innocents to her handlers. I couldn't take chances with lives and there was already a Ghanaian FSN [Foreign Service national] in prison on spy charges. I think we had about a week.

I believed strongly that if Tsikata [head of Ghanaian Internal Security] and Ghanaian security tumbled to what we were up to, they would round up Ghanaians they suspected, have phony trials and execute them. There could also be incidents and attacks by thugs and PNDC stalwarts against the embassy, our American officers and staff, and even FSNs.

The top task was to forestall any intemperate reaction from the within the Castle [the seat of the Ghanaian government] or zealot supporters by giving Rawlings a brief advance alert. That meant I had to see him on short notice, which was always difficult.

Only an unconventional approach might do. So the next morning at dawn I camped outside the home of a government cabinet member along with the usual levee of Ghanaian relatives and others seeking jobs or favors.

When I saw Rawlings later that morning, I informed him of what had occurred, that an announcement of the arrests of Scranage and Sousouides would be made in Washington in a few hours, that unless we managed the matter wisely, there could be serious repercussions, and that I expected, of course, the fullest government protection for our embassy and personnel.

He didn't do much batting of his eyes and I don't know how much he may have known. I think he gave me the right answers, but his speech was often elliptic. I then returned to the embassy to finally open up with the Country Team [heads of the embassy's sections and agencies] and prepare to hunker down. That afternoon, I learned that the Ghanaian security was making arrests in town.

Given the time differential between Washington and Accra, the full story was emblazoned in the Ghanaian media with a heavy overlay of the U.S. and the CIA attempting to overthrow Rawlings and the PNDC. I remember a cabinet secretary reading me the riot act one day. I asked him to cite one single shred of evidence to support his view. His reply was classic, "The absence of evidence is proof of the conspiracy!"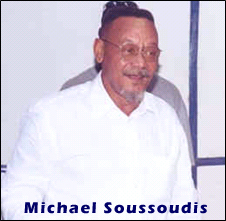 I'm also sure the Cubans, Libyans, Soviets and others were egging the issue on and reinforcing it.

Both we and the Ghanaians began trials of our respective arrestees, the Ghanaians matching us step for step. Thus, the issue was in the news all the time -- photos of Sousouides in shackles, etc. Vignettes of CIA skullduggery in Ghana.

We eventually began prolonged negotiations for an exchange of"spies." We would hand back their man in the U.S. -- Sousouides -- for all our "persons of interest." There were also a number of side issues. The negotiations were tortured, extended, and broke off on several occasions.

At one time there was a semi-official threat against me personally when the Ghanaian chief negotiator said he would not guarantee my continued safety. To their credit, AF [State Department's Bureau of African Affairs] Assistant Secretary Chet Crocker and DAS [Deputy Assistant Secretary] Jim Bishop called in the Ghanaian ambassador, who was a very good man, and laced in to him.

I think one of Crocker's comments to the ambassador was "If a small country like Ghana wants to make an enemy of the U.S. let it." It got their attention and the chief negotiator was switched to the Foreign Minister, Obed Asamoah. With him the process remained difficult, but professional.

After about six months, we reached agreement for the exchange and related matters. On a particular day, they took their arrestees to the border with Togo and the convicted Sousouides came across to Ghana.

I thought the crisis was finally over, but it wasn't.

It had been agreed that the Ghanaians and we would announce the agreement and exchange at the same time, but the Justice Department violated the agreement and jumped the gun by several hours. The PNDC and Rawlings were furious when they heard the news on VOA [Voice of America] and the BBC.

Actually, the night before the affront I had seen the Foreign Minister at a reception and we had agreed on "no more surprises" and to get on with our bilateral business. Asamoah said the PNDC had decided the USG had not dealt in good faith and read the names of four embassy officers named persona non grata. We responded, of course, by expelling the same number from their embassy in Washington and suspending - temporarily - our aid programs. Obviously, our new "surprise" had been answered....

Q: So now what? Was it finally over?

FRITTS: Yes and no.

Some people thought we had been interested in overthrowing a Ghanaian government - again. Also, international economic aid programs were expanding and the PNDC didn't need me or the U.S. as much.

The government also reverted to petty harassments and vitriolic media attacks, which had marked earlier days, despite pro forma statements of putting the issues behind us. As long as we were pilloried, we would be correct and business-like... It would set the stage for my successor to be a good guy. I understand that to this day I hold some kind of record for negotiating the most one-sided exchange of "spies" - their one for our multiple - in the history of U.S. diplomacy...

In retrospect, some CIA officers opined that they expected me as an FSO to be less cooperative and to care more about safeguarding State's image in the country. Sort of opt out with a low profile. I didn't see that as an option. Whatever status I had was to be used.

In this case, negotiating an exchange and saving lives was not only humanitarian, but also a message that the USG, which includes the CIA, will not abandon those who, for whatever reasons, have placed their trust in it. Kind of a professional duty thing, I guess
Calling all HuffPost superfans!
Sign up for membership to become a founding member and help shape HuffPost's next chapter