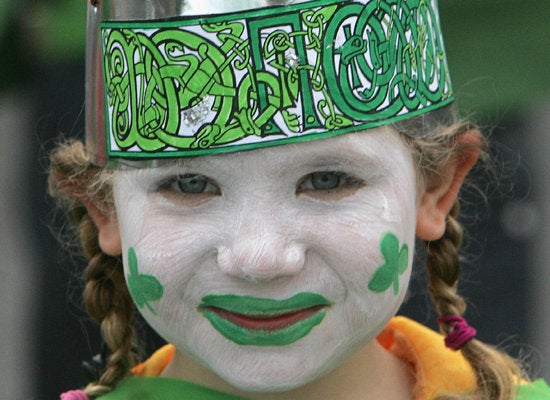 Ever since I was a young girl, St. Patrick's Day has always been an important day for me and for my family. I remember my mother throwing elaborate parties for my grade school class at the aptly named St. Patrick's elementary school, and if it wasn't a school day we would head to the parade and celebrate with family afterward.
St. Patrick's Day was a high holiday in the Quinn household, and it remains one to me. But now the day is tinged with sadness, because of the ongoing exclusion of the Irish LGBT community from the 5th Avenue parade. In recent years I've traveled as far as Dublin to participate in St. Patrick's Day festivities that are inclusive and open to all. And this year, I was honored to receive an invitation to celebrate with President Obama at the White House.
I arrived almost embarrassingly early, fearful of long security lines. I eventually made my way to a reception in the Map Room, where I had the opportunity to speak briefly with the President. I told him and Mrs. Obama that I was the first Irish, first woman, and first openly gay Speaker of the New York City Council.
I told the President how grateful the Irish-American Community is for his strong and continued support of the peace in the North of Ireland. I then expressed my desire that he support issues of full LGBT equality, and suggested that a good early action would be to support a recent federal court ruling in San Francisco, requiring benefits to be extended to the same sex partners of court employees.
Our conversation flowed seamlessly from talk of the struggle for equality in the North of Ireland, to the ongoing fight for LGBT rights. And it set the tone for what would be a night of such interaction. I spoke with leaders from Ireland and openly gay political leaders from the U.S. about the broad struggle for civil rights of which we are all a part.
The event was a picture of inclusivity and the intermingling of cultures: I saw Sinn Fein President Gerry Adams and Deputy First Minister Martin McGuiness, Shaun Woodward, the British Secretary of State for Northern Ireland, and openly gay DNC treasurer Andrew Tobias all celebrating together. President Obama spoke about his own Irish heritage, tracing a great, great, great grandfather back to the same county as Brian Cowen, the Irish Taoiseach, or Prime Minister.
It reminded me that in the past year we've seen our nation elect an African American president, and we've seen peace come to the North of Ireland. It reminded me of how absurd it is that we allow a small number of small minded individuals to tell an entire group of people that they cannot march proudly and openly in their parade. It reminded me that each day we move closer to inclusion and equality. And it made me proud to be Irish, proud to be a member of the LGBT community, and proud to be an American.
Popular in the Community