When we first see Lady Gaga in "A Star Is Born," she's in a bathroom stall, dumping her boyfriend in the middle of a work shift. She hangs up the phone and storms out shrieking, hurling her torso toward the floor in anguish before hollering two maddened words to the heavens: "Fucking men!"
Of course, it's not really Gaga who does this. It's Ally, the waitress who lives with her rowdy father (Andrew Dice Clay) and endures commands from her demanding boss (Jacob Schick). She has Gaga's mannerisms and Gaga's contralto, but Ally is a distinct creation — a raw pop star who skirts the baggage that any established pop star with Gaga's caliber brings to a screen role. Gaga, making her movie debut, is the real deal, and not only because she comes out kicking and screaming. Bradley Cooper, another unlikely force, brought the film to life — it's his directorial debut, and he plays her love interest — but "A Star Is Born" is Gaga's opus.
Hollywood has treasured this romantic tragedy since 1937′s Technicolor original. Over the years, its commentary on the trials of fame and the tribulations women endure at the hands of male egos has become more and more trenchant, even though "A Star Is Born" is far more than just an indictment of "fucking men." Ally is the latest update on a role that requires a mega-renowned and mega-talented celebrity, someone who's already familiar with the public's prying eye: Judy Garland as an actress in the first remake (1954), Barbra Streisand as a budding rock star in the second (1976) and now Gaga as a cabaret singer who goes from being too nervous to perform her own folksy songs to accepting the sensual pop-diva mold, replete with an orange-blonde dye job, oversized billboards and a dance bop that asks, "Why do you look so good in those jeans? / Why'd you come around me with an ass like that?"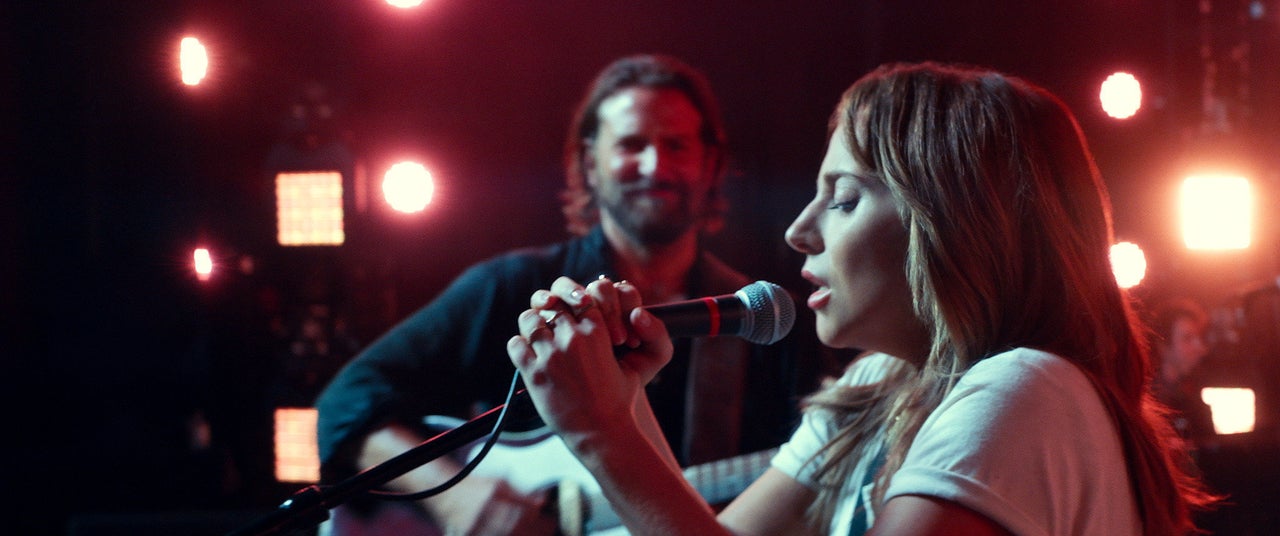 This isn't your ordinary "A Star Is Born." It's a salient critique of the machinery that turns talent into marketing campaigns, and of the fragile pride that makes an audience's cheers at once damning and addictive. What's more, it's a towering crowd-pleaser that's grounded in its foundation but transcendent in its execution — words I never expected to apply to the directorial inauguration of the guy who starred in "American Sniper."
Before we see Ally's bathroom blare, the film opens on a shaggy-haired Jackson Maine (Cooper) downing pills and swigging whiskey at an outdoor concert where thousands of fans worship his aging country-rock swagger. The camera pushes in on Jackson as if it's his dancing partner, chasing him as he stumbles toward the microphone and rips through a guitar solo. When it turns toward the spectators, the panorama adopts a fisheye dimension, immediately lunging into Jackson's psyche to reveal a man who barely registers his surroundings. Life has become a blur.
But his world sharpens later that night when, desperate for another drink, he wobbles into a gay bar and laser-focuses only when Ally takes the stage for a kicked-up "La Vie en Rose" cover. During the final note, she turns to him, and the scene slows for a brief second, the spotlight bathing Ally's face in a velvety glow. Mesmerized by her voice and charisma, he convinces her to join him for a beverage, and there begins a chronicle of star-crossed lovers, one rising and the other falling.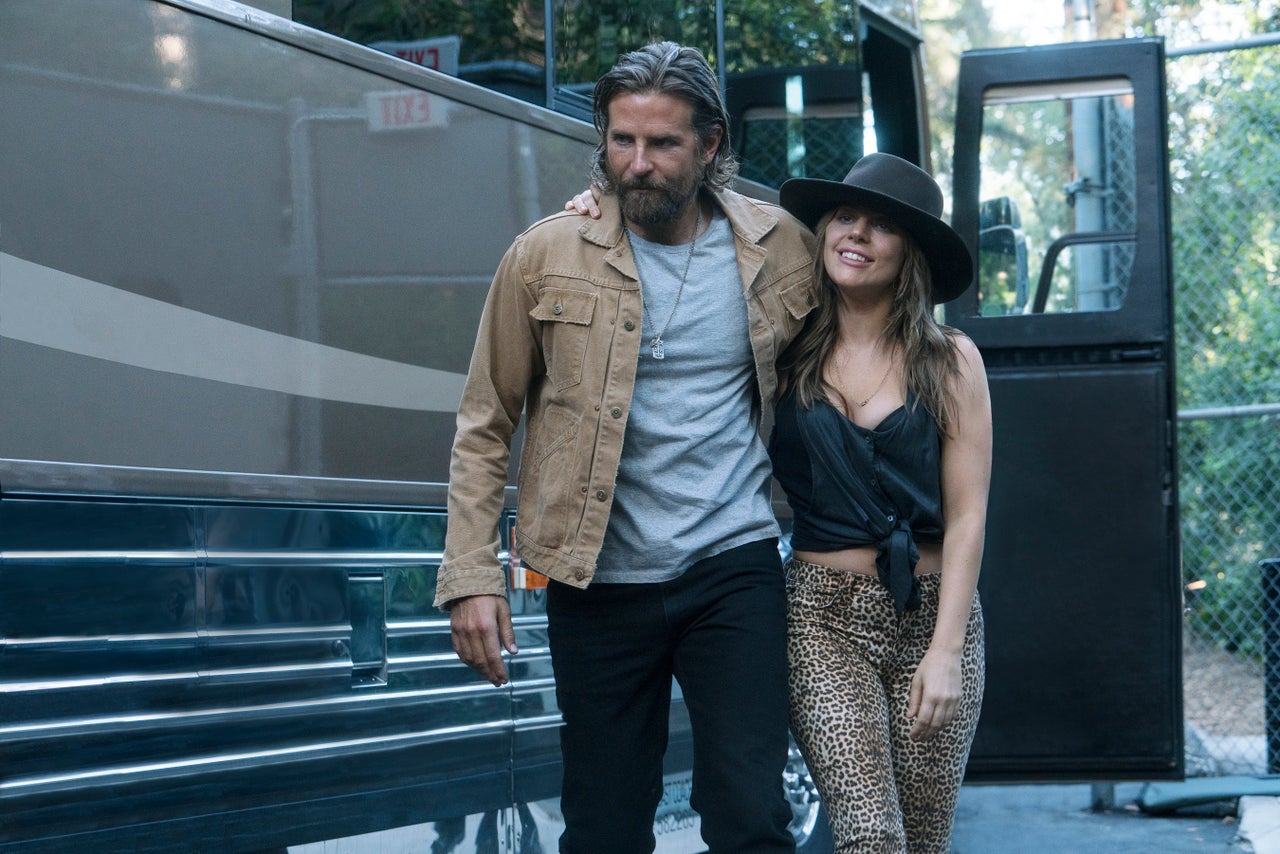 When Garland and Streisand headlined "A Star Is Born," their respective relationships with the awestruck men who happened upon their talents developed at a clip that didn't allow for nuance. But Cooper, who co-wrote this script with Eric Roth ("Forrest Gump") and Will Fetters ("The Lucky One"), allots more time for Ally and Jackson to ripen as contoured characters. Jackson may be struck by Ally's beauty — a point the movie emphasizes to counteract the men who've told Ally she isn't attractive enough to be famous — but he is equally taken with her songwriting, her family history, her companionship.
When he falls in love with a ballad she wrote called "Shallow," Jackson coerces her to play it at his show. Ally at first refuses, and then, upon hearing him strum the opening chords, she wills herself to rush onstage. As she seizes the mic, the same red glaze that outlined her face during "La Vie en Rose" returns. The world melts away, and Ally lands the moment we all desire: that sudden flash when the constellations align and the universe opens up. At last, the paradise she'd stopped awaiting has found her.
For Ally, that paradise yields a contract with Interscope Records. Jackson wanted to showcase her talent, but can he handle competing with it too? From there, "A Star Is Born" becomes a tug of war between picturesque devotion and bitter reality. As Ally's producer (Rafi Gavron) shapes her into a glamour queen, her fame skyrockets. Meanwhile, Jackson is relegated to the industry's sidelines, and the cycles of addiction and loss that have long haunted him become insuppressible, even as he does everything in his power to honor his commitment to Ally.
If you've seen another "Star Is Born," you know how the rest goes. What may surprise you is just how much of an emotional and aesthetic feast Cooper has crafted.
Gaga brings a stunning naturalism to the role that accentuates Ally's working-class grit while still pointing to her natural place on the world's glittering stage. In a way they couldn't be on the vampy "American Horror Story: Hotel," Gaga's eyes are filled with fervor. She takes in her surroundings like she's experiencing them for the first time. As Jackson further descends into his addictions, she wears the wariness on her face like a mask she cannot conceal. Her line delivery is so communicative it's shocking — she is constantly searching for the right words, or erupting with just the right impulsiveness, or relishing the spotlight with precisely enough stupefaction. Gaga also has a sharp rapport with the film's supporting players, including Clay, Anthony Ramos (who plays her supportive BFF), an excellent Sam Elliott (who plays Jackson's longtime manager) and Dave Chappelle (who plays Jackson's friend). With each new meeting, we can feel her adjusting to her scenery in real time, whether relishing it or regretting it.
And Cooper. Oh, Bradley Cooper. I've rarely connected with him as an actor, and now I'm wondering how wrong I've been this whole time. Whether speaking or singing, he dips into his lower register to produce a grizzled modulation that announces Jackson's lifetime of hardship and pressure. In another life, Cooper could have been a rock star. He certainly has the saunter for it. In his hands, "A Star Is Born" is far more than a tired narrative about a man bolstering a woman's career — it's an impassioned tête-à-tête about the twin strains of aspiration and affection, notions that don't always mesh.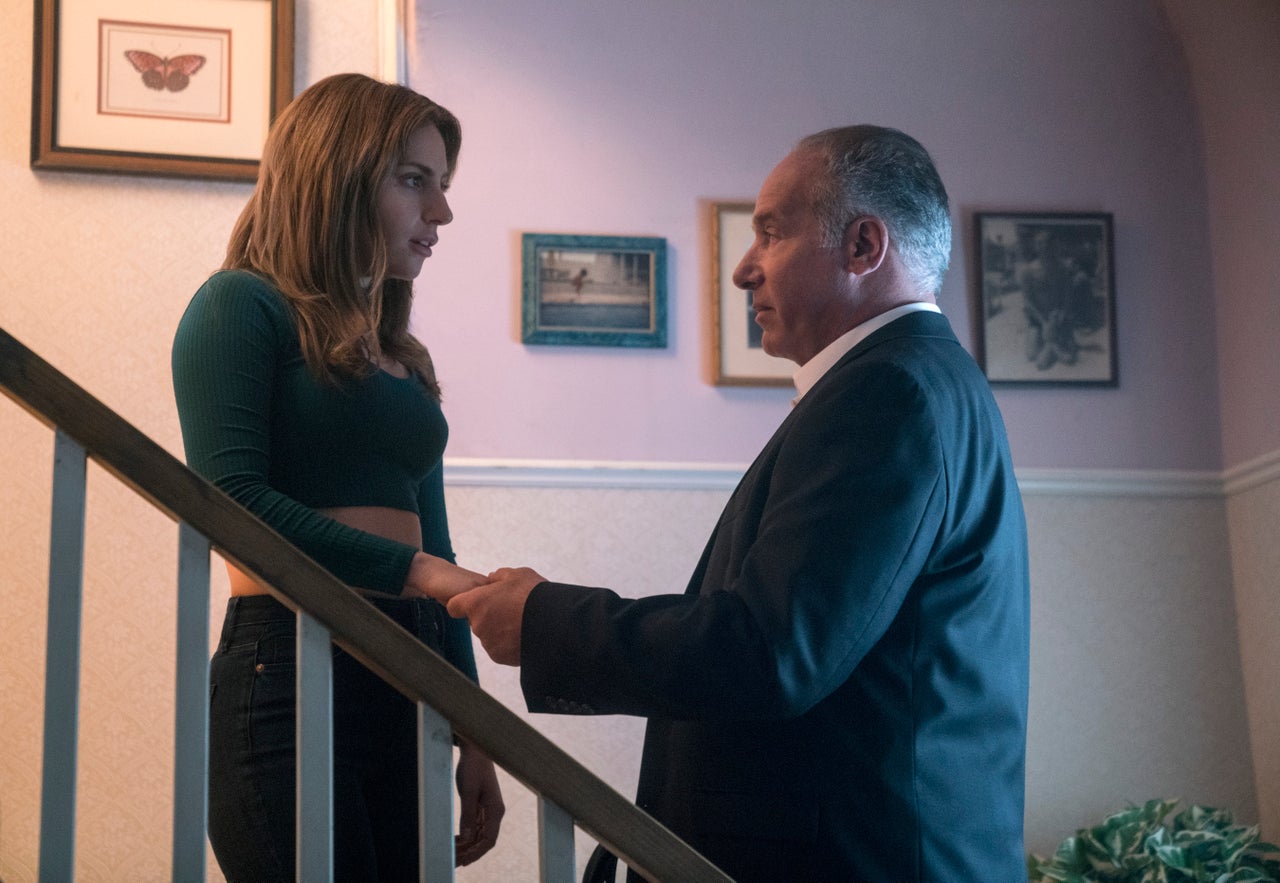 Cooper was wise to hire as his cinematographer the gifted Matthew Libatique, whose soft lights and roving camerawork has made Darren Aronofksy's films so dynamic, namely "Black Swan" and "Mother!" Libatique blends those red shadows with greens and blues that form the story's pulse. They perfectly underscore the movie's ultimate joy: the music. Composed by Gaga and rocker Lukas Nelson (Willie's son), the twangs and bangs of the soundtrack — even better than the Streisand version — are what confirms the central couple's flair. It makes them all the more sympathetic, because we root for their gifts as well as their their spirits.
At times, "A Star Is Born" shifts to Jackson's perspective when Ally's would be more interesting. It also can't help but indulge its movie-star paradox. How is Jackson, a longtime alcoholic who seems unconcerned with physical fitness, so damn chiseled? And are we really to believe that Gaga, even in her less made-up moments, isn't a near-flawless Venus? But sure, we'll play along with Hollywood's unavoidable excess if it results in something this exquisite, this affecting, this resplendent. Bring your hankies; there will be tears.
"Aren't you tired of trying to fill that void?" Ally sings in a standout anthem. The question stands in for this film's place in the current Hollywood canon, wherein studios shy away from projects without caped crusaders or broad antics. This is what's often absent in our modern cinema scene: artful showboats with dimensional characters and exuberant entertainment. "A Star Is Born" fills a void and then some. We are lucky to have it.
"A Star Is Born" opens in theaters Oct. 5.
CORRECTION: A previous version of this story misidentified the actor who played Ally's boss as Greg Grunberg.
Support HuffPost
The Stakes Have Never Been Higher
Popular in the Community