It might be odd to compare the musicals Marie Christine, a dark, complex take on the tragedy Medea, to Funny Girl, but hear me out.
Both center around women of power who sacrifice something for love. Both have significant structural issues — particularly in the second at (let's not forget: Funny Girl goes pretty dark and flat in act 2). And, to overcome this, both shows require an incandescent star to buoy the material. In the case of Funny Girl, you know: Babs. For Marie Christine, composer Michael John LaChiusa was essentially commissioned to write the show for then up-and-comer Audra McDonald — arguably now Broadway's biggest star — as her leading debut.
Despite all good intensions, the show played less than 100 performances and, for various reasons, is rarely produced (coincidentally, Funny Girl hasn't been revived on Broadway since the original production closed 50 years ago). For Marie, chief among those reason is the Audra factor. The score was written to showcase her operatic range, emotional firepower and intensity. To produce the show without a strong lead is about as wise as producing Funny Girl without a star.
But the show, which features a haunting score and a chilling take on the Greek classic by setting it in 1890s New Orleans, deserves to be seen. Thankfully, BoHo Theatre has faced this challenge head-on and is giving us probably the best production this show will likely see in this city.
Kyrie Courter, an actress whom I've not seen before, brings all the requisite fire and ice to the role and navigates the rangy, counterintuitive score with relative ease and poise. It's a must-see performance.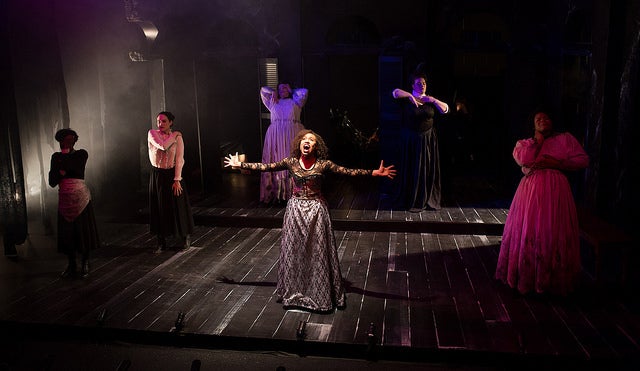 Director Lili-Anne Brown embraces the confined Theatre Wit space, feeding into the notions of isolation and claustrophobia that power the material. The tight ensemble float in and out of scenic designer Arnel Sancianco's charred backdrop, while providing deft vocals with support of a stellar band (music direction by Aaron Benham).
That said, there are issues. Primarily, it's hard to believe a woman as strong-willed as Marie would run off with a guy who's CLEARLY a creep. Nothing about her relationship with Dante (the charming Ken Singleton) signals he's worth it. And then when Marie does the deed at the end, it feels both contrived and anti-climatic. And then the show ... ends, leaving one with the sense the show remains unfinished.
Despite this, it's a worthy trip to Theatre Wit.
"Marie Christine" plays through December 10 at Theatre Wit. More info here.