Last month I had an incredible adventure, marked with a few moments of--well, "terror" is probably too strong a word. But it's fair to say that I was well out of my comfort zone and nose-to-nose with my own mortality.
In the process I learned something vital about my efforts to help others.
My friend Marcia had invited my husband, Jeff, our pal Nancy and me to celebrate her birthday by going climbing on some of the beautiful Tuscarora cliffs in West Virginia. These rock formations look like giant fins protruding from the sides of mountains. They're gorgeous and sheer. They almost beg people to climb them. Each year hundreds of people don climbing harnesses and ropes for the challenge. Many more watch from the ground. Marcia had invited a number of other friends who declined. But our group of four enthusiastically signed up.
We headed out for a climbing route known as a Via Ferrata, in which hundreds of metal rungs have been pounded into the cliffs to form primitive ladders. I think of it as rock climbing for old people, or the faint of heart. This doesn't mean it's simple or completely safe. But it's far less challenging than climbing free form. As we worked our way up a series of cliffs, we clipped our harnesses into anchored cables that, should we misstep, would catch and hold us.
We were joined by two men and a woman we didn't know. I was excited as I began moving up the face of the first wall. But I was also a little anxious about my left knee, which I'd injured over the winter. No need for worry: Our guide, a friendly and encouraging young man named Lee, showed me how to pivot in a motion that, incredibly, took the strain off my knees. The higher I moved, the more I relaxed. The sunshine and fresh mountain air, the cooling breeze and incredible view made me feel as if I were awakening from a long heat-induced nap. "This is SO MUCH FUN!" I called out to the world at large.
My problem arose at the bridge.
Ah, the bridge. It's fair to say that we had all fallen in love with the idea of this climb because of the aerial view we'd seen of that thin span. Suspended over a canyon between two great rock fins, it swings freely in the breeze. Crossing it is like traversing a bit of spider web.
I was looking forward to this part, quite a lot in fact. I love heights. I've been on canopy walkways in the jungle, and I've perched on swaying treetop platforms, all without a moment's discomfort. When Laura, the young woman climbing with us, voiced her fears about crossing the bridge, I cheerfully told her, "You'll be fine. Just put one foot in front of the other."
But I hadn't anticipated one important detail: The flooring of the bridge wasn't solid. It consisted of two-by-fours placed at least eighteen inches apart, maybe more. As I waited my turn, I realized that it would be possible for me to fall between two of the steps.
The bridge bounced up and down on its cables as Jeff stepped across in front of me. The whole structure swayed back and forth in the frisky breeze.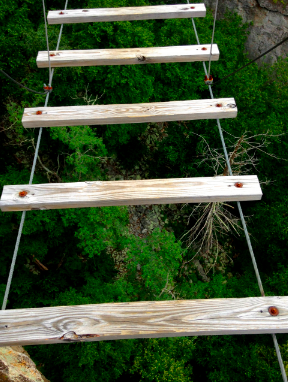 Laura had already made it across and given us a triumphant wave. Nancy and Marcia were waiting behind me. I stepped tentatively onto the first crosspiece. It gave a little bounce. The second step was no better. The third was even worse.
Below me the canyon was lined with trees, so many that I couldn't see the bottom. No matter. I knew a fall would be fatal. I was roped in, yes. But what would happen if I were to slip and fall? I'd hang there, bouncing, until something could be done to pull me up. How would my friends and our guide manage it?
I took a few more steps, chagrined that I had no choice but to go on. I kept telling myself to relax. But I couldn't. Time seemed to stop as I concentrated on moving from one crosspiece to the next, stepping exactly in the center of each.
Too many times I've given easy advice like, "Just put one foot in front of the other." It's pat, it's trite, and it's of limited or no value. Why hadn't I been more understanding and encouraging when Laura had expressed her fears? I could have smiled and said, "You can do it. You're strong." That would have been much more personal and compassionate. In the middle of the bridge, I found myself suffering the cruel fate of having to live by my own advice.
Behind me I was acutely aware of Nancy and Marcia moving along, enjoying themselves. Step, bounce. Step, bounce. A gust of wind rocked the bridge hard to the right. I tried to remember to breathe. I pretended to be enjoying the view. And I swore that when I got to the end--I would get there--I'd have more compassion for people who fear heights, or get seasick, or suffer from any discomfort that I don't share.
A bright blue indigo bunting landed on the cable ahead of me. These little birds are quite common, but they never cease to stir my sense of awe. Seeing this one in front of me, I relaxed a little.
I made myself step along until I reached the other side. Even then there was no time to relax; another rock wall awaited me. That day the challenges came in rapid succession. I managed to get through all but that one with smiles and a deep sense of accomplishment.
I'd love to do more climbing, maybe next summer. For now, though, my greatest hope is that I will remember to live by what I learned during the most important moments of that splendid, difficult day.
Calling all HuffPost superfans!
Sign up for membership to become a founding member and help shape HuffPost's next chapter