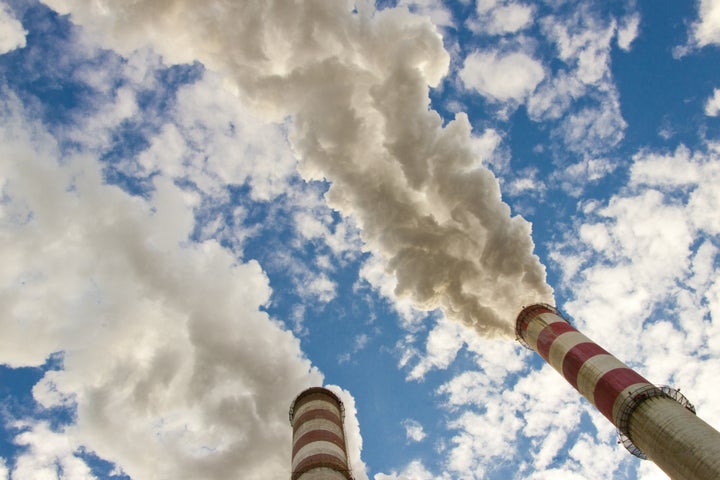 Earlier this summer, in a crucial albeit insufficient step to mitigate climate disruption, President Obama proposed a rule to limit carbon pollution from existing power plants. The administration predicts that it would result in a 30 percent reduction of carbon pollution from power plants below 2005 levels, by 2030. It establishes targets for each state and encourages them to meet these targets by improving the efficiency of coal plants, switching to natural gas, increasing reliance on renewable energy and/or reducing energy demand. These actions will, hopefully, reduce the amount of carbon pollution from the electric power sector, which currently contributes almost 40 percent of the country's total emissions. While the move is a significant step in regulating emissions from power plants and addressing climate change, it could go significantly further. Reports by the Union of Concerned Scientists, Greenpeace and others demonstrate that President Obama could be much more aggressive.
Ultimately, the draft rule would allow the coal and natural gas companies to continue to emit significant amounts of global warming pollution. President Obama has an opportunity to step up and strengthen these rules by following these seven major avenues for improvement.
Thinking bigger: The proposed rule establishes emission reduction goals for every state except Vermont, which has no fossil-fuel electric power plants. These targets range from far too lenient to steep reductions that would have occurred without the rule. Together, state targets add up to a national goal, which falls short of the targets our climate needs. Even when one considers the rule in terms of Obama's larger climate strategy, which includes enhanced fuel efficiency for vehicles, his action still falls short. Moreover, President Obama's relentless promotion of natural gas in his "All of the Above" energy plan and approval of export facilities has the potential to negate any benefit from this rule. International groups of scientists have warned that developed countries like the United States must reduce their economy-wide emissions 50 percent below 1990 levels by 2020 to have a medium chance of keeping warming to 2℃. President Obama's plan is on track to reduce emission by 17 percent below 2005 levels by 2020. Even a top aide to President Obama admitted that the rule is woefully insufficient to meet the reductions that science demands.
Getting started sooner: Greenhouse gas emissions have a strong cumulative effect. They remain in the atmosphere for decades after they are released, which means that immediate reductions are more important than reductions in future years. The longer states are given to comply, the more today's emissions are magnified, making immediate action essential to avoid catastrophic climate change. Waiting six years for state plans to take effect, and an additional nine years for states to meet their targets, is an unacceptable delay that jeopardizes our ability to limit climate disruption. The Intergovernmental Panel on Climate Change has found that significant reductions are needed by 2020 to stop global warming from exceeding 2℃ above pre-industrial levels. To get the most impact from the rule, President Obama must require substantial reductions by 2020, with even greater reductions in future years.
Resetting the goal posts: The internationally binding Kyoto Protocol used 1990 as the base year for global greenhouse gas emission reductions; the year has since become the global standard. Despite this precedent, the draft rule establishes a base year of 2005. Emissions were at their height in 2005 before the economic recession; energy efficiency measures and increased renewable energy production led to a reduction of total annual emissions in the United States. The current target would only result in a 7.7 percent reduction of power sector greenhouse gas emissions below 1990 levels. The administration cannot rely on an accounting trick to achieve its emissions goals. Using 1990 as the base year makes sense because the rest of the world understands its significance. When you look at Obama's entire climate plan, it only aims to reduce economy-wide emissions by 3.5 percent below 1990 levels. Instead of following international standards, the carbon rule uses smoke and mirrors to take credit for emission reductions that have already occurred.
Pushing the full renewable potential: The proposed rule projects that coal and natural gas will each contribute 30 percent of the country's energy generation under these targets. Climate mitigation cannot be achieved if those dirty fuels remain in the country's energy mix. The Union of Concerned Scientists states that reductions of 50 percent can be achieved if the EPA puts forward a strong rule and if both renewable energy and energy efficiency play significant roles. A Greenpeace study found the energy mix could be radically different from EPA estimates, noting that renewables could feasibly constitute more than 70 percent of the energy mix by 2030. A massive shift from fossil fuels to renewable energy is necessary if we are to avoid the worst impacts of climate change.
Discouraging nuclear energy: Using a deeply flawed formula for calculating electricity from the existing reactor fleet, the rule would prop up existing reactors that are not economically viable. Based on an Energy Information Administration estimate, the rule assumes a six percent shutdown of current U.S. nuclear capacity before 2020. The EPA then discounts the baseline levels for nuclear energy by six percent and encourages states to claim carbon reductions from existing nuclear plants instead of shutting them down as planned. This provides aging reactors with a subsidy to continue operating and skews the accounting for additional low-carbon electricity capacity.
Reducing reliance on natural gas: Ignoring what we know about natural gas and methane leaks, the rule encourages the fossil fuel as a cleaner alternative to coal-fired power plants by claiming that it would result in up to 40 percent emission reductions. In reality, methane leakage from the extraction, processing and transportation of natural gas make it worse for the climate than coal. And relying more on natural gas would require increased fracking, further endangering the public with greater poisoning of our air and water, a potential increase in earthquakes and even more methane leakage. Natural gas is not real solution and should not be encouraged in the rule.
Allowing a carbon tax: The EPA rule has provided flexibility in the way that states can comply with it. While a carbon tax would likely be allowable under the rule, the EPA does not explicitly affirm this. While the proposed rule does discuss building on current state cap-and-trade programs, such as the Regional Greenhouse Gas Initiative and California's economy-wide emission trading program, it only mentions the need for comments on whether a carbon price could be a compliance mechanism. The EPA should clarify that states are allowed to implement a carbon tax as a way of achieving reductions. A carbon price of $25 per ton that rises five percent per year would result in reductions close to 70 percent by 2030. In that way, a tax on carbon could allow states to efficiently reduce their emissions while also raising an additional source of revenue.
While President Obama's carbon pollution standards are an important step toward reducing our country's reliance on fossil fuels, they are not enough to force the shift toward clean, renewable energy and efficiency. These weak standards, in conjunction with the president's recently released "All of the Above" report, demonstrate his unwillingness to take the bold actions required to mitigate the catastrophic impacts of climate disruption.