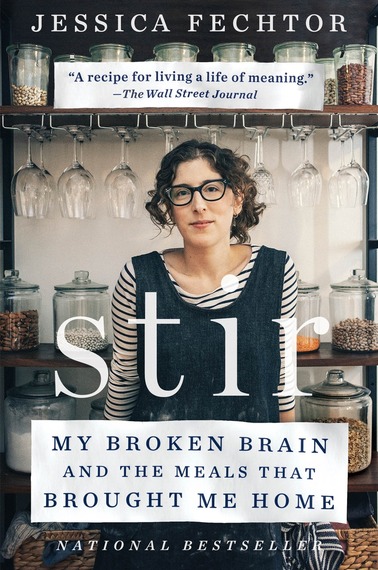 "At 28, Jessica Fechtor was happily immersed in graduate school and her young marriage, and thinking about starting a family. Then one day, she went for a run and an aneurysm burst in her brain. She nearly died. She lost her sense of smell, the sight in her left eye, and was forced to the sidelines of the life she loved. Jessica's journey to recovery began in the kitchen as soon as she was able to stand at the stovetop and stir. There, she drew strength from the restorative power of cooking and baking."
I'd read that before appearing at a recent book event in Whittier, California, along with Ms. Fechtor and several other authors. To say I was looking forward to hearing her speak would be an understatement. Her best-selling memoir, Stir, had generated such positive attention when released last year, and her talk in Whittier was even more riveting and poignant than I had expected it would be (especially after hearing her speak briefly at a pre-event dinner the night before).
This week the paperback version of Stir is being released and I can't think of a better way to begin spring than with this beautifully crafted story of hope, survival, courage and lots of mouth watering recipes. Fechtor's writing takes a series of harrowing personal experiences and confronts them with honest, universal, enduringly eloquent realizations and observations. When speaking to her about the book, it's hard to fathom that such a profound work grew out of a simple food blog she created in the wake of her numerous surgeries to reach out to people about her journey. But once she started attracting attention from people in the literary industry after starting the blog, she wasn't quite sure how to develop the narrative.
"I didn't want to do a recovery/illness book," she told me. "I felt like there was a bigger story that wanted to happen and so I just started writing. Not in any sort of order. I'd never really planned for writing a book like this. I liked academic writing. I was a PhD candidate in Jewish literature. But then the idea of creative non-fiction became very appealing to me."
"Though Stir winds us through Ms. Fechtor's illness, its complications and ultimately her recovery, this book isn't a tale of sickness and health. And though it is filled with inviting concoctions...it isn't merely a book about food and how to make it. Rather, it's a recipe for living a life of meaning and an homage to the people in her life who nourished her."
-- Wall Street Journal
"An inspiring journey, with recipes. With a novelist's touch, Fechtor chronicles her recovery from a brain aneurysm that hit her as a Harvard graduate student at 28, sending her life on a far different path than she had imagined."
-- Seattle Times
"Charmingly peppered with personal recipes, [STIR] thoroughly inspired readers and immersed them in Fechtor's life against all odds."
-- Elle
Today, Fechtor is contemplating what to write next. "My antenna are up for any inspiration that moves me. Writing Stir and how it all came to be taught me so much about myself and what else I'd like to do artistically. And not even just as a writer. I played piano growing up and I've now gotten back into that."
Whatever she writes next, I know myself and many others anxiously await. But for now, enjoy the new paperback version of Stir. Immerse yourself in her journey. Perhaps prepare a few of the dishes. And savor the story.
The German poet Rainer Maria Rilke said of this season, "It is spring again. The earth is like a child that knows poems by heart." Fechtor's prose, for me again, with all of its elegant rebirth and renewal, is the perfect compliment to spring.
Support HuffPost
The Stakes Have Never Been Higher
Related
Popular in the Community