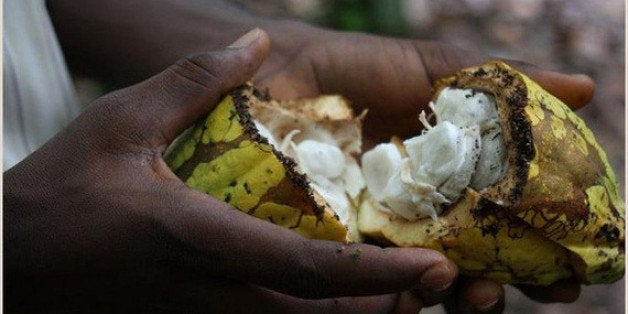 At 6 a.m., 10-year-old Emmanuel wakes and readies himself for a day of labor in the cocoa fields. Along the way, he watches as other kids walk in the opposite direction - toward school. He reaches the fields at sunrise and uses his machete to slice ripe cocoa pods from the tree. Later, he carries the cocoa pods he's harvested from the field, hacks them open and gathers the beans, which will later be used to make chocolate.
We expect to see 10-year-olds going to school in the morning carrying backpacks, not machetes. We expect to see them playing sports, painting or making music, opening their minds. Every child deserves the opportunity to learn, to grow and to benefit from his or her childhood. Emmanuel's work in the cocoa fields deprives him of that childhood and the chance to develop to his fullest potential.
Emmanuel's experience should give pause to everyone who consumes chocolate. Well over half of the chocolate the world consumes is harvested in two West African countries: Côte d'Ivoire and Ghana. As consumers, we need to ask ourselves if we are doing all we can to empower the children and families whose futures depend on farming the cocoa that we enjoy.
After a series of news reports in 2001 brought international attention to the problem of child labor in West African cocoa, the U.S. government - alongside our partners in Côte d'Ivoire, Ghana and the international chocolate and cocoa industry - moved to confront the situation.
Fourteen years later, a Tulane University study, funded by the U.S. Department of Labor and released today, shows that the very encouraging progress that has been made is not translating into concrete reductions in the number of children whose experience mirrors Emmanuel's. Two million children are still engaging in hazardous work in the cocoa sector in these two countries. That situation will only worsen if we don't refocus efforts on a collaborative, targeted approach to addressing it.
In 2001, former Sen. Tom Harkin and Rep. Eliot Engel negotiated the signing of the Harkin-Engel Protocol, a voluntary commitment by industry to take up this challenge. In 2010, recognizing the need to do more through enhanced cooperation, ministers of labor from Côte d'Ivoire and Ghana, former U.S. Secretary of Labor Hilda Solis, and industry representatives came together to sign the Declaration of Joint Action, committing new resources and setting a goal for reducing the worst forms of child labor in the cocoa sectors of Côte d'Ivoire and Ghana by 70 percent by 2020.
The parties to the declaration set this ambitious target because of a shared belief that producing cocoa with the worst forms of child labor was unacceptable. While this sparked increased action by all parties, the next five years also saw major challenges that slowed the desired progress. In particular, civil conflict in Côte d'Ivoire caused major suffering and had a devastating impact on children's access to schooling. Meanwhile, cocoa production rose more than 30 percent; according to some projections, global demand will grow another 30 percent over the next five years.
To step up our efforts, the Department of Labor recently announced $12 million in new funding for three projects to help reduce child labor in West African cocoa-growing regions. Our new funding builds on our strong relationships with the Ivoirian and Ghanaian governments, and our projects are intended to serve as models that these governments can then draw from and sustain.
This is the way we do things in the Labor Department's Bureau of International Labor Affairs, or ILAB for short. We are the world's leading funder of projects to combat child labor worldwide, helping bring together governments, communities and children as we work to promote lasting change.
But we can only succeed with strong commitments from industry, civil society and governments. ILAB's efforts are a vital part of a broader solution, involving accelerated action by all those with a stake in cocoa and linked to national action plans in Ghana and Côte d'Ivoire that seek to combat child labor, reduce household poverty and promote basic education.
Both countries have made important strides. In Côte d'Ivoire, with the leadership of First Lady Dominique Ouattara, the government increased its budget for combating child labor and drafted a law making education compulsory up to the age of 16. Our most recent Findings on the Worst Forms of Child Labor report recognized Côte d'Ivoire with the highest rating of "significant advancement" for its efforts. And Ghana signed a compact with our government to find more effective policies and programs to reduce child trafficking and protect children from exploitation.
The chocolate and cocoa industry has demonstrated a significant commitment as well, including matching our funding under the declaration. Last year, the World Cocoa Foundation announced a new CocoaAction initiative, supported by eleven major companies, to increase productivity in the cocoa sector while addressing social issues such as child labor prevention.
As we move forward, we need to ensure this includes increased transparency - having the data to measure impact and to confirm resources are directed specifically to help vulnerable children and families.
The challenges remain substantial. Child labor is linked to broader issues like a lack of access to quality education and a persistent cycle of poverty. Addressing child labor is critical for responding to these wider challenges. And reducing child labor in supply chains is integral to the long-term sustainability of cocoa production. When cocoa-growing communities thrive, that advances the long-term viability of the industry as well.
Tulane's report serves as a wake-up call. None of us can tackle this issue on our own. What is needed is a renewed commitment from all parties.
This is how we must continue the fight. This is why we cannot give up.
Popular in the Community