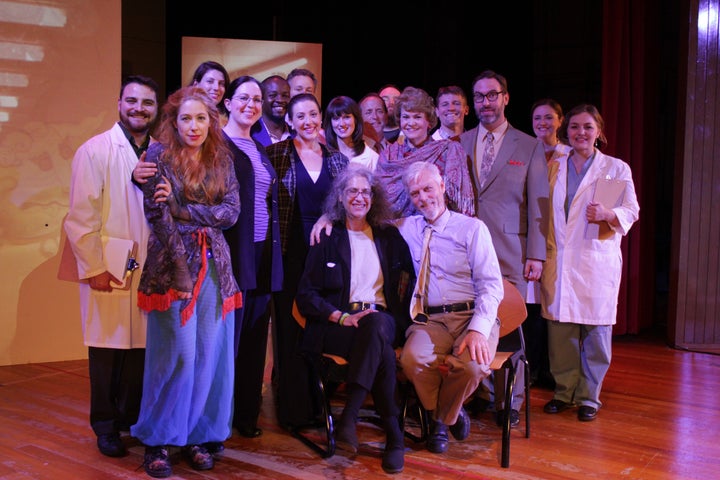 By Joseph Mango, MFA, UCLA Center for Health Services and Society
The odds were stacked against USC Gould Professor Elyn Saks, now an acclaimed author and recipient of a MacArthur "Genius Grant." In the early 1980s, she was diagnosed with schizophrenia during her time as a student at Yale Law School where she experienced bizarre delusions—from believing that she killed hundreds of thousands of people with her thoughts alone, to visions of a man raising a knife to her. The diagnosis of schizophrenia, presented to Elyn as a "grave prognosis," also can be accompanied by withdrawal, apathy, and the inability to work or form relationships. Elyn was hospitalized involuntarily for five months and forced into restraints for 3-20 hours per day for the first three weeks, screaming out Beethoven's Fifth Symphony on one occasion out of frustration. She was given no privacy and was watched by staff as she showered and used the restroom, meandering between hope and despair. Yet, Elyn was determined to graduate law school, find coping strategies for her illness, develop friendships, and make an impact on the mental health community.
This is the story at the core of a new opera that recently premiered at UCLA, based on Saks' national-bestselling 2007 memoir The Center Cannot Hold, produced by the UCLA Center for Health Services and Society & Pacific Opera Project. With music by Dr. Kenneth Wells, UCLA psychiatrist/researcher by day and composer by night, the opera, The Center Cannot Hold – Part One: The Illness, was produced not only to share Elyn's inspiring true story, but to bring to life a story of hope, resilience, and recovery of someone suffering from a mental illness. It's an important subject that rarely receives an accurate, theatrical portrayal, but with Wells and Saks at the helm, the opera was a beautiful musical journey that unveiled the reality of what it's like to live with schizophrenia, and ultimately thrive.
Wells remembers when the opera first came to fruition while giving Elyn a ride home after a speaking engagement for his first opera, The First Lady, in 2010.
"That was great. Let's collaborate!" Saks said.
"How? A science project or an opera?" asked Wells.
Wells recalls, "She said yes to both and the idea of developing an opera from her book came to me."
Six years and many meetings later to collaborate on the libretto, the opera finally made its world premiere to three sold-out performances with LA's finest opera singers taking the stage among a 13-person orchestra (conducted by Stephen Karr), hauntingly accented with a harp.
This story does come with a happy ending though: Elyn Saks made a triumphant return to school, found a best friend in Steve Behnke, and graduated with a law degree. Her note on restraints was used to win a class action suit against the use of restraints. Beyond the story in the opera, Saks married the love of her life, went on to receive a prestigious MacArthur Fellowship "Genius Grant," and founded the USC Saks Institute for Mental Health Law, Policy, and Ethics with the award money she received. As director of the Institute, Saks has described her mission as stimulating discussion, developing solutions and changing the way society addresses mental illness. Her inspiring 2012 TED Talk continues to garner views, nearly 3 million so far. She has also served as a valuable member of the USC Gould faculty for the past three decades.
While the opera takes you into the mind of a person suffering from schizophrenia, it also shows there are no "restraints" on hope for recovery. But the stigma surrounding mental illness has made it difficult for those suffering from schizophrenia and other mental illnesses to seek help. Elyn's story proves that with the right treatment, medication, and support, it is possible to live a healthy and full life.
The opera has already made an impact on the cast and audience. During a post-talk at the last performance, cast and audience members shared how they will walk down the street differently, having more empathy and understanding for those who may be affected by schizophrenia.
As Elyn stated in one of the pre-talks, "My hope for the opera is that it increases understanding and decreases stigma." And what better way for the opera to end than with Elyn's best friend, Steve, happily singing: All my life, I searched for kindness. I found it in you, Elyn.
The UCLA Center for Health Services and Society, under the direction of Dr. Kenneth Wells, has a mission to strengthen resiliency and improve the mental health of local and national diverse populations through rigorous research, effective programs, and partnering with consumers, children and their families, community-based and policy agencies. The center is dedicated to promoting respect, understanding, and dignity towards persons and their families living in under-resourced communities as well as using media, technology, and the arts to address stigma and engage populations. They collaborate with diverse partnerships to create an environment that promotes healthy development and well-being across the lifespan.
The Saks Institute for Mental Health Law, Policy and Ethics is a think tank at USC Gould School of Law founded by renowned expert and MacArthur "Genius Award" recipient, Elyn Saks. The Saks Institute tackles challenging issues that require interdisciplinary research and collaboration, and engages experts in law, medicine, psychiatry, psychology, social work, philosophy, neuroscience, and public policy to address mental health issues, develop solutions, influence policy reform, and promote advocacy actions for improved treatment and compassion.
Popular in the Community