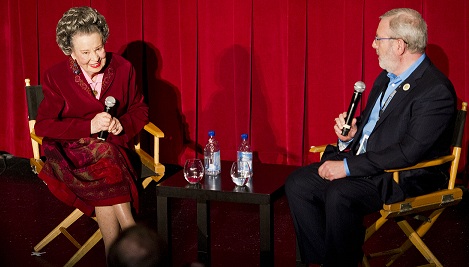 Pictured: Diana Serra Cary onstage at TCM film fest with Leonard Maltin (Photo courtesy of TCM Film Festival 2012 )
A famous child star whose father is reported to takes his or her earnings -- it's a familiar story and if you read about it today, you might think of Macaulay Culkin.  But way before  Macaulay, or Shirley Temple, there was silent film star Baby Peggy. Baby Peggy (now Diana Serra Cary) was a top box office draw in the 1920s.  A whole industry of dolls, clothing and other merchandise was sold under her name and earned millions.  But none of it went to the child star.  The fascinating story of Baby Peggy is now a documentary which premiered at this year's Turner Classic Movie Festival in Hollywood. It's the story of a woman who lost two fortunes before she was 10 years old, supported her entire family and survived to become a noted author.   The film is a story of talent combined with a rare personal resiliency that is riveting to watch.
So many child stars lead tragic lives after their early fame.  Some have even died early from drug abuse or alcohol addiction, the consolation for the loss of their early fame.  But this isn't  the story Diana Serra Cary tells in the film about her life, or her book.   Blessed with intelligence, a good memory and the ability to act beautifully, Baby Peggy was making films  at 2 years old.  Today, child labor laws would prevent a child from being worked this way.  In the 1920s, there was no protection for child actors, especially children whose parents willingly submitted them to the rigors of a more than 40 hours in a work week. 
Peggy was the star of silent hits Captain January, The Family Secret and Helen's Babies. But her career ended when her father demanded more money and Universal studios executives refused his demands.  Baby Peggy was then sent to work the vaudeville circuit to support her family. When her vaudeville career folded, she worked hard outside of show business on her family ranch and later returned to Hollywood in bit parts.
What's fascinating about Diana Serra Cary's story is that's it's not the story of a bitter broken woman.  Today, in her early 90s, she is back in the movies in the film  Baby Peggy: The Elephant in the Room, a documentary about her early career in film and the million dollar fortune she made and lost. The  one hour film, by Dutch filmmaker Vera Iwerebor, allows Ms. Cary to narrate her 1996 memoir, Whatever Happened to Baby Peggy: The Autobiography of Hollywood's Pioneer Child Star  for the camera.  The documentary contains many scenes from her early pictures, and it's clear that beyond being a cute kid, Baby Peggy was a talented actor with a natural gift for comedy. 
The audience at the TCM film fest was enraptured with her tale and with the screening of  scenes from her early silents.  The film is a great story for many reasons. Beyond telling the story of early Hollywood and what movie making was like, it is a reaffirming story of  personal strength and conviction. It's an inspirational film on many levels, illustrating that a person can push forward without emotional or financial support from their family, and still triumph because of talent and perseverance.   She told me she found some support and nurturing from " actors who encouraged her and looked after her" during her early years on Hollywood sets. After her film career ended, Ms. Cary continued her gift for story telling via a writing career that has produced several best sellers, including her own story.  She wrote about her contemporary, child star Jackie Coogan, in the book  Jackie Coogan: The World's Boy King: A Biography of Hollywood's Legendary Child Star.
Although the her story premiered at the Turner Classic Movie festival in April,  it will be shown to a wider audience later this fall. Look for Baby Peggy: The Elephant in the Room to premiere in November on the Turner Classic Movies network.  The enthusiastic reception to the film at the TCM fest included calls from the audience that Diana Serra Cary should finally receive a star on Hollywood Boulevard.  After making over 150 films and doing all her own stunts in silent films, I would say that star is well earned and long overdue.
Calling all HuffPost superfans!
Sign up for membership to become a founding member and help shape HuffPost's next chapter