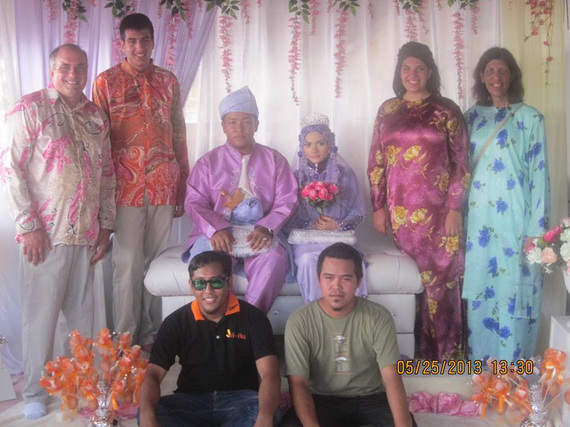 Gina and her family with Fairus, Fairus's brother, and friends. Me (the author, right) with Fairus (middle) and Dino (left)
I noticed his shirt before I noticed him. It was a black t-shirt with white writing; the front read "I am Muslim." The back: "Have you prayed today?"
I couldn't help but laugh out loud at the irony of it. I'm not Muslim, and that's half of what had gotten me into the pickle in which I found myself on a Sunday afternoon in Kuala Lumpur, Malaysia, approximately six hours from my final destination (which was also my home) and approximately six hours from Singapore, from which I'd departed earlier that day. Upon my return, I learned that I'd missed my bus home and that every bus for the rest of the day was sold out.
I had just started a new job, and I had to be there first thing in the morning. Failing to show up could mean putting the job, and my entire visa, in jeopardy. I pleaded frantically for a new bus ticket from the station workers; I volunteered to sit on the stairs or the floors of a bus and still pay a full fare, or even double. I first tried to act pitiful, then desperate, then angry. In the meantime, buses came and left. I pleaded with poor passengers to please help me, to translate for me.
More buses came and left. The remaining number of departures on the lit-up screen dwindled from twenty to ten to five.
Fairus noticed me noticing his shirt. Between miming and using the fragmented Malay language that I had, I explained my situation.
And then he offered me his bus ticket.
With no trouble, he boarded the same bus even though he now didn't have a ticket. I got on with what was moments earlier his. Fairus sat a few rows in front of me and turned around every so often: once to make sure I was okay, once to roll his eyes at loud passengers.
At a rest stop, he somehow explained to me aspects of Islam I had until that point
misunderstood.
Later that night, Fairus's friends offered to drive me the two hours back to my home. Over the next few months, the group of us became friends. We spent afternoons at cafes on the beach talking about romantic crushes, politics, our families, the world. From those interactions, my grasp of the language and the local culture grew. Our discourse was never flirtatious: he treated me as a female cousin or a sister. As our friendship progressed, I nurtured a real understanding of and a deep fondness for the country and culture that was foreign to me but beloved to Fairus.
We celebrated birthdays together. When my family came to visit, they attended Fairus's brother's wedding, all of us dressed in local garb.
Nowadays, Fairus and I keep in touch via Facebook, but our connection is limited. Without frothy tea and heaping plates of fried banana between us, we are distinctly separate: my posts in English are saturated with American-ness, his in Malay revolve around themes that I no longer fully understand. Still, I am grateful for him.
I am lucky to have had the laughs and the Malay music and the surprisingly good conversation that we shared. I am grateful for everything that he taught me about the place that was my home for a year, but I'm most grateful that neither of us dismissed the other at first glance. This, after all, might be the most powerful lesson of travel: don't be afraid to talk to strangers, and don't be afraid to help them out, either.