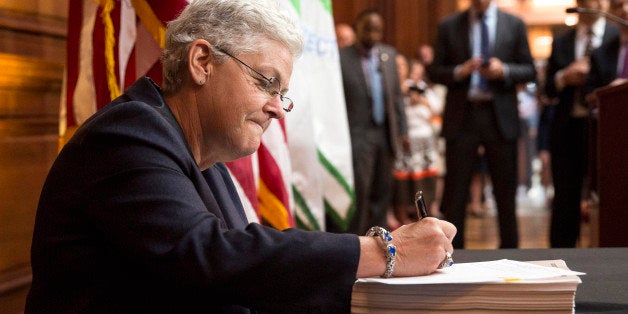 Clean air is a national asset and personal right that must be protected and vigorously defended.

When Americans see images of blinding smog and choking pollution in cities from Beijing to Mumbai, they should remember that before the Environmental Protection Agency was created in 1970, and landmark laws like the Clean Air Act were enacted, some of our own cities suffered similar fates. If not for the importance our country has placed on protecting public health and our environment, many of our own hometowns would still look that way today.

These protections don't just happen. They require cutting edge science, technology, ambitious yet careful policy making, and legal mandates to execute, enforce, and defend. That's the job of the EPA. We use the authorities granted to us by Congress to protect the environment and public health in a common sense way. And that includes setting and enforcing limits on pollution from our vehicles.

We Americans love our cars. We've doubled our collective driving mileage nearly every generation. But science tells us that certain vehicle emissions help form pollutants that aggravate asthma and make it hard to breathe for kids, the elderly, and those with heart and lung disease. That's why EPA has set standards for tailpipe emissions--standards that automakers can, and are expected, to meet.

Last September, EPA announced that Volkswagen, the world's largest automaker, was using "defeat devices" on its two-liter diesel engine cars to circumvent EPA's vehicle emissions standards. VW sold nearly half a million cars in the United States that emit pollution up to 40 times the legal limit. This violation is both a breach of consumer trust and a serious threat to public health.

In one of the most creative and ambitious environmental enforcement settlements in U.S. history, we are addressing the immediate pollution issue VW caused and, at the same time, setting a new precedent for long term benefits that can be achieved under the Clean Air Act.

Working with our partners at the Department of Justice and in the state of California, our first priority is to get these dirty cars off the road and illegal pollution out of the air. Our agreement requires VW to give all consumers a choice: sell back their cars to the company, terminate their leases, or, if an emissions modification gets approved by EPA and California, have their cars modified to reduce harmful emissions.

But it doesn't stop there. The settlement also requires VW to spend $2.7 billion to cut health threatening air pollution across America, and make an additional $2 billion in transformative investments in clean transportation and innovation.

The pollution reduction funding will be used by states and tribes to slash emissions from highly polluting diesel vehicles and improve air quality in communities across the country. The clean transportation investments will support the construction of charging stations, public information programs, and steps to improve access to zero-emission vehicles - all designed to lay the foundation for a cleaner transportation future in the United States.

EPA has turned a pollution crisis into a major opportunity to advance cleaner, greener vehicles of all kinds. This is the EPA that Americans depend on - one that is serious about protecting public health, tough in enforcing legal limits on pollution, and innovative in supporting the advancement of our green economy over the long term.

Since EPA first started regulating in 1970, we have seen consistent, simultaneous trends of decreasing pollution, increasing fuel efficiency, and unprecedented economic growth. In that time, we've cut air pollution by 70 percent while our economy has tripled. Since 1980, national average ozone levels have gone down 33 percent. From 1990 to 2011, emissions of harmful air toxics declined by over 60 percent as a result of EPA pollution standards for industrial facilities, vehicles, and fuels.

Meanwhile, thanks to both EPA and the California Air Resources Board, fuel-economy standards for passenger vehicles are now the toughest in U.S. history and demand for electric vehicles is on the rise.
EPA is the strongest line of defense Americans have against the health threats from pollution. And we are the only entity that can enforce clean air protections nationally when the air we breathe is put at risk.

But an empowered EPA does more than address harm and deliver justice when rules are broken. Our actions promote innovation and consumer choice, and we provide concrete health and economic benefits that improve people's lives - today and down the road.
Related
Popular in the Community