Last month many friends and colleagues joined with the Global Health Council (GHC) to launch "Tips for Tedros". As we know the "Tedros" referenced here is the new head of the World Health Organization (WHO) -- commonly known as Dr Tedros. As a longtime supporter of Dr Tedros, I am pleased to see the enthusiasm for WHO under his leadership. This is the energy we need to finally realize health for all people.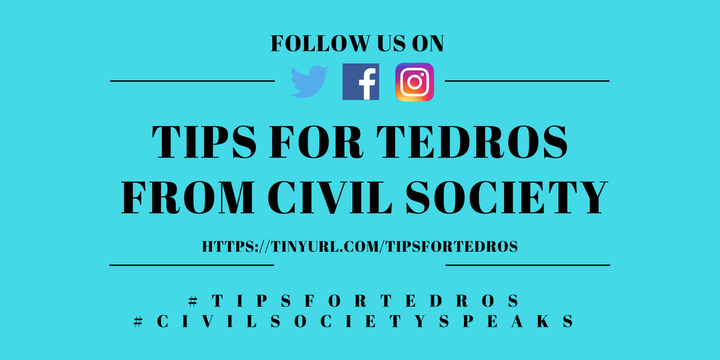 GHC's coalition boldly states that it stands "behind leadership at the WHO in driving an agenda for health and wellness worldwide. We believe civil society is critical to those efforts." The eleven recommendations from this coalition can be found here.
I agree, civil society is crucial to WHO's efforts. In the past, some at WHO have had a conservative view of engaging not only civil society, but external partners in general. We are at our best when we hear several viewpoints and still unify around a common agenda. And this requires not just offering advice. We all have a role to play in WHO's success.
We need to take ownership in advocating for WHO, especially in donor cities. I understand that organizations have their own equities, like a specific technical or policy issue. Still, we should get into the habit of weaving in messaging for a strong WHO into our everyday dialogue.
If you haven't seen the short video below, please watch it. Panorama* along with People's TV created it for WHO earlier this year.
Why I think this video is important. The messages are simple and offer a foundation.
WHO has unique value.
WHO is a driving force for a healthier world.
WHO is boosting the trajectory of lives saved and laying the foundation for better health for all.
WHO stands as this guardian of health for everyone, everywhere.
We as a global health community need to hold WHO accountable while making the business case for its vitality. In this spirit, let's support Dr Tedros as he strives to strengthen WHO's image through better communications and more open engagement. If you have a speaking event, or are active on social media, consider including a reference supporting a strong WHO. It's an easy thing to do. And it shouldn't be the job of Dr Tedros alone.
I encourage everyone to use #WHODrivingForce when you tweet, especially during UNGA Week. Together we can build a health for all movement and help drive transformative change.
Popular in the Community