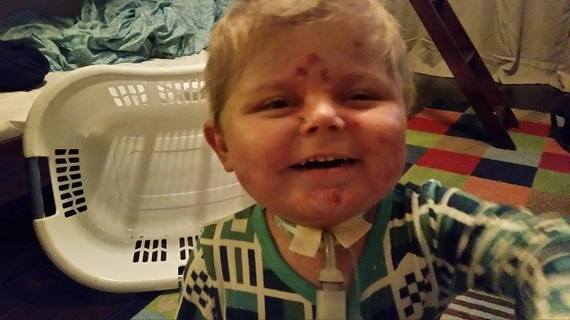 Epidermolysis Bullosa, or EB, is a very rare genetic connective tissue disorder that affects about 200 children born every single year. Although this seems like a relatively small number, the horror that these babies face is well... unthinkable.
"My husband and I were having a healthy baby boy to our knowledge," Easton's mother said. "My pregnancy went okay. We had a few extra sonograms due to the femur bones measuring small. But eventually they ruled everything out."
However, EB is caused by mutations in the DNA code that make up genes. Easton Friedel's parents had no clue what they were in store for when their 4th son was born.
"When Easton was born, my husband was at the foot of the bed with our midwife the help deliver our baby boy. Right away I could see the shock on both of their faces as they looked st each other. They held him up and the first thing I noticed was he was tiny."
Easton had only weighed in at 5lbs 15oz. But Danielle continued on, "We were in shock when we actually saw him. He was missing skin from his knees down and his elbows all over his hands. No one at the hospital knew what was going on or what was "wrong" with him. My husband started doing research on the Internet and the outcome looked grim."
EB is actually a group of disorders that share a prominent manifestation of extremely fragile skin that blisters and tears from friction or trauma. There are approximately 30,000 people with EB in the United States.
"The first year we went through the hardest time as a couple and as a family, watching him fight for his life. We had the support of hundreds of thousands following and helping our family put in ways we can never put into words. They helped our family and Easton's older brothers."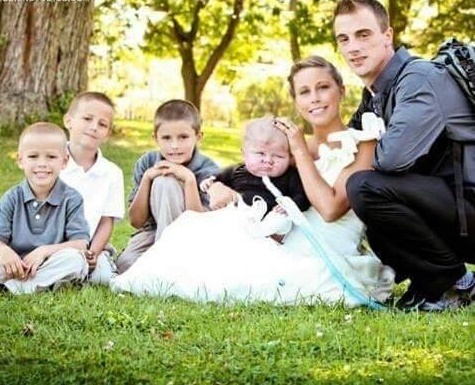 Jared and Danielle have three other boys ages 10, 8, and 6. They will quickly tell you they are amazing older brothers, and they play with Easton everyday and get excited when he does new things. Just like they do, the boys cheer him on but also get worried about him at times.
"I feel that in the beginning we were very worried the affect it would have on our older children. We were away from them for the first three months and then another four months as he was hospitalized later that year. They have never shown resentment for it. Which as parents is humbling to see."
Going through something like this is unimaginable and I asked Danielle how she and her husband lean on each other and work through these unbearable times. "As a couple we learn to work as a team. We know certain things we don't agree on each others ways and we compromise and do those tasks alone. 'For example', we learned in the very beginning that we could not do bandage changes together."
She continued on," We have come to be a part of a family that we never knew existed. There has been so much help and support from those in the EB community since Easton was born. Many influential people. We continue to talk to these families and we are a shoulder for each other."
Children with EB are known as Butterfly children because their skin is as fragile as the wings of a butterfly.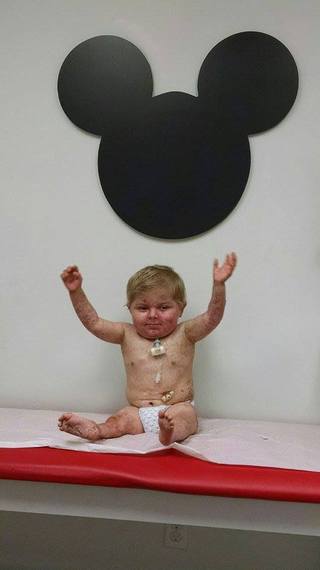 When asked about Easton's biggest accomplishment to date, Danielle said she couldn't narrow it down to one particular thing. "He has come so far in the last three years. He has grown, shown us strength that is difficult to find. He is now grown into a toddler with a personality all his own. Though he is not yet walking or all that verbal, he crawls and climbs wherever he would like to go. He loves playing with his brothers and watching them play."
She said Easton enjoys going on car rides and is learning more every single day. "He has a speech therapist, physical therapist, and teacher in the home 3-4 days a week. He knows his colors, and can match items and animals. He says "hi", "mama" and "dada". We are extremely proud of how far he has come from where he was. He has let nothing hold him back."
This week is EB Awareness Week. We need to become informed. We need to be more aware. We need to become more involved. We need to help in any we can to help find a cure for this monster of a disease. To learn more about Baby Easton Friedel and Family you can follow them here.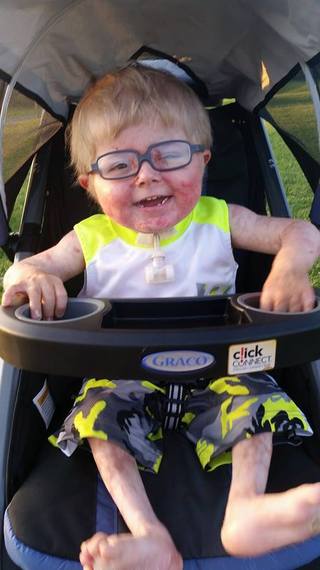 To follow Long and her advocacy for fighting for Paid Family Leave, you can find her on Facebook and Twitter
Calling all HuffPost superfans!
Sign up for membership to become a founding member and help shape HuffPost's next chapter